31 October 2023

Welcome to the RUIN gaming Community! Established in 2004.
Twitch, Youtube, Facebook, Twitter, Instagram, Patreon
HAPPY HALLOWEEN FROM RUIN
The RUIN community meets every Tuesday at 6PM Pacific Standard Time on Discord to recognize outstanding members for promotion, discuss gaming news, events and scheduling for the upcoming week!
Join RUIN at BlizzCon 2023! November 3-4
NOVEMBER 3-4, 2023. ANAHEIM, CA. See you there. PURCHASE TICKETS. BLIZZCON COLLECTION.
BlizzCon 2023 arrives this weekened and we'll be updating right here throughout the show with the latest World of Warcraft news and coverage from the event.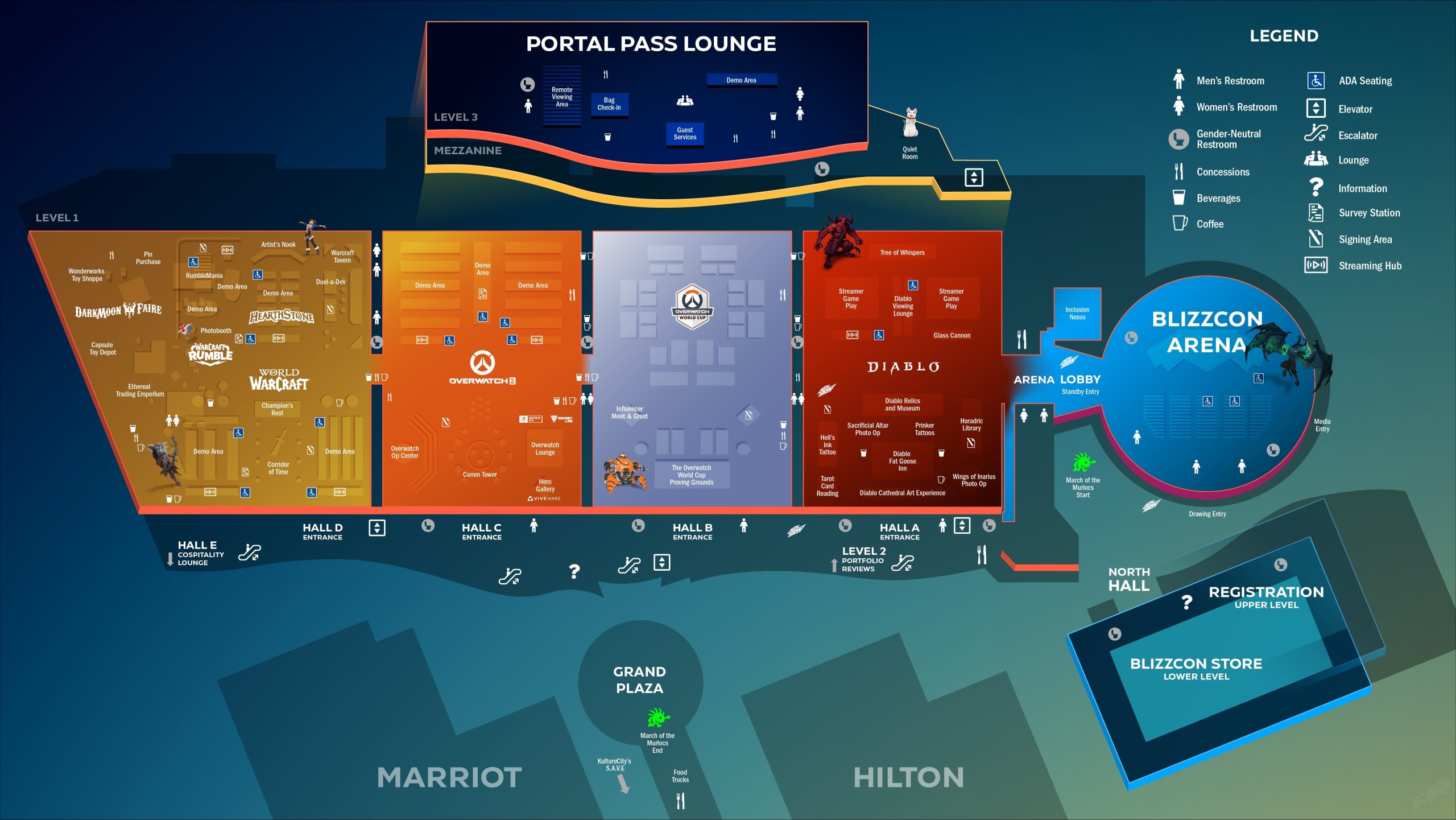 With BlizzCon happening this weekend, Blizzard has updated their convention floor map to display many more details, including two distinct demo areas for WoW. Could this mean we'll have a retail expansion and major Classic update to demo?
Virtual BlizzCon 2023 Overview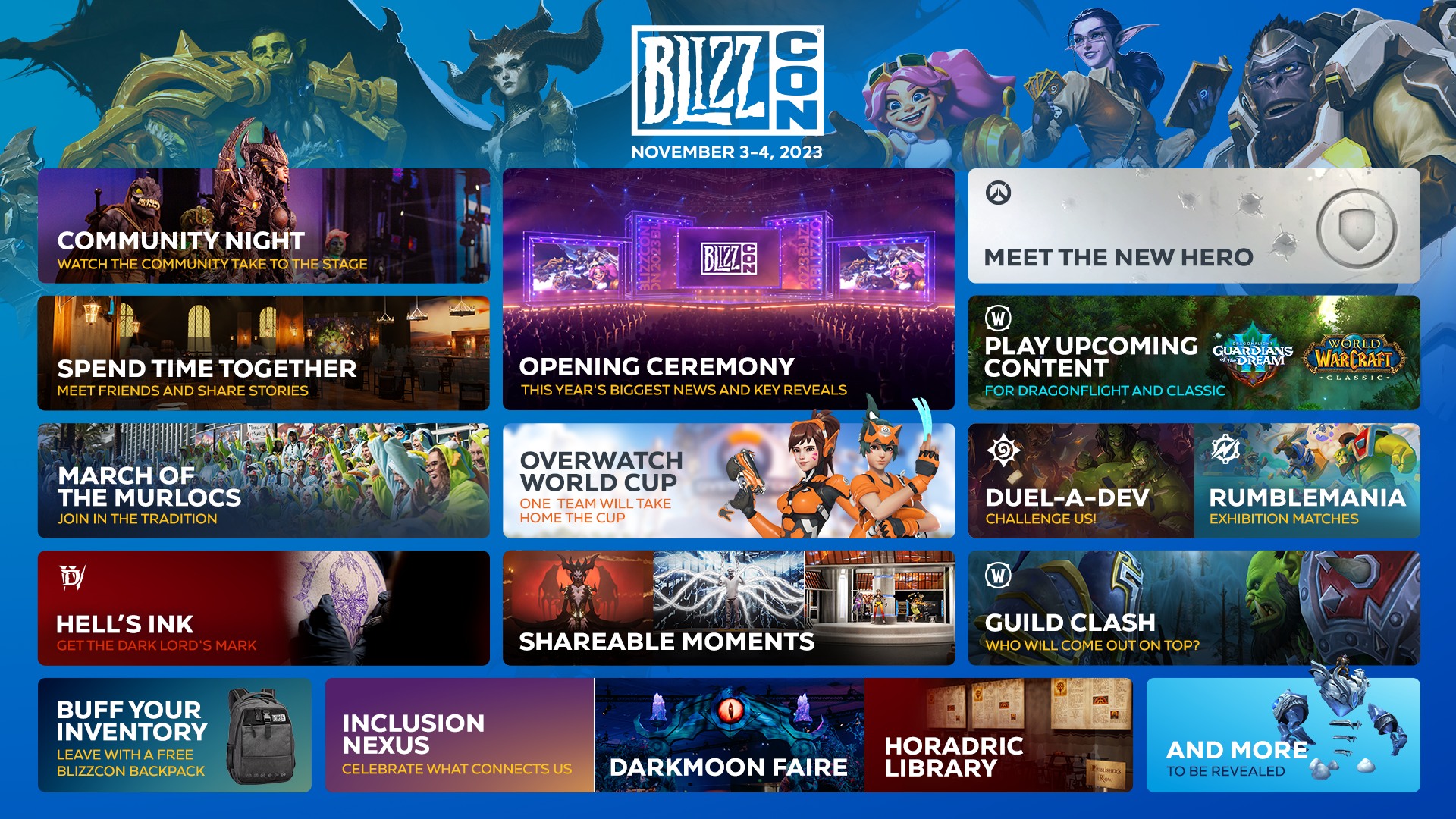 If you can't make it to BlizzCon in person, fear not! BlizzCon® 2023 will be live-streamed free of charge, November 3-4 PDT. Following the live show, you'll also be able to watch BlizzCon 2023 as video-on-demand (VOD) on your own schedule.
In addition to the streaming experience, this year we're pleased to introduce BlizzCon Collection as an optional purchase for our virtual audience. Celebrate the return of BlizzCon with a bountiful collection of digital goodies and in-game items. These packs are a must-have for any player journeying through the immersive worlds of World of Warcraft®, Diablo® IV, Overwatch® 2, Hearthstone®, and Warcraft Rumble™. Whether you're a seasoned hero or just starting your adventure, don't miss out on these iconic items and enhancements to your gameplay experience! BlizzCon Collection also gives you a special BlizzCon Gear Store discount (restrictions apply*). If you are attending BlizzCon in person, the BlizzCon Collection Legendary Pack is included with your purchase of admission. In-person attendees will receive their BlizzCon Collection codes no later than four weeks after purchase.
RUIN Gaming Announces Launch of New Twitch Livestreaming and Multi-Media Studio
San Diego California – RUIN Gaming a leading name in the gaming community, is thrilled to announce the grand opening of our Twitch livestreaming and multi-media studio. The studio will serve as a hub for creating captivating content, engaging with our community, and expanding our reach to deliver the best gaming experiences across various platforms!
RUIN ARTIFICIAL INTELLIGENCE ART INITIATIVE 
Explore the powerful possibilities of the new Artificial Intelligence Art program Midjourney with RUIN.
Welcoming the legendary teams and franchises of Activision Blizzard King to Xbox. Creators of Call of Duty, Candy Crush, Diablo, Overwatch, Warcraft, and more. It's a good day to play.
Microsoft will acquire Activision Blizzard for $95.00 per share, in an all-cash transaction valued at $68.7 billion, inclusive of Activision Blizzard's net cash. When the transaction closes, Microsoft will become the world's third-largest gaming company by revenue, behind Tencent and Sony. The planned acquisition includes iconic franchises from the Activision, Blizzard and King studios like "Warcraft," "Diablo," "Overwatch," "Call of Duty" and "Candy Crush," in addition to global eSports activities through Major League Gaming. The company has studios around the world with nearly 10,000 employees. – Microsoft
WoW is Saved And You Are Going To Love It Now!
Chris Metzen is back. But this time he's, like, back back.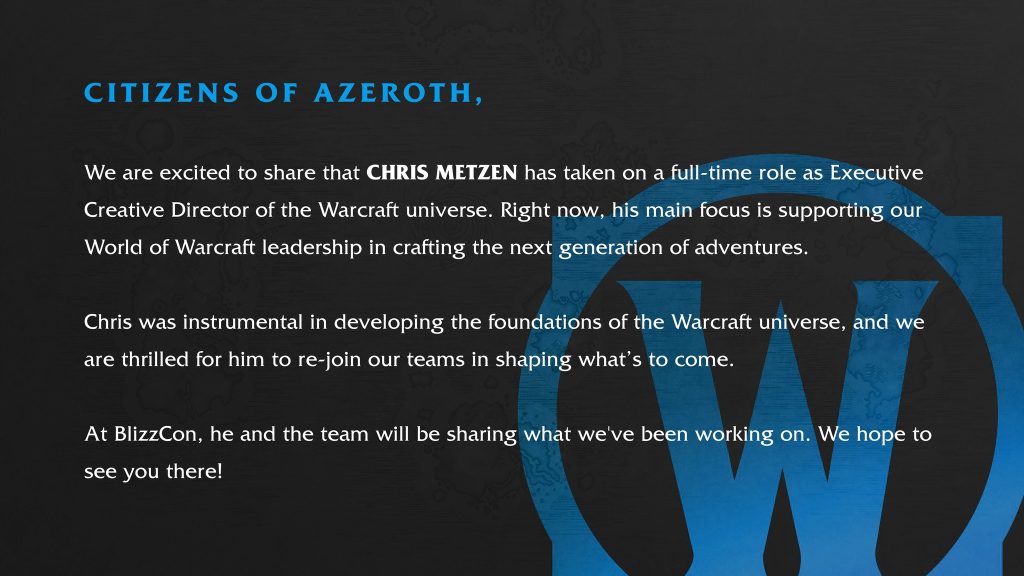 Greetings wanderer!
It's been an exciting few months since Diablo IV was released to players around the world. We launched our first Season, a number of updates and of course, slayed copious amounts of Demons. With Season of Blood arriving on October 17, we wanted to spend some time covering some of the changes—big and small—coming to Diablo IV. The changes we explore in this article can all be found in our Diablo IV patch notes, found here.
World of Warcraft
Blizzard Just Leaked The Next WoW Expansion…
It's time to dive into the latest Warcraft news! Metzen is back in a big way, we've found out even more about WoW's next expansion, and there're plenty of Patch 10.2 developments.
Guardian's of the Dream Goes Live the Week of November 7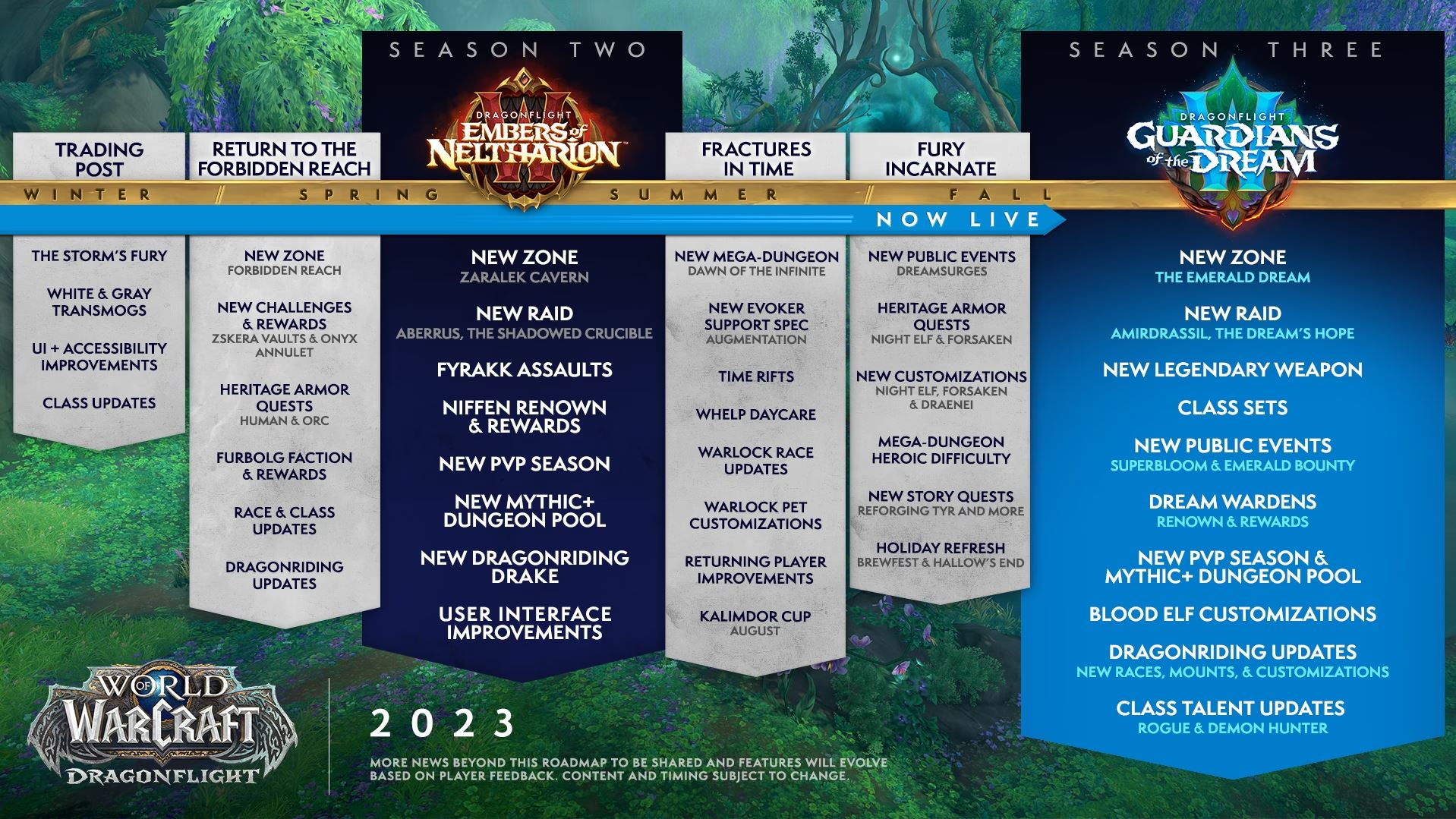 When Guardians of the Dream arrives, champions will be tasked to protect a new zone—The Emerald Dream, engage in new Public Events—Superbloom and Emerald Bounty, build Renown with the Dream Wardens for unique rewards, and save the new World Tree from the Fyrakk's forces in a new Raid—Amirdrassil, the Dream's Hope.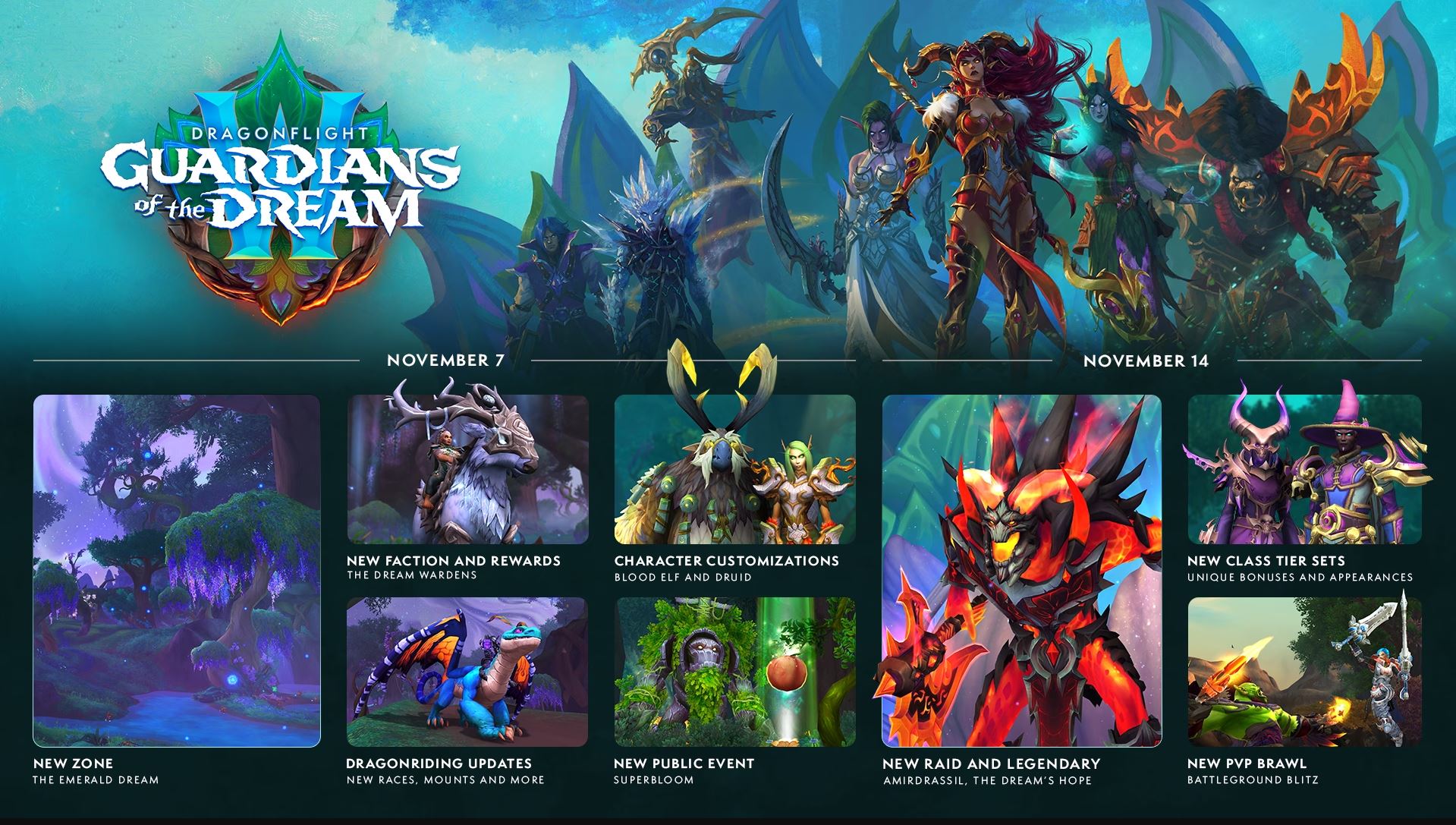 While stalwart defenders are pushing back against the encroaching chaos from other timelines to ensure the preservation of the future, the next content update is in the making.
RUIN is currently engaged in Alpha testing of Ashes of Creation and actively reviewing Star Citizen for a potential future campaign!
RUIN plans to become the largest guild in World of Warcraft and build strong branches in Star Wars: The Old Republic, The Elder Scrolls: Online, Final Fantasy XIV, as well as our upcoming beta testing initiatives for MMORPGs and survival games.
World of Warcraft (WoW): As the flagship game of our guild, we are committed to expanding our presence and influence within WoW. Our goals include recruiting new members who are dedicated to raiding, mythic dungeons, and PvP, as well as fostering a positive and inclusive community. We will continue to organize regular guild events, such as raid nights, battleground groups, and social gatherings, to promote camaraderie among our members.
Star Wars: The Old Republic (SWTOR): We recognize the potential of SWTOR as a popular MMORPG and aim to establish a strong branch within the game. We will actively recruit players who are passionate about the Star Wars universe and interested in all aspects of SWTOR gameplay, including operations, flashpoints, PvP, and roleplaying. We will also encourage cross-game participation among our members, allowing them to enjoy both WoW and SWTOR.
The Elder Scrolls: Online (ESO): ESO is another game with a dedicated player base, and we are excited to establish a solid presence in Tamriel. We will focus on recruiting members who are interested in PvE content, such as trials and dungeons, as well as PvP campaigns. We will organize regular ESO events, including guild runs, group activities, and social gatherings, to foster a thriving ESO community within our guild.
Final Fantasy XIV (FFXIV): FFXIV has gained popularity in recent years, and we want to tap into this growing player base. We will recruit members who are passionate about the Final Fantasy franchise and interested in raiding, dungeons, and PvP in FFXIV. We will also provide resources and support to help our members excel in this game, including guides, mentoring, and in-game events.
Beta Testing: As a forward-thinking guild, we are always looking for opportunities to participate in beta testing for upcoming MMORPGs and survival games. This allows us to stay ahead of the curve, explore new games, and provide valuable feedback to developers. We will actively seek out and participate in beta testing initiatives, and encourage our members to join us in exploring new gaming experiences.
Guild Leadership: To effectively manage our guild's growth and operations, we will continue to invest in strong guild leadership. Our officers will work closely with the guild master to oversee recruitment, event planning, member management, and community building. We will also establish clear communication channels, such as Discord and guild forums, to facilitate communication among our members and ensure that everyone is informed and engaged.
Member Engagement and Retention: We recognize that our guild's success depends on our members' engagement and retention. We will continue to prioritize member satisfaction by providing a welcoming and inclusive environment, regular events and activities, and opportunities for members to contribute and advance within the guild. We will also actively seek feedback from our members and address any concerns or suggestions to ensure that our guild remains a thriving community where everyone feels valued and included.
In conclusion, our guild's plan to become the largest in World of Warcraft and establish strong branches in other MMORPGs is centered on recruitment, engagement, and community building.
We will actively participate in beta testing initiatives to explore new gaming opportunities, while also fostering a positive and inclusive environment for our members to thrive in. Our guild leadership will work diligently to oversee operations, and we will prioritize member satisfaction and retention. With everyone's dedication and effort, we are confident in successful RUIN campaigns in World of Warcraft: Dragonflight and upcoming MMORPGS.
ABOUT RUIN
The community came together during the 2004 launch of World of Warcraft. The guild assumed the name RUIN during the Warhammer Online campaign which culminated in the World First Inevitable City conquest.
Welcome to RUIN Gaming! Join one of the best gaming communities on Twitch, stop by the stream chat and Discord! Thank you to all of our long time members and supporters!
RUIN GUILD MEETING UPDATE
New Guild Calendar
Patron Thursday Events
Exclusive community driven events in the Subscriber Events channel! Upcoming game content
Friday RUIN after Dark! 
Traditionally Grand Theft Auto Five and other popular games in a relaxed fun environment on Discord. Social drinking encouraged, spend time with your guild mates doing Heists, Races and other iconic content across the best massive multiplayer games! Get to know your guildmates, make friends and plan for the future!
Saturday Whiskey and Murder!
Play the best in multiplayer online Shooters! Destiny 2, Call of Duty, Battlefield and other upcoming next generation games. RUIN is a multi gaming guild and encourages members to enjoy best in genre gaming content!
Subscriber Thursday
Casual community selected content. Tours of all games the RUIN plays!
Casual Sunday:
The World of Warcraft: Grand Tour Returns!
Comprehensive Retro World of Warcraft content: Mount and achievement clears! Rides of justice, clearing out all remaining rares for pets, mounts and other cosmetic items of interest! Currently sunsetting Battle for Azeroth and Shadowlands expansions in World of Warcraft!
Media Monday Games Tour!
Media Monday and other games tour! Final Fantasy XIV, ESO, Destiny 2, Conan Exiles, Ark Survival and other exceptional games!
Executive Summary
RUIN will continue to encourage our community members to branch out into the full spectrum of online multiplayer games through our Summer 2021-2023 Campaign.
Serving a mission that is greater than gear score.
Large parts of the RUIN community are deliberately moving away from Activision Blizzard games towards more healthy environments to build communities. Star Wars: The Old Republic, Final Fantasy XIV and other games align more closely to our values. Strong interest in new and upcoming games.
We need fun, engaging content that encourages players to grow together as teams and individuals.
World of Warcraft and other MMORPGS. 
MMOs, at their core, are games that provide for the communal experience of the Great Myth which is a fundamental human pursuit throughout nearly every culture and time in history. Intellectual properties such as, Star Wars, World of Warcraft, Elder Scrolls, etc. are modern adaptations and additions to the great human myth telling tradition. Expansive universes in which the heroic journey of many trials can be more directly experienced.
We encourage members to immerse themselves in the rich lore and ever expanding stories that are the foundation of every game we play. Invest time and pride into your characters! Strive to  fully enjoy the online gaming experience within our community!
Community Objectives
We remain excited for the future, with many improvements in the gaming genre on the technological front with the introduction of new consoles as well as next generation gaming engines and intellectual properties! Unreal 5 engine is of particular interest to us in 2023!
Have fun and win!
Gaming news of interest to the RUIN community!
Wrath of the Lich King Classic: Fall of the Lich King is Now Live!
With the Fall of the Lich King content Update, Wrath of the Lich King Classic players can engage in three new dungeons, join in the adventure in the Random Dungeon Finder, and much more.
The Fall of the Lich King content update becomes available the week of October 10, bringing with it a variety of updates to Wrath of the Lich King Classic including:
New Dungeons

The Forge of Souls, Pit of Saron, and Halls of Reflection

Random Dungeon Finder
New Titan Rune Dungeons: Defense Protocol Gamma
New Collections User Interface
And more.
The Azeroth World Revamp Has Been Confirmed
For the first time, WoW's game direction has spoken to the press about an Azeroth world revamp, and how they would avoid the mistakes of Cataclysm.
Fury Incarnate Arrives September 5th
In Fury Incarnate, players can join forces in new public events—Dreamsurges, earn Forsaken and Night Elf Heritage Armor, band together to run Heroic difficulty for the Dawn of the Infinite mega-dungeon, follow Velen's prophecy to reveal a new future for some of the draenei people—and more.
World of Warcraft Dragonflight patch 10.1.5 Fractures in Time is here and 10.1.7, Fury Incarnate is ALSO HERE! Let's take a look at the new patch's terrible launch, excellent content and how it spells out ALL the future patches of the expansion… and get to grips with some of the early 10.1.7 datamining and features!
CLASSIC HARDCORE REALMS!
Face Azeroth's dangers in WoW Classic's Hardcore realms and see just how far you can go. You only have one life to live, and the Spirit Healers won't be there to whisper sweet nothings and send you back out into the world of the living when you die. Death is permanent, and once you've been bested by the environment (or even other players), you'll need to create a new character to try, try again. Learn more about the rules of engagement.
The skies are alight in July with FIZZ! and POP! of fireworks fast on the heels of spectacular new offerings at the Trading Post. But that's not all the Trading Post has to offer. To whet your appetite for fantastical new items for your collections, we're also upping the ante and expanding the number of items available in the months of July and August with the summer's hottest rewards!
Learn more in our previously published preview, then check out the PTR Development notes on the official forums. Keep an eye on the official site for more news and insights in the weeks ahead.
Welcome Back! — To World of Warcraft
Each week we'll look ahead to what's in store for World of Warcraft, share the latest news, and keep you in the know byte by byte. This week, heed the Call of the Crusade in Wrath of the Lich King Classic™ beginning on June 20 and culminating in the release of the Trial of the Crusader, Trial of the Grand Crusader, and level 80 Onyxia's Lair on June 22. Then, mark your calendars—Dragonflight: Fractures in Time goes live on July 11!
Blizzard Entertainment has created a unique immersive space inside a massive cathedral landmark that mimics the look of Diablo IV. On May 31, doors will open at 7 PM PT at Vibiana with a special announcement and theatrical moment at 9 PM PT.
Save the Date! BlizzCon is Coming November 3-4 
After four years of gathering online–adventuring through Azeroth, teaming up in Overwatch, traversing the fields of Sanctuary, or warming yourself by the fire in the Tavern–it's finally time to gather in person once more. We are happy to announce that BlizzCon will be returning to the Anaheim Convention Center on November 3-4!
This Week Dragonflight Took Some BIG L's… Greed & Poor Judgment | World of Warcraft News
World of Warcraft Dragonflight patch 10.1.5 Fractures in Time is just around the corner and with it the mega dungeon Dawn of the Infinites, time rifts and a series of new quests from Chromie that send players back to important events in Azeroth's history to maintain the "True Timeline". These quests involve Arthas, Rexxar, Jaina and more, but there is huge controversy surrounding one in particular with regards to Alexstrasza and events in Warcraft 2. There is datamining that suggests Traders Tender might soon make it onto the cash shop, and lots of new transmog to look at in the PTR. Join us for the Weekly Reset, Taliesin and Evitel's Wondrous Wisdomshow.
Embers of Neltharion Live!
Join your allies for the continuing adventure through the Dragon Isles with our next content update. You'll explore an all-new zone, meet new allies, discover hidden treasures, and more.
New Zone: Zaralek Caverns – Gather your courage as you venture into this mysterious underground cavern.
Cross-Faction Guilds: Players who have been enjoying Cross-Faction Instances now can join the same guild as their opposite-faction friends and benefit from conveniences like shared chat and guild repairs.
Fyrrak Assaults: Fyrakk's forces are gathering resources at Suffusion Camps located in the Azure Span and Ohn'ahran Plains. It's up to the heroes of Azeroth to disrupt their efforts to lure Fyrakk and his disciples out.
Meet New Allies: As the heroes of Azeroth pursue enemies into the dangers of Zaralek Cavern, they are aided by the local inhabitants found under the Dragon Isles — the molefolk known as "Niffen" and the Drogbar.
And more…
Current Focus: Casual content in World of Warcraft, Star Wars The Old Republic and Final Fantasy XIV, we have additional areas of interest in a variety of upcoming MMORPGS!
Work on your characters in SWTOR, ESO and our private survival servers: Ark Survival Evolved, Conan Exiles, Minecraft etc. 
Dragonflight Campaign. Raid and PVP team formation.
Discord and guild community recruitment and inactivity clear. 
Long term Guild sustainability fundraising.
RUIN livestream studio project.
An introduction from Rob Denton, President of Broadsword
An introduction from Rob Denton, President of Broadsword + 7.4 Livestream announcement from Keith Kanneg, Executive Producer of SWTOR.
Star Wars: The Old Republic will be transferring to Broadword Entertainment from Bioware. 
Return to planet Voss to explore the never before seen Interpreter's Retreat, uncover the secrets of a newly found relic of Darth Nul, and build an alliance between the Voss and the Gormak.
CYBERPUNK 2077: PHANTOM LIBERTY
Return as cyber-enhanced mercenary V and embark on a high-stakes mission of espionage and intrigue to save the NUSA President
Star Wars Outlaws: World Premiere Trailer
Watch the World Premiere trailer of Star Wars Outlaws. Introducing scoundrel Kay Vess in the first-ever open world Star Wars game. Coming 2024.
Amazon Lord of the Rings Open World Massive Multiplayer Game
Amazon's Lord of the Rings Massive Multiplayer Role Playing Game resumes development.
State of Unreal | GDC 2023 | Epic Games
Find out about Epic's long-term vision for the future, including how we're laying the foundations for a huge, open ecosystem and economy for all creators.
Conan Exiles: Age of Sorcery — Chapter 3
As the Age of Sorcery comes to an epic conclusion, prepare to face the one responsible for the spread of sorcery in a brand-new boss encounter, shape your own custom Golems, and explore a fully redesigned Journey System.
Starfield: Official Launch Date Announcement
Get ready to embark on an epic journey when Starfield, the first new universe in 25 years from Bethesda Game Studios, launches on September 6, 2023.
Starfield: Official Gameplay Reveal
Watch the official gameplay reveal for Starfield from the XBOX and Bethesda Games Showcase. Starfield releases on Xbox Series X|S and PC in 2023. Play day one with Game Pass. Learn more
COMMUNITY
Our mission is to provide an oasis for gamers and a much needed escape from the real world intended to uplift morale and provide a hopeful place to socialize, make new friends while maintaining connections with all of those we have met along the way over the last sixteen years.

This last year has been extremely difficult, presenting many unforeseen challenges and significant losses, the impact on the greater gaming community has been significant.
RUIN's Discord server has reached over 11,000 members! 
We continue to remain a supportive meritocracy, where our success is a direct result of finding new gaming leaders and team-builders within our community, then empower them through providing resources, training, support, and a friendly community to become the best possible leaders. We utilize the features of Discord to make all of this possible including tech support, suggestion channel, gaming news, and guides for our favorite games.

RUIN has several channels dedicated to daily life such as: health and wellness, music, our live Ruin Lounge with Groovy Bot streaming music, technical support for community members, news (media) outlets, all combined with a healthy sense of humor and maturity. To promote further fun within the community, RUIN has also provided numerous user generated activities, contests, giveaways and other charitable events.

All members and officers have the opportunity to provide feedback through the weekly guild meetings and our Discord server channels. This helps us to adapt and improve to continue to make the community thrive and be an enjoyable experience for everyone.
Discord Meeting Schedule
General meeting:

Tuesday 6PM PST / 9PM EST

Officers meeting:

Tuesday 5PM PST / 8PM EST
GAMES
Core Branches in 2023
RUIN Private Servers
Upcoming Games of Interest
Would you like to be a member of the RUIN officer team or help the community directly?

We are always on the look-out for new officers in all of our gaming branches. Members with prior gaming experience, administrative abilities, military backgrounds, or those who simply want to learn to be a leader for the first time and have the enthusiasm to step-up and lead groups or help within the RUIN community should feel free to ask in our Discord server for officer training and promotion. It's all of you taking the time to help as much as you that makes RUIN as successful as it is today!
SOCIAL MEDIA
We aim to provide exciting content on current and upcoming games via YouTube, Twitch, Social Media and more. Subsequently, we encourage Game Developers to provide our community with massive multiplayer content that we have always envisioned, bringing virtual communities into a fully realized and complete state. We hope to engage an increasingly wide player base and keep invested in currently popular and upcoming gaming platforms by utilizing our social media well.
EVENTS
RUIN traditionally hosts a variety of guild events in and out of game. Including Blizzcon, movie premiers, summer vacation retreats and other gaming or entertainment industry related conventions and events!
The Roadmap featured here, is based on an extensive collaborative effort to review games all across the MMO Genre to build a concise vision of what we hope to achieve. We constantly gather suggestions and feedback directly from our communities and players in order to effect change and positive reforms within RUIN.
Plans are being developed to also host viewing parties of various popular series that include The Mandalorian, and some from the Marvel Cinematic Universe. 
RUIN Gaming is one of the largest multi-gaming communities in the world and the largest in World of Warcraft with branches on 30 servers.
Congratulations on the successful completion of the World of Warcraft: Battle for Azeroth War Campaign! RUIN sincerely thanks all members of the Alliance who fought and won the fourth war under unprecedented conditions of challenge in and out of game.
In game events are intended as a morale improving victory lap and a method to thank and reward the many thousands of Alliance players for their incredible, undefeated, Warmode campaign during the 4th war!
BLIZZARD COMMUNITIES
Bring your friends and family of the same faction together cross-realm through our new World of Warcraft Communities feature: