Stream Team, Twitch, Youtube, Facebook, Twitter, Instagram, Patreon
RUIN an expansive multi game community in search of outstanding members based on Discord. Organized large scale Player versus player and progression raiding are the primary in game objectives of RUIN.
Founded to support Diablo II in early 2000, RUIN has expanded throughout Activision Blizzard games. A focus on massive multiplayer role playing games and open world sandbox environments.
RUIN has a long history in other massive multiplayer games, including: Age of Conan and Warhammer Online: Age of Reckoning. Continuing to expand, evolve and grow as a community Ruin is now present throughout Activision Blizzard games and across the spectrum of online gaming:
MISSION STATEMENT
RUIN is a virtual Massive Multiplayer Online organization focused primarily on the player versus player aspects of several online games. Our mission is to provide an inclusive, civil and entertaining space to play games within a like minded community and to interact with game developers in order to preserve, improve and expand the community's online universe. 
CORE VALUES 
RUIN is committed to creating a welcoming environment for everyone, with a long term goal of enriching the lives of veterans, those with disabilities, service men and women worldwide and all those who desire to share in the monumental potential of virtual communities that provide for the basic human needs of interaction, connection and a shared experience. 
RUIN is creating a culture of continual learning and support for our members. Virtual communities offer enormous potential for connection and engagement with people from all over the world. 
RUIN is dedicated to continually reinforcing a positive learning environment in order to foster experienced, educated, insightful, reflective community members and leaders.
OBJECTIVES 
Our goal is to provide exciting user generated community content, share the experience on current and upcoming games via social media: Twitch, Youtube, Facebook, Twitter, Instagram, Patreon
RUIN invites game developers to actively engage with our community to collaborate on quality of life improvements within the massive multiplayer genre. Our focus on massive scale player versus player battle environments across the MMORPG genre. 
Our community has a broad range of skill sets, life experiences and gaming backgrounds to provide developers with an unparalleled opportunity for in depth unbiased feedback.
A vision for a more productive, symbiotic relationship with developers will engender what we have always envisioned, bringing virtual communities into a fully realized and complete state. 
RUIN is building an expansive virtual community open to all. We believe that virtual communities can provide an ideal environment to empower those with disabilities to socialize, engage and contribute their talents. Together we can all experience epic storytelling across a spectrum of intellectual properties and gaming universes. 
RUIN seeks to create an engaging virtual community setting intended to allow our members to experience and enjoy their personal Hero's Journey across many different platforms. By providing the best in genre user generated content and entertainment.
Ruin Nation Multimedia
Want the newest and most up to date content delivered right to your message board or phone? Ruin Nation has a dedicated branch of Live Streamers and are constantly uploading content to youtube on a daily basis. Game you can't play? Can't yet purchase? Not sure if you are interested? We have you covered. We are constantly searching for gaming news, information and social media, pulling the most relevant events and creating original community content. We highly encourage you to join the following communities on our social media:
We also ask that if you can, please donate to our Patreon page to support the ongoing operation of the Ruin community!
RUIN maintains both Horde and Alliance branches:
RUIN RAIDING BRANCHES:
WAR MODE World PVP Communities: 
HORDE SERVERS
HORDE RAIDING BRANCHES
Use the Blizzard Community System to communicate and form groups across all RUIN servers and branches!
CLASSIC WORLD OF WARCRAFT 
RUIN COMMUNITIES 
RUIN Battle.net Community – For all Activision Games
PVP COMMUNITIES
RUIN PVE COMMUNITIES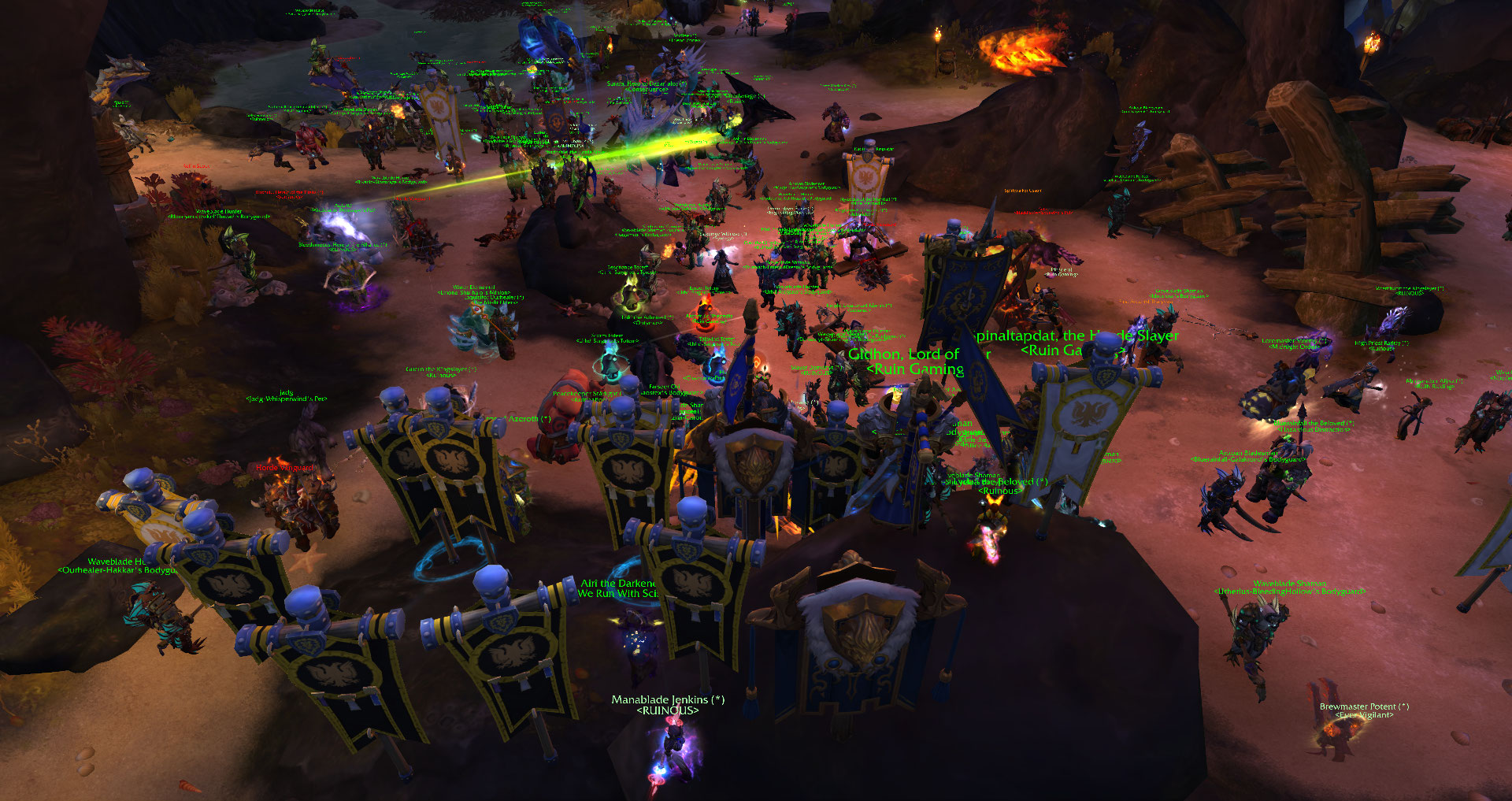 Battle for Nazjatar is a special World PvP event across all of Nazjatar in Patch 8.2 Rise of Azshara. Earn Nazjatar Battle Commendations for rewards like Essences and even mounts!
Each battle lasts 45 minutes, or until one faction reaches 3000 points. Both factions try to control five points in Nazjatar: Tidal Conflux, Alathi Spire, Thoras'tal Spire, Zin-Azshari, Lemor'athra Spire. Points are earned through holding Control Points, killing the enemy faction, or enemy NPCs.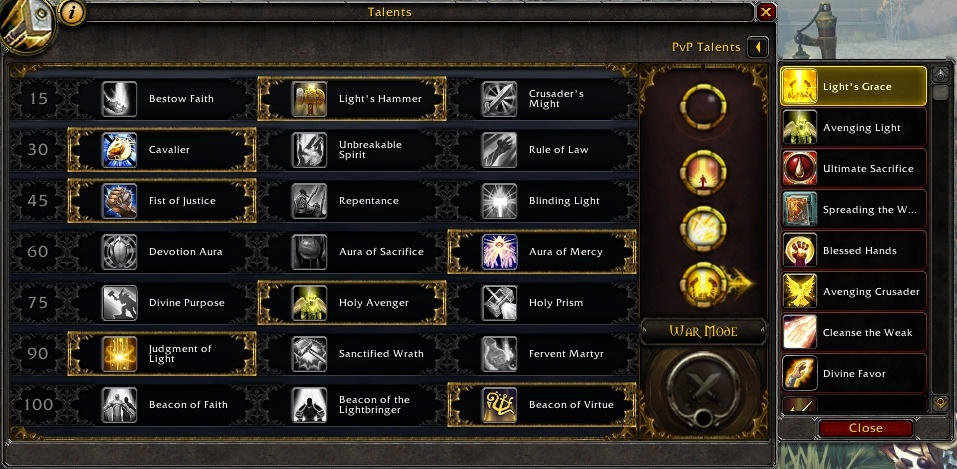 RUIN in World of Warcraft Battle for Azeroth will focus heavily on the new War Mode system.
Battle for Azeroth is changing how PvE and PvP realms work. Starting in 8.0, realms won't have separations as PvE or PvP, but now each player can choose whether they want to engage in War Mode or not. Players in War Mode will be in a separate shard from players without it. In order to toggle War Mode, players must be in a capital city. – Wowhead
World of Warcraft: Battle for Azeroth Features Overview
Tensions between the Alliance and Horde have erupted, and a new age of war has begun. Support your faction as you battle to level 120, join forces with new Allied Races, plunder resources in Island Expeditions, and lay siege to the opposition in Warfronts. – Blizzard
Server: North American Megaserver
Faction: Aldmeri Dominion
Join RUIN in The Elder Scrolls Online: Summerset, the next chapter in the award-winning The Elder Scrolls Online series! Return to the iconic island of Vvardenfell a brand new ESO location, with a new player class, a new PvP mode (Battlegrounds), a new Trial and large scale PvP in Cyrodiil.
Servers: Satele Shan
Factions: Republic, Sith
Star Wars: The Old Republic offers one of the best leveling experiences of any MMORPG currently available. Engaging and immersive story driven game play allows for an unparalleled role playing experience, with enormous character customization and development all within the award winning Bioware Knights of the Old Republic universe.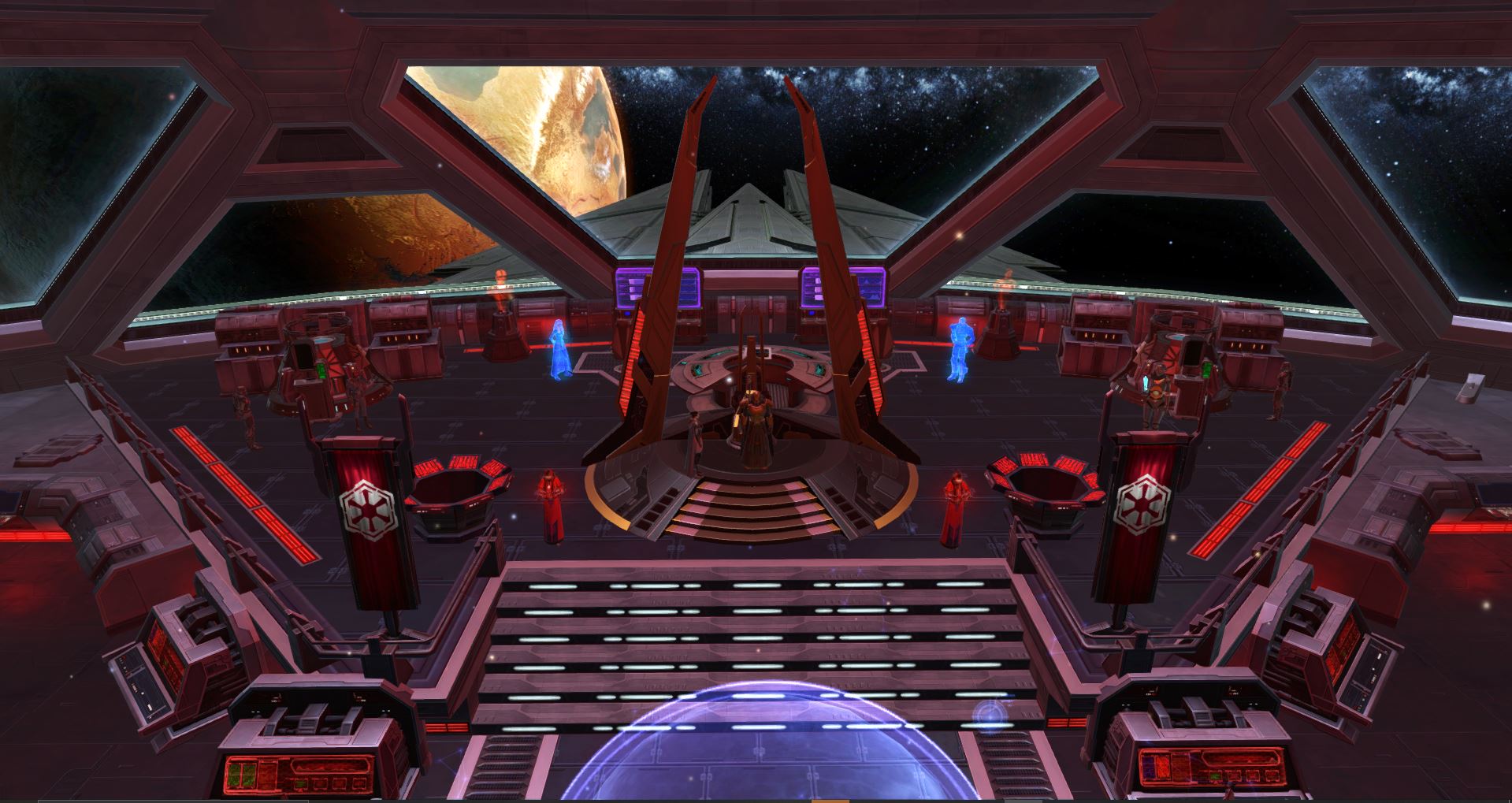 RUIN continues our long tradition in Star Wars: The Old Republic. Construction of the Guild Ship and Stronghold on Yavin IV continue! Please pitch in towards these projects through the Stronghold Tab by donating copies of decorations to the guild.
The primary objective of RUIN in Conan Exiles is to construct a well defended guild city capable of keeping members safe from siege warfare and attack. Currently active on Official Server 80 and the guild private Conan Server!
Guild Meetings:
Every Tuesday night at 6 pm PST, we have a guild meeting. Please check with an officer in the game you play to determine where the physical meeting is occurring. We ask that if you are logged into the game, that you join us in Discord and a location within the game. At this time, we will discuss news, upcoming events, and promotions. After the meeting, Archaos will lead a group of Ruin members to complete events and or world bosses depending on the game the meeting occurs in.
There are five departments within RUIN
WAR MODE
Responsible for building and leading teams in War Mode with a focus on Battle for Nazjatar and War Mode Objectives.
Recruit and mentor new members and organizing a variety of community events. Conduct new member's meetings, orientation and assist with general guild related questions.
We are here to help you!
PVP: Responsible for creating teams with the objective of clearing all relevant group player versus player content and providing for the common defense of Ruin members.
WRNT:  Warrant builds and maintains all electronic media and information technology platforms. 
Rank Structure:
If you have a problem with someone or something please contact someone in the appropriate department of the game it occurred in starting at the Corporal rank and work your way up. Here are the ranks:
Leader  
Director  
Commander
Officer
Lieutenant
Sergeant
Corporal
Veteran
Citizen
Recruit
Closing
We realize that real life will always come first. If any of you have any questions or need help regarding short or long term gaming absence, please contact an officer, and we will assist you. Thank you for taking the time to read this document. Welcome to Ruin Gaming!