The RUIN Star Wars: The Old Republic community is currently composed of active guilds on both the Sith and Republic factions.
Level 70 characters are welcome to join the primary Republic and Sith guilds for progression Operations, Galactic Command and community events.
Star Wars the Old Republic News
Additional RUIN guilds built to support alternate and new characters are provided to encourage members to fully explore the rich Bioware storytelling and leveling experience for all classes and factions.
Factions: Sith – Republic 
Game Update 7.4 "Chains in the Dark" Livestream recap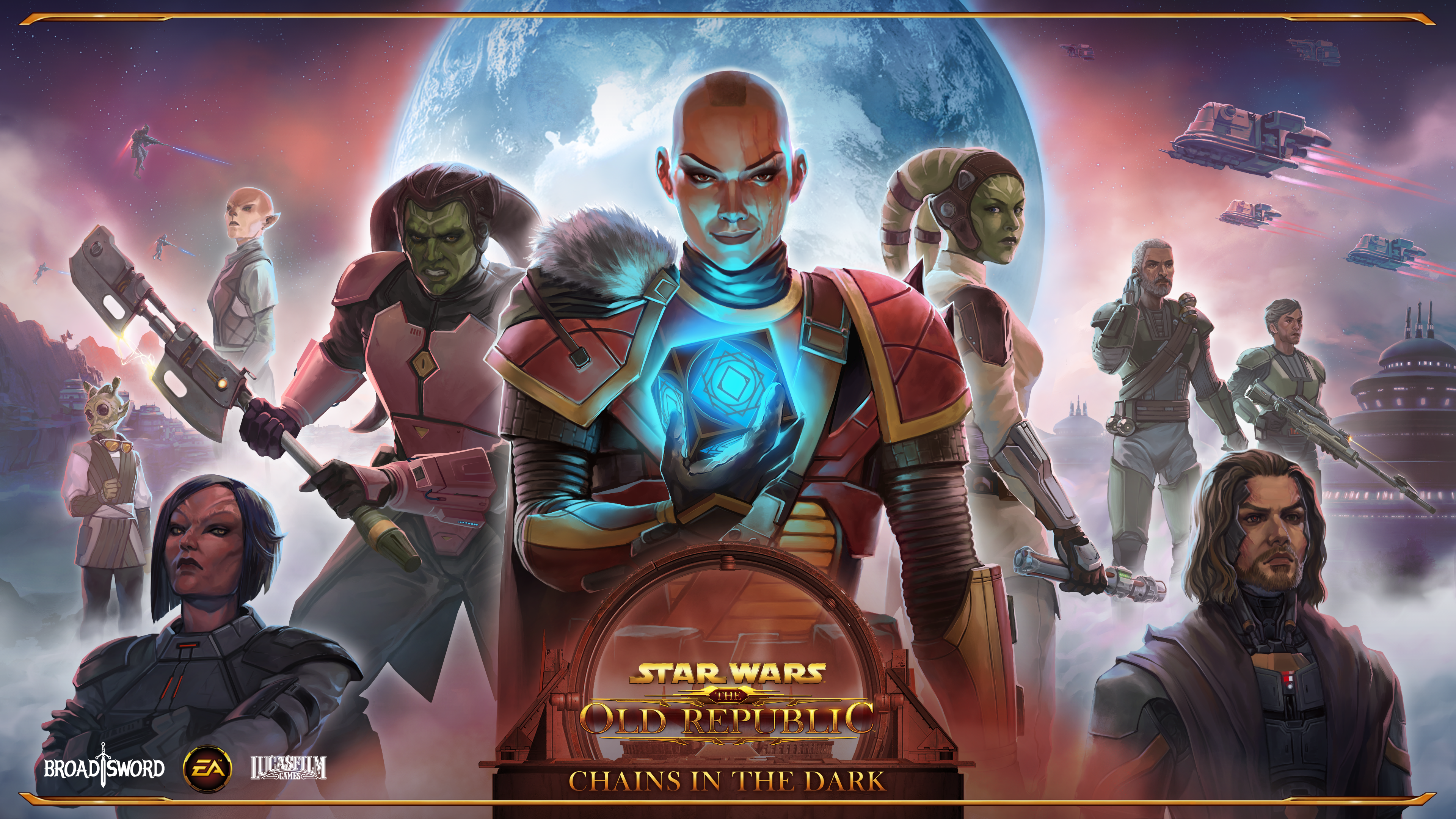 If you were unable to watch-or if you want a recap of everything we showed during our Game Update 7.4 Livestream-we've got you covered! Below is a breakdown of what we showed, including timestamps for the different segments of our livestream.
An introduction from Rob Denton, President of Broadsword + 7.4 Livestream announcement from Keith Kanneg, Executive Producer
I'll let Keith say more about Game Update 7.4, but I see a very bright future for SWTOR and our plans are already starting to take shape for new and exciting things. I have always been fond of SWTOR, and I look forward to seeing what this amazing team will create and continue to build upon in the years to come.
Goals and Objectives:
RUIN maintains operations on the Satele Shan mega server for both the Sith Empire and Republic factions. The guild provides an active Galactic Command system environment: PVP and PVE community Operations, structured PVP, World Boss clears with the objective of strong character progression for all members.
Game Update 7.1 "Digging Deeper" is live!
The new Star Wars: The Old Republic – Legacy of the Sith expansion brings you to uncharted parts of the galaxy while pursuing Darth Malgus. Explore two new planets, a new Flashpoint, earn new rewards during the new Galactic Season, and more!
With Game Update 7.1 "Digging Deeper," players return to Elom to unearth new clues about Darth Malgus's mysterious plans. This update also brings a new Operation–the R-4 Anomaly–as well as the Manaan Daily Area and new tactical items. Alongside the new content, we've improved the player's experience with changes made to the User Interface, including additional customization options. Read below for more details!
Story Update: Digging Deeper – Discover new secrets about the motivation behind Darth Malgus's mysterious plans and learn the fate of Sa'har Kateen, the Jedi Padawan Malgus dueled in the ancient ruins of Elom.
R-4 Anomaly Operation – In this new 8-player Operation, players take on an obscure Sith cult set on harvesting technology from an ancient weapon of terrifying power. This new operation is available in Story Mode and Veteran Mode to all characters at level 80. Look for it in the Activity Finder window!
The following can be obtained from this Operation:
Virulent Armor Sets
Hazardous Armor Sets
Bosses and R-4 Anomaly Operation Decorations
Item Rating 340 gear in Veteran Mode
Manaan Daily Area – Travel to Manaan for two new, faction-based storylines and repeatable Missions. To access these Missions, characters must have completed the Onslaught and Legacy of the Sith expansions. Manaan Daily Area Missions will be available on the Daily Missions Terminal on Manaan or in the Activity Finder window.
Like other Daily Areas, Manaan will offer several new rewards. To earn them you'll need to reach the appropriate reputation rank with your respective faction by completing Daily and Weekly Missions. Each faction has a vendor in their base who sells items, including:
New Storyline
The war between the Galactic Republic and the Sith Empire spreads to new worlds! Dangerous threats rise in the dark corners of the galaxy ​and Darth Malgus pursues an unknown plan… Unravel these mysteries and more as your choices continue to shape the galaxy.
Galactic Seasons 2: 'Shadows of the Underworld'
With our new expansion, Legacy of the Sith, we're launching the second season of Galactic Seasons, 'Shadows of the Underworld'! Similar to Galactic Seasons 1: The Stranger from Kubindi, Season 2 will give players the opportunity to earn new and exciting rewards through two different tracks: the Free Reward track or the Subscriber Reward track. Subscribers will have access to both tracks as they progress through the Season. Players can progress through these reward tracks by completing Daily and Weekly Season Objectives.
Throughout the first Season, you all provided a ton of great feedback that has helped us shape and refine how the Galactic Seasons system looks and feels. Let's dive into those changes!
Joining and playing alongside a guild will be easier and more rewarding than ever before with the following guild system and management improvements:
STAR WARS™: The Old Republic™ – 4K ULTRA HD – 'Sacrifice' Cinematic Trailer
The year-long celebration of our 10th anniversary kicks off with Legacy of the Sith, a new expansion that marks the starting point to a full year of galactic intrigue, conflict, and mystery. Legacy of the Sith will send players to the darkest depths and farthest reaches of the galaxy and unlock the ability to choose your personal combat style, allowing for more options than ever before when it comes to living in your own Star Wars fantasy.
Epic Bioware Story
The KOTOR Universe
Knights of the Old Republic has played an enormous and often under appreciated role in expanding and enriching the Star Wars universe. An understanding of this early period helps to provide context for the state of the Galaxy in the Star Wars Universe.