21 September 2021

Welcome to the RUIN gaming Community! Established in 2004.
Twitch, Youtube, Facebook, Twitter, Instagram, Patreon
The RUIN community meets every Tuesday at 6PM Pacific Standard Time on Discord to recognize outstanding members for promotion, discuss gaming news, events and scheduling for the upcoming week!
ABOUT RUIN

The community came together during the 2004 launch of World of Warcraft. The guild assumed the name RUIN during the Warhammer Online campaign which culminated in the World First Inevitable City conquest.
Welcome to RUIN Gaming! Join one of the best gaming communities on Twitch, stop by the stream chat and Discord! Thank you to all of our long time members and supporters
RUIN GUILD MEETING UPDATE
Executive Summary
RUIN will continue to encourage our community members to branch out into the full spectrum of online multiplayer games through our Summer 2021 Campaign.
New World Launch on September 28th will remain a primary community campaign focus.
World of Warcraft in the absence of a coherent War Mode campaign to replace Battle for Azeroth's   explosive and highly disruptive revelations
Regarding the ongoing Activision Blizzard saga. 
A public reaction to the current events, lawsuits and change of leadership at Blizzard that continue to significantly impact our community is required.
RUIN has been a long time Blizzard community, active since the early days of Diablo I. The enormous success of Diablo, Warcraft, Starcraft and the introduction of Overwatch enshrined Blizzard as one of the most popular and successful gaming companies in the world.
We will always cherish and remain extremely proud of the many accomplishments of our community in World of Warcraft and other Blizzard Games. However, many of our members, long term veterans and officers have already decided to transition to other games as their primary focus in 2021 and beyond. 
The strong performance and high quality content offered by FFXIV, SWTOR, ESO and other multiplayer games provide a rich variety of alternatives. In addition the upcoming launch of Amazon's New World provides a compelling primary campaign focus for RUIN.
We remain hopeful that Blizzard will take this time to reflect on their corporate culture and engage in the necessary thorough, thoughtful reform and challenging work of rebuilding their reputation.
These are the core stated values of Blizzard Entertainment.
Gameplay First
Commitment Quality
Play Nice; Play Fair
Embrace your inner Geek
Every Voice Matters
Learn and Grow
Think Globally 
Lead Responsibly 
It is beyond dispute that Blizzard has failed to uphold its core values.
Reform and a commitment to adhering to the core stated mission is required in order to rebuild trust and the long process of repairing the reputation and prestige of Blizzard.
Moment of reflection
RUIN will use this time to reflect on our own culture and core values. As the MMORPG and online community space continue to grow, mature and evolve it is critical that we continue to engage and reach out to our members in a fully transparent manner to ensure that all members are able to vote on the games, media and user generated content that we would like to enjoy together going forward.
Serving a mission that is greater than gear score.
Large parts of the RUIN community are deliberately moving away from Activision Blizzard games towards more healthy environments to build communities. Star Wars: The Old Republic, Final Fantasy XIV and other games align more closely to our values. Strong interest in new and upcoming games.
We need fun, engaging content that encourages players to grow together as teams and individuals.
Developer Diary: Cultures & Civilizations
Get an inside look at how Amazon Games is approaching incorporating various cultures and civilizations in New World.
Explore a thrilling, open-world MMO filled with danger and opportunity where you'll forge a new destiny for yourself as an adventurer shipwrecked on the supernatural island of Aeternum. Endless opportunities to fight, forage, and forge await you among the island's wilderness and ruins. Channel supernatural forces or wield deadly weapons in a classless, real-time combat system, and fight alone, with a small team, or in massed armies for PvE and PvP battles—the choices are all yours.
The Weekly R
The Weekly Reset by Taliesin and Evitel – Hints the Mage Tower Will Return in 9.1.5
The 9.1.5 Love-in continues apace, with even MORE unexpected goodies, including infinite, unlimited Soul Cinders, easy alt anima and auto-renown and… the return of the MAGE TOWER???!! This can't possibly work, right? Join Taliesin and Evitel for another episode of the Weekly Reset.
A Timeless Classic, Resurrected
Diablo II: Resurrected includes all content from both Diablo II and its epic expansion Diablo II: Lord of Destruction®. Battle your way through icy caverns, horrific tombs filled with undead abominations, and frozen wastelands to the frigid summit of Mount Arreat and stop Baal, the Lord of Destruction. Raise hell with two Lord of Destruction playable classes—the cunning Assassin, master of traps and shadow disciplines, and the savage Druid, a bold shapeshifter and summoner who commands primal elemental magic. – Activision Blizzard
AVAILABLE SEPTEMBER 23
Diablo® II: Resurrected is a remastered version of the quintessential action RPG Diablo® II. Pursue the mysterious Dark Wanderer and fight the denizens of hell as you uncover the fate of the Prime Evils Diablo, Mephisto, and Baal, now in up to 4K (2160p) resolution on PC. Diablo II Resurrected features:
RUIN IN GTAV
– NEW DETAILS! 4K Graphics, 60FPS Upgrades, Release Date AND MORE!
In today's Grand Theft Auto 5 video – Grand Theft Auto 5's next-gen update: Expanded And Enhanced Edition, will run at 4K60 FPS on the PlayStation 5.
And for the massive and vibrant community of Grand Theft Auto Online players worldwide, the journey through the ever-evolving, shared world of GTA Online will continue on to the new generation with more new updates including additional GTA Online content exclusive to the new consoles and PC. There will also be a new standalone version of GTA Online coming in the second half of 2021, which will be available for free exclusively for PlayStation 5 players during the first three months. – Rockstar
Sanctum of Domination Mythic and Raid Finder Wing 1 Now Live!
Breach the Sanctum of Domination and slay the formidable servants of Sylvanas and the Banished One in the epic new raid opening with Season 2.
The new generation versions of GTAV will feature a range of technical improvements, visual upgrades and performance enhancements to take full advantage of the latest hardware, making the game more beautiful and more responsive than ever.
For eons the Jailer was bound within The Maw. Now, his endless armies gather as he prepares to enact the final stage of his grand design. In the face of annihilation, Bolvar marshals his last remaining allies to charge into the heart of Torghast and confront the Jailer where he is most powerful.
RAID UNLOCK SCHEDULE
July 6 – Normal and Heroic Difficulties
July 13 – Mythic and Raid Finder Wing 1 (The Tarragrue, The Eye of the Jailer, The Nine)
July 27 – Raid Finder Wing 2 (Soulrender Dormazain, Remnant of Ner'zhul, Painsmith Raznal)
August 10 – Raid Finder Wing 3 (Guardian of the First Ones, Fatescribe Roh-Kalo, Kel'Thuzad)
August 24 – Raid Finder Wing 4 (Sylvanas Windrunner)
2021 offers a staggering array of compelling gaming content for our members to explore and enjoy!
New releases and expansions to existing titles! RUIN will continue to focus on building strong Guild Communities in all major MMORGS in which there is a strong and consistent interest.
RUIN specializes in large scale player versus player environments which have defined the MMORPG genre. Previous campaigns include Age of Conan, Aion, Warhammer Online, and Guild Wars 2 as well as active communities in The Elder Scrolls Online and Star Wars: The Old Republic. You can see our current large scale PvP campaigns at RuinTV on Twitch!
We will continue to build a highly competent and well trained officer corps with extensive player verses player large scale objective based campaign experience in addition to a full spectrum of Community management and social media moderation training to ensure RUIN will continue to execute our mission to provide a vibrant and well motivated community with a clear understanding of our Community mission.
RUIN will continue to execute a strong community focused player versus player campaign  in World of Warcraft and other MMORPGS. 
MMOs, at their core, are games that provide for the communal experien ce of the Great Myth which is a fundamental human pursuit throughout nearly every culture and time in history. Intellectual properties such as, Star Wars, World of Warcraft, Elder Scrolls, etc. are modern adaptations and additions to the great human myth telling tradition. Expansive universes in which the heroic journey of many trials can be more directly experienced.
We encourage members to immerse themselves in the rich lore and ever expanding stories that are the foundation of every game we play. Invest time and pride into your characters! Strive to  fully enjoy the online gaming experience within our community!
Have fun and win!
Join the fight for Aeternum on August 31, 2021 and discover the supernatural wonders that await around every corner. Pre-order now to join the Closed Beta on July 20th.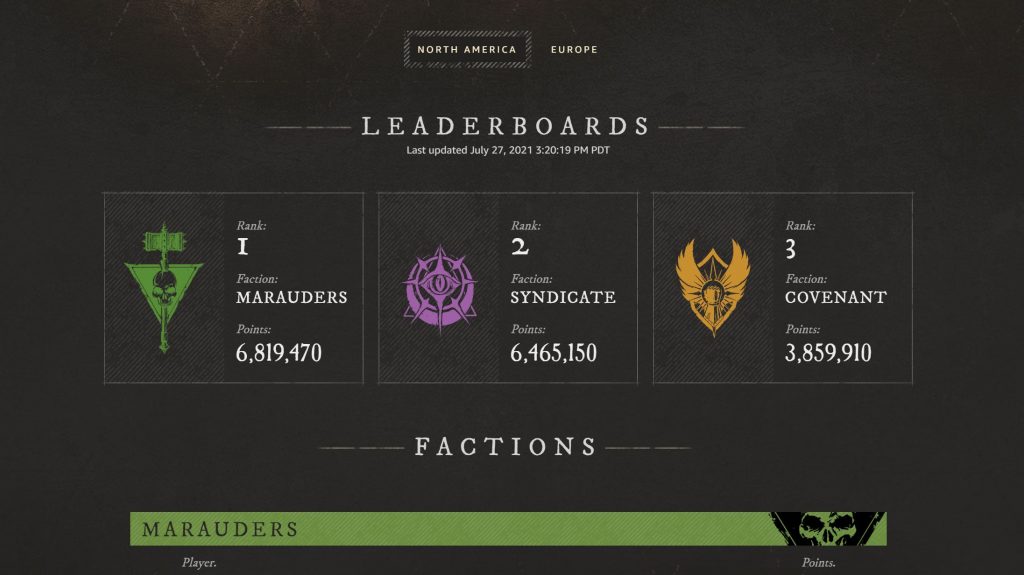 RUIN Continues to Support the Marauder Campaign in New World!
The New World Closed Beta has arrived and the competition is heating up. Watch your favorite Twitch Streamers from around the globe as they reach the shores of Aeternum and fight for control of the land. They'll strive to complete a list of objectives to earn points for their team, constantly battling to stay at the top of the leaderboard.
Learn more about one of the latest features to be added to New World: Expeditions. These instanced dungeons will require careful team planning and collaboration.
Join RUIN in Ashes of Creation for the Alpha One test. Ashes of Creation is built in the Unreal 4 engine and promises large scale massive multiplayer siege warfare!
Experience an MMORPG where everything is permanently impacted
by your actions – explore, trade, build, and let the world take form. From your imagination through your will and into everyone's reality, what you create will be the cornerstone of the next explorer's ambition.
COMMUNITY
Our mission is to provide an oasis for gamers and a much needed escape from the real world intended to uplift morale and provide a hopeful place to socialize, make new friends while maintaining connections with all of those we have met along the way over the last sixteen years.

This last year has been extremely difficult, presenting many unforeseen challenges and significant losses, the impact on the greater gaming community has been significant.
CHARITIES
Below, you'll find a list of charities who are active on Twitch and working to help those affected by COVID-19. We've also shared some best practices for charity streams to help you get started.
Our response during the pandemic is critical. The disease itself will not define us but our response to it will. As individuals and as a community, this is a time to come together and help out those in need.
We also thank everyone for their resilience, charity, and outstanding contribution during this difficult period. We appreciate the outstanding service our members have provided to each other and the greater gaming community. We will continue to grow and improve as a community to meet and overcome all challenges in and out of game. 
There is no doubt that 2021 will continue to be a difficult period.  Our excitement over upcoming World of Warcraft and other game releases, expanding our presence, and engaging in a continual process of improvement helps us to weather the difficulties we face outside of the gaming community. RUIN hopes to continue to provide a place where people can relax and enjoy the greater gaming community.
RUIN's Discord server has reached over 11,000 members! 
We continue to remain a supportive meritocracy, where our success is a direct result of finding new gaming leaders and team-builders within our community, then empower them through providing resources, training, support, and a friendly community to become the best possible leaders. We utilize the features of Discord to make all of this possible including tech support, suggestion channel, gaming news, and guides for our favorite games.

RUIN has several channels dedicated to daily life such as: health and wellness, music, our live Ruin Lounge with Groovy Bot streaming music, technical support for community members, news (media) outlets, all combined with a healthy sense of humor and maturity. To promote further fun within the community, RUIN has also provided numerous user generated activities, contests, giveaways and other charitable events.

All members and officers have the opportunity to provide feedback through the weekly guild meetings and our Discord server channels. This helps us to adapt and improve to continue to make the community thrive and be an enjoyable experience for everyone.
Discord Meeting Schedule
General meeting:

Tuesday 6PM PST / 9PM EST

Officers meeting:

Tuesday 5PM PST / 8PM EST
GAMES
Core Branches in 2021
RUIN Private Servers
Upcoming Games of Interest
Would you like to be a member of the RUIN officer team or help the community directly?

We are always on the look-out for new officers in all of our gaming branches. Members with prior gaming experience, administrative abilities, military backgrounds, or those who simply want to learn to be a leader for the first time and have the enthusiasm to step-up and lead groups or help within the RUIN community should feel free to ask in our Discord server for officer training and promotion. It's all of you taking the time to help as much as you that makes RUIN as successful as it is today!
SOCIAL MEDIA
We aim to provide exciting content on current and upcoming games via YouTube, Twitch, Social Media and more. Subsequently, we encourage Game Developers to provide our community with massive multiplayer content that we have always envisioned, bringing virtual communities into a fully realized and complete state. We hope to engage an increasingly wide player base and keep invested in currently popular and upcoming gaming platforms by utilizing our social media well.
No second breakfast and especially no elevenses for MMO and Lord of the Rings fans. Amazon has canceled its free-to-play Lord of the Rings MMO, according to a report from Bloomberg. Amazon first revealed the project in 2019, and the game was being co-developed by Amazon, Athlon Games, and Leyou. This news comes only a few weeks after Amazon announced a new game from the creators of Rainbow Six Siege. –Polygon
World of Warcraft Shadowlands patch 9.1: Chains of Domination was supposed to get a release date last week. We all KNEW it would happen. It didn't. So we are left waiting for Chains of Domination and all the new gameplay it brings; new zone Korthia, new raid Sanctum of Domination and the Sylvanas boss fight, new Mythic Mega-dungeon Tazavesh, new cinematics and Legendaries and story and more. In the mean time, though, there are reports that for the first time Final Fantasy 14 has eclipsed WoW in terms of player numbers. How true are these reports? Why has it happened? Amd what can Shadowlands do to become the top MMORPG again? Join us for the Weekly Reset, Taliesin and Evitel's Wondrous Wisdomshow. Source: T&E
WARCRAFT
A Genuine Defence of Shadowlands
World of Warcraft Shadowlands has been coming in for some flack. Is it the worst expansion ever? A massive disappointment? Or is it… pretty good? Taliesin and Evitel make the case for the defence.
Why There Won't Be A Patch 9.3… Mythic+ Fury & TBC Classic Launches! The Weekly Reset with T&E
World of Warcraft Shadowlands Patch 9.1 Chains of Domination looks as though, after the long long wait, it might be ready to be announced… especially now The Burning Crusade Classic is launched and rolling. As we shall see, Korthia, Tazavesh the mythic mega-dungeon and the raid all look just about finished, there's just numbers left… class tuning, new legendaries, and the new Mythic+ Rating system. But with 9.1 looking more and more like what we might have expected from 9.2, it's beginning to look a lot like Shadowlands won't see a 9.3 patch at all. All this plus the Great Push, the Sylvanas boss fight in Sanctum of Domination and more in The Weekly reset with Taliesin and Evitel
SWTOR
RUIN 2021
EVENTS
RUIN traditionally hosts a variety of guild events in and out of game. Including Blizzcon, movie premiers, summer vacation retreats and other gaming or entertainment industry related conventions and events!
The Roadmap featured here, is based on an extensive collaborative effort to review games all across the MMO Genre to build a concise vision of what we hope to achieve. We constantly gather suggestions and feedback directly from our communities and players in order to effect change and positive reforms within RUIN.
Plans are being developed to also host viewing parties of various popular series that include The Mandalorian, and some from the Marvel Cinematic Universe. 
GAMING BRANCHES AND OBJECTIVES
RUIN Gaming is one of the largest multi-gaming communities in the world and the largest in World of Warcraft with branches on 30 servers.
Congratulations on the successful completion of the World of Warcraft: Battle for Azeroth War Campaign! RUIN sincerely thanks all members of the Alliance who fought and won the fourth war under unprecedented conditions of challenge in and out of game.
In game events are intended as a morale improving victory lap and a method to thank and reward the many thousands of Alliance players for their incredible, undefeated, Warmode campaign during the 4th war!
We remain optimistic about World of Warcraft: Shadowlands, which has enjoyed a strong launch and an enthusiastic reception from our community members, offering an enormous number of daily activities to keep players engaged and entertained.
RUIN now welcomes you to The Shadowlands!
GUIDES
Comprehensive information and guides to assist new and returning players to progress and improve in Shadowlands!
Go beyond the veil and enter the afterlives in the newest expansion, Shadowlands. Comprehensive RUIN Community guides and resources for all Shadowlands players!
BLIZZARD COMMUNITIES
Bring your friends and family of the same faction together cross-realm through our new World of Warcraft Communities feature:
Allied Communities:
Star Wars: The Old Republic offers one of the best leveling experiences of any MMORPG currently available. Engaging and immersive story driven game play allows for an unparalleled role playing experience, with enormous character customization and development all within the award winning Bioware Knights of the Old Republic universe.
GUILD EVENTS
RUIN in SWTOR provides a wide spectrum of player content.
Operations
Casual PVP
Planetary Conquest
Uprisings
Flashpoints
Conan Exiles is an open-world survival game set in the brutal lands of Conan the Barbarian. Survive in a savage world, build your kingdom, and dominate your enemies in brutal combat and epic warfare.

Start with nothing but your bare hands and forge the legacy of your clan, building anything from a small home to gigantic fortresses and entire cities. Wage war using swords, bows, siege weapons, and even take control of giant avatars of the gods and lay waste to enemy cities.
Explore a vast, seamless world full of challenge and opportunity. Hunt animals for resources, slay monsters for treasure, and delve deep underground to discover the secrets of ancient civilizations.
CONAN EXILES: ISLE OF SIPTAH
Isle of Siptah is a massive expansion to the open world survival game Conan Exiles, featuring a vast new island to explore, huge and vile new creatures to slay, new building sets and a whole new gameplay cycle.
Shipwrecked and alone, you arrive at the mystical Isle of Siptah. With nothing but the scraps on your back, you craft the tools you need to survive. At first a simple camp and a crude stone axe, with time a fortress and brutal greatswords made from hardened steel or obsidian.
At the center of the island a dark tower looms above the landscape. The violent storm that swirls around it seems to gather strength and unspeakable horrors stalk within. But your most dangerous foe may be the other castaways on the island. Resources are scarce, and the fight for survival will be brutal.
It is time to mount your steeds and ride across the plains of the Exiled Lands. One of the most sought-after features since Early Access launch is a reality: Mounts are now available in Conan Exiles!
The fight for survival is difficult and relentless. With the all new Blood and Sand pack you can crush your enemies wearing new armors and wield fearsome weapons while fighting in new vaulted tunnels and arenas.
RUIN has returned to Final Fantasy XIV!
Additional information: Ruin FFXIV
Guild Departments:
PVP – Player versus Player
PVE – Player versus Environment.
Technical Officers: Infrastructural development and upkeep.
PVP – Player versus Player
The PVP Department of RUIN develops PVP doctrine; establishes standards; and builds the future fighting force of RUIN.
PVE – Player versus Environment
The PVE Department of RUIN plans, schedules and progresses through group Player versus Environment content.
RUIN Technical Corps
The RUIN Technical Corps provides information technology and engineering services in support of RUIN. Warrant Officers are technical leaders and specialists.
The mission of the RWD is to develop and maintain information technology for RUIN across all current and future platforms.
Maintaining the Ruin Discord and promoting a strong presence on social media with the objective of sharing the gaming experience with a wider audience. Providing for the training, education, and inspiration of recruits in order to encourage each member to become a competent leader of character committed to the values of professional excellence and service to the greater RUIN community.
The RUIN Warrant Department reports directly to guild leadership.