The Art of Star Wars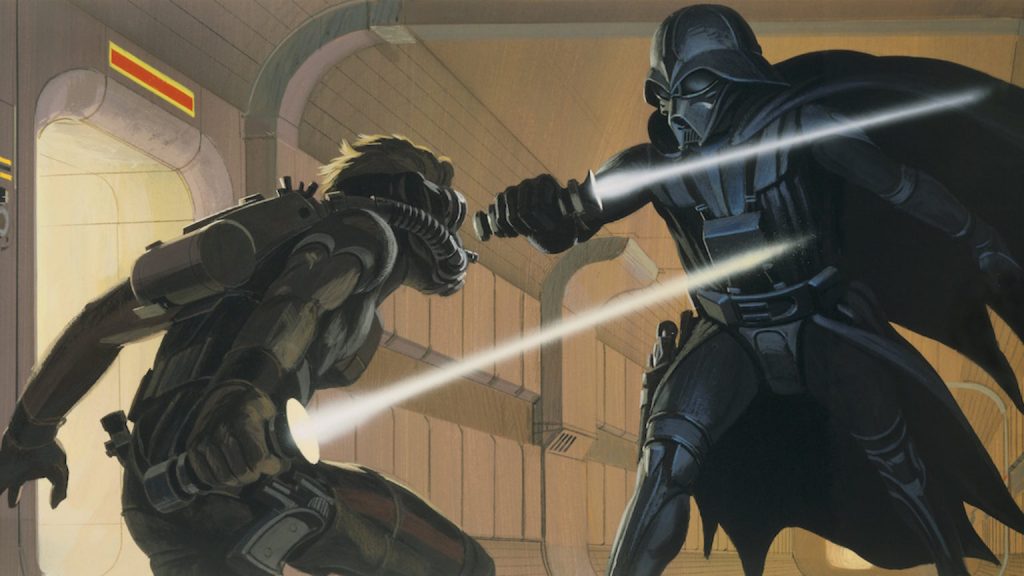 Objective
To showcase the iconic and extensive Art of the Star Wars Universe.
SWCVI: Ralph McQuarrie Retrospective
On August 24, 2012 at Star Wars Celebration VI, fans witnessed the premiere screening of the Ralph McQuarrie Retrospective. Now, take an exclusive look at the first 4 minutes of the film.
Legends of the entertainment industry remember McQuarrie and his work and influence on the industry, their careers, and on the Star Wars movies in particular. McQuarrie's concept art is credited with helping George Lucas get the green light to produce the first Star Wars movie, and generations of artists and movie makers were inspired by this late artist's work.
Ralph McQuarrie's Most Memorable Masterpieces
Look back at the amazing concept art that helped visually define the Star Wars galaxy.
Ralph McQuarrie, concept artist of the original Star Wars trilogy, was essential in bringing the characters, ships, and locales of a galaxy far, far away to life. In this special retrospective, Star Wars creator George Lucas, Industrial Light & Magic effects legend Dennis Muren, and many others discuss the impact of McQuarrie, his artistic gifts, and his legacy.

In ways both figurative and literal, without Ralph McQuarrie, there would be no Star Wars.  – Star Wars
Post Visual Development Rogue One: A Star Wars Story
Movie fans know the term concept art as one of the earliest stages of filmmaking. Directors and writers collaborate with the ILM Art Department to visualize story beats, characters, design creatures, vehicles, and define a film's tone and mood. But, even after the cameras have rolled, the ILM Art Department plays a critical role in finishing the film.

John Knoll, ILM's Chief Creative Officer and Executive Producer of Rogue One, said it best, "What we do is art. It should be no surprise art direction and design are things we do throughout production and post. Strong support from the ILM Art Department is critical to the success of the film."

Rogue One's Senior VFX Art Director, Yanick Dusseault, describes the role of the ILM Art Department in Post Visual Development below:

DESIGN

Much of the work in Post Visual Development is pure design. We design digital environments and sets, we alter designs from pre-production, we create ships, weapons, and creatures.

Designing digital environments after plate photography allows flexibility in storytelling. For example: the Citadel sequence. The modular design and concentric circles allowed Gareth visual cheats: a character can jump huge distances geographically as needed for the plot, but the audience is not lost visually because the symmetry of the design. – ILM
Since Industrial Light & Magic's inception in 1975, every idea dreamt into existence found its genesis within the ILM Art Department. Forty years ago, legendary concept designers like Ralph McQuarrie and Joe Johnston brought George Lucas's brainchild of an asymmetrical Star Wars "used universe" to life, imagining fantastic worlds bursting with iconic heroes, villains, spaceships and aliens. The ILM Art Department continues to revolutionize film design today, coupling classical technique with the very bleeding edge of technology. Acclaimed directors like Steven Spielberg, James Cameron and J.J. Abrams work hand-in-hand with the best art directors and artists in the film industry, exploring ideas and iterating on those ideas until their vision is realized, making the unreal real and the impossible possible. –  ILM

"Each artist began to explore his individual response, and collectively, we began to answer, with our words and art. Out of our brainstorming sessions emerged visual imagery of where we might want to go and what it would look like when we got there. We were not merely illustrating scenes that already existed: we were initiating storytelling concepts through the visual images themselves."

– Rick Carter, co-production designer, Star Wars: The Force Awakens
The ILM Art Department Challenge Winners

Industrial Light & Magic, Wacom and ArtStation teamed up to give thousands of artists the opportunity to experience the thrill of working as a concept artist in the world of Star Wars with the ILM Art Department. Through a series of challenges including The Moment, The Ride, and The Job, ILM's Art Directors challenged artists to imagine key moments, new vehicle designs, character and droid designs, and epic battles within the Star Wars universe. – Artstation
Sources
Star Wars Reimagined By The World's Best Concept Artists
Additional resources 
Industrial Light and Magic
Disney Art Department
Ralph McQuarrie's Most Memorable Masterpieces
How to spot a Ralph McQuarrie
McQuarrie Memories
Ruin Community Resources
Ruin Info:
Ruin Website:
Ruin Forums:Ruin on Patreon: 
Ruin Discord: Join the greater Ruin Gaming community on Discord voice communications!
Ruin Conferences, Events and Conventions