Nov 2 – Nov 3, 2018
RUIN will attend BlizzCon 2018 
A celebration of epic games and an epic community.
Ruin at Blizzcon 2018
EVERYTHING YOU NEED TO KNOW ABOUT BLIZZCON 2018
Getting ready to set out on your BlizzCon 2018 journey in person or online with the Virtual Ticket? There's much to learn, adventurer—read on to arm yourself with the knowledge you'll need!

Essential Tools
If you haven't already, be sure to check out the schedule and map for details on all the glorious BlizzCon action, such as developer discussions, Community Night contests, and the closing festivities featuring three musical acts on three stages. For maximum efficiency, download the BlizzCon Mobile app to plan your strategy!

Benefit Dinner. Attend BlizzCon and join Blizzard employees at a dinner to benefit Children's Hospital of Orange County (CHOC).
For over 50 years, Children's Hospital of Orange County (CHOC Children's) has been steadfastly committed to providing the highest quality medical care to children. Beginning Thursday, November 2 and running through Tuesday, November 7, we're hosting a special online BlizzCon Charity Auction again via eBay, featuring original Blizzard art, unique memorabilia, and other cool collectibles from our games. You have a chance to score awesome new loot for your collection, and the proceeds will benefit CHOC Children's.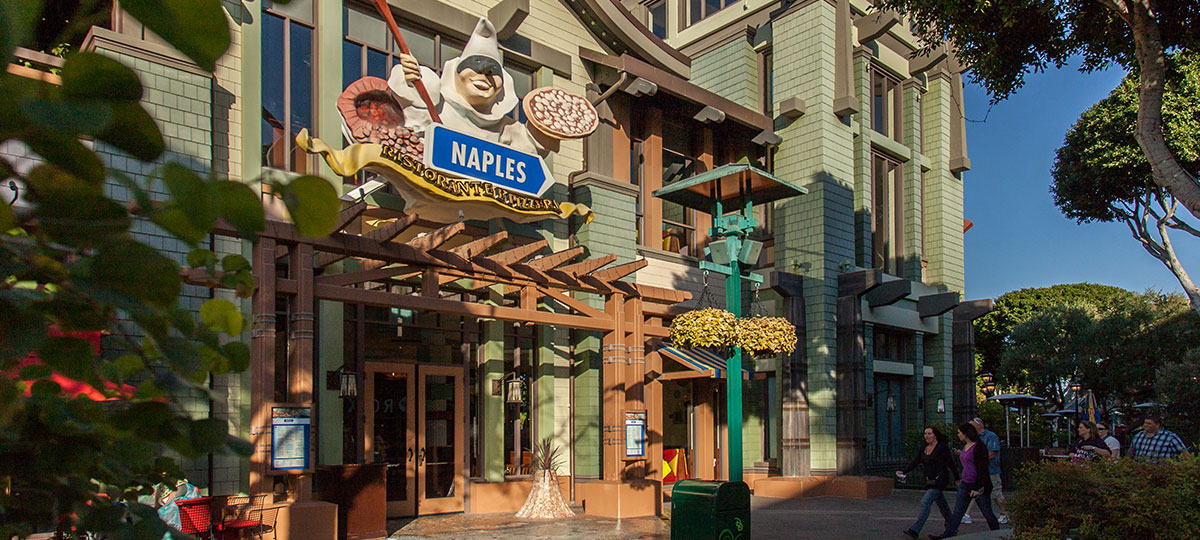 Savor bold and satisfying Italian flavors loved the world over—every dish on the menu is pure perfezione!
Enter one of the premier dining destinations at Downtown Disney District for a pleasing experience in more ways than one. With whimsical décor inspired by Carnivale, Naples Ristorante features an open-air kitchen, impressive wine cellar and spacious, 2-story dining room that offer a feast for your eyes as well as your palate!
Trader Sam's Enchanted Tiki Bar
Mystery, romance and adventure await you at this bewitching tiki bar inspired by the world-famous Jungle Cruise.
A Far-Out Voyage to Far-Flung Lands
Enter a tropical oasis where colorful cocktails conjure mystical effects and you never know what will happen next!
Welcome, brave adventurers, to the wondrous watering hole of Trader Sam, head salesman of the Amazon Jungle. Sam's expertise in concocting head-shrinking potions soon revealed he also had a head for mixology, and his travels far and wide allowed him to amass intoxicating ambrosial ingredients for his heady brews. Head on over and try them for yourself—if you dare!
Get ready for in-depth "Road to Blizzcon" videos, real-time panel coverage, unprecepedented show interactivity, and much more!
World of Warcraft Classic At-Home Demo
Get access to the BlizzCon 2018 World of Warcraft Classic demo. Normally only available on the show floor, the Virtual Ticket brings this content straight to your home during the event!
Opening Ceremony
Friday · 11am PT · WATCH FREE! 
You won't want to miss this year's epic Opening Ceremony, beginning at 11 a.m. on Friday, November 2. Get a front-row seat for the latest news about your favorite games, and kick off an unforgettable weekend of Blizzard games.
In addition to BlizzCon.com and the locations above, you can watch the Opening Ceremony live on these platforms:
Original BlizzCon Video Content
While you wait for the show to start, be sure to check out all the original BlizzCon video content waiting for you on BlizzCon.com/watch and in the apps. Explore epic stores from the Blizzard community and universes in the Epic Tales series, learn how Blizzard creates worlds in the Universe Builders series, and get tips, tricks, and more from talented artists across the Blizzard community in the "Level Up!" series.
BLIZZCON MUSIC FESTIVAL TO FEATURE TRAIN, LINDSEY STIRLING, AND KRISTIAN NAIRN

Every BlizzCon, we've closed out the weekend with a musical performance—but this year, we won't just have one live band; instead, three diverse musical acts will perform live in our own BlizzCon mini music festival featuring Train, Kristian Nairn, and Lindsey Stirling!