RUIN at Disneyland California
First in the Galaxy | First Look Inside Star Wars: Galaxy's Edge
Traditionally RUIN hosts a variety of real world get togethers: Blizzcon, Disneyland, Movie Premiers and other conventions!
We encourage members to consider a Disneyland visit during Blizzcon 2023!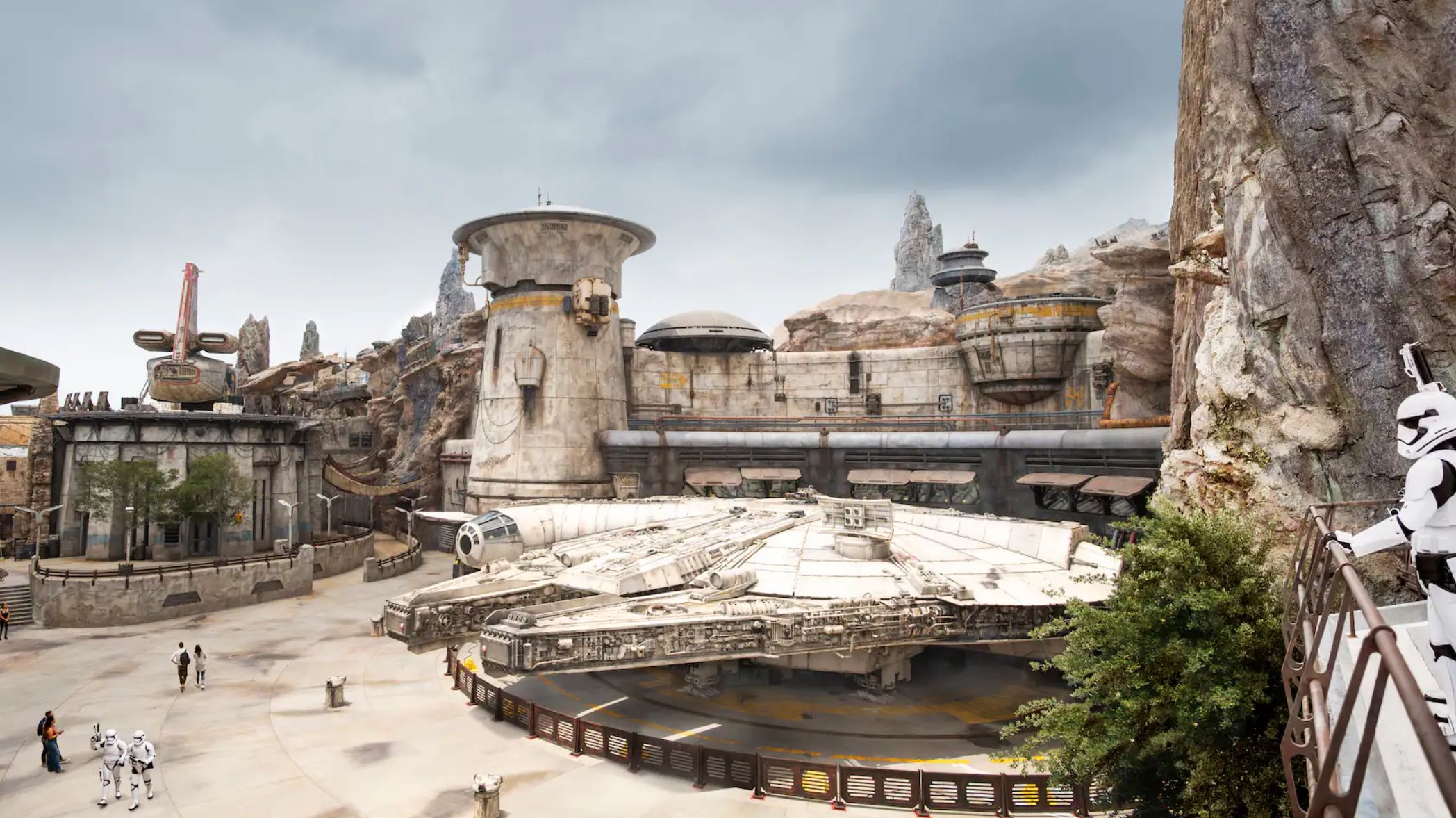 Get ready to take control of the fastest ship in the galaxy on Millennium Falcon: Smugglers Run. Or join in an epic battle on Star Wars: Rise of the Resistance, the biggest and most immersive Disney Parks attraction ever.
Know Before You Go
A First Order stormtrooper looks on at the Millennium Falcon docked below exotic Star Wars buildings and petrified wood spires
An Attraction on a Scale That Is Impressive, Most Impressive
Star Wars: Rise of the Resistance is a massive attraction with multiple ride systems that is unlike anything you've ever experienced at the Disneyland Resort… or anywhere else in the galaxy!
Accept a Mission from the Resistance
The Resistance needs your help! Hidden in the forest outside Black Spire Outpost, the Resistance is gathering recruits for a secret mission.
With the First Order desperate to extinguish the spark of the Resistance, the mission is bound to have unexpected twists and turns. When your transport is captured by an imposing First Order Star Destroyer filled with legions of stormtroopers—and even Kylo Ren!—you're going to need all the help you can get. Fortunately, a covert team of Resistance fighters—including Rey and BB-8—is at the ready to give you a fighting chance to escape… and a chance for the Resistance to rise.
Prepare for a thrilling, first-of-its-kind adventure!
How to Experience It
Calling all members of the Resistance! Guests may either wait in a traditional standby queue or purchase individual Lightning Lane entry for a shorter wait time to experience this attraction. Individual purchases of Lightning Lane attraction entry are only available through the Disneyland app after you've entered the park.
You'll need to have park tickets linked to your Disney account and applicable theme park reservations. In order to give as many Guests as possible the opportunity to join the Resistance, each Guest may purchase an individual Lightning Lane entry arrival window to experience this attraction no more than once per day.
Lightning Lane entry arrival windows for this attraction are limited in availability, subject to change or closure, may vary by date, and are not guaranteed.
View important details about planning your visit to Star Wars: Galaxy's Edge.
Join the Resistance in an epic battle against the First Order on this exciting new ride.
Fly the Millennium Falcon on a thrilling interactive smuggling mission.
Take Control of the Fastest Ship in the Galaxy
Ride in the famous cockpit of the Millennium Falcon on a daring flight—and whether you're a pilot, engineer or gunner, every role is crucial.
The engines rumble as the Millennium Falcon blasts off, pushing you and your crew back into your seats when you jump into hyperspace towards adventure. Along the way you'll face danger at every turn.
Will your mission succeed or fail? It's up to you—find out if you have what it takes to outmaneuver the odds aboard the Millennium Falcon.
Get ready to punch it!
On-the-Job Training Provided
Never flown a starship before? Hondo Ohnaka is looking for discreet flight crews to deliver a backlog of hard-to-find items to particular clientele—no experience necessary!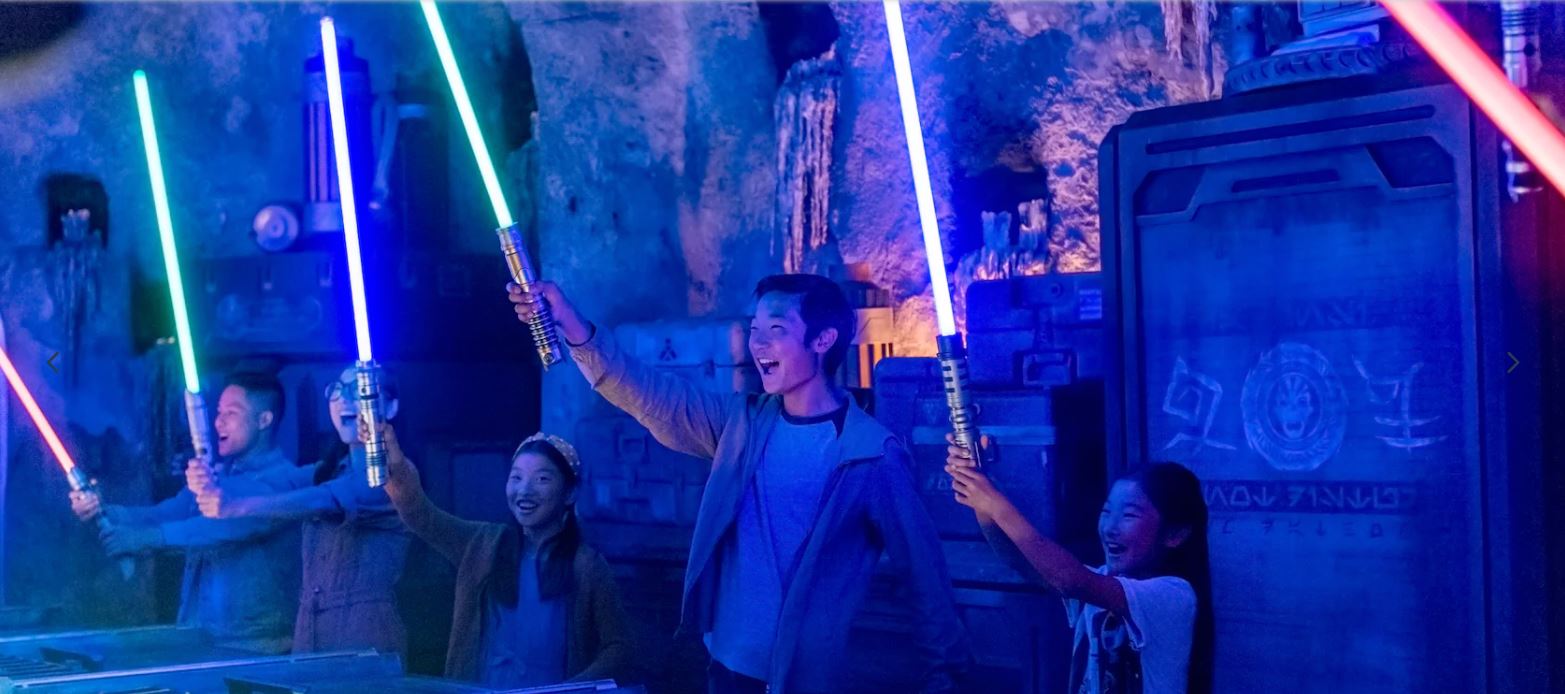 Savi's Workshop – Handbuilt Lightsabers is subject to availability, and reservations for this experience are highly recommended.*
Droid Depot is subject to availability. No reservation for this experience is required.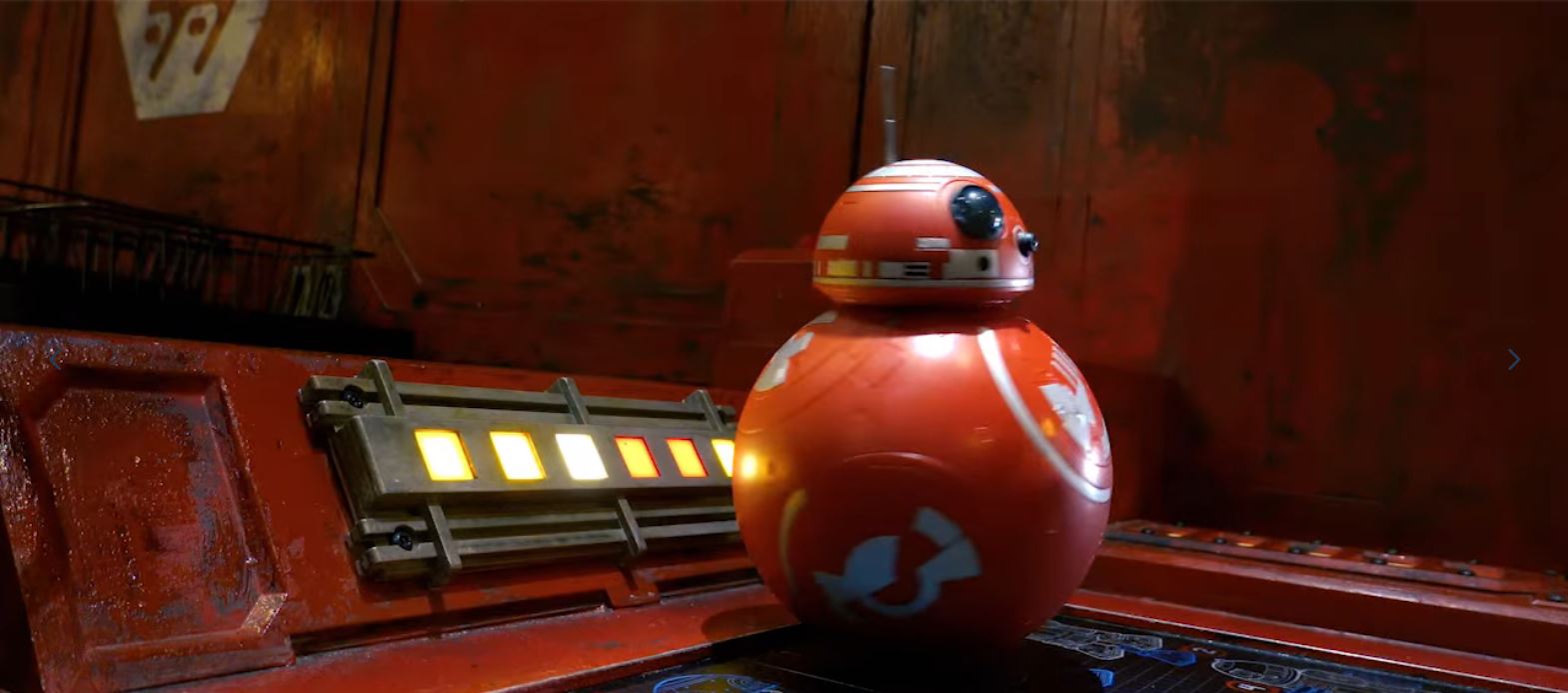 Build your own droid at Black Spire Outpost's industrial depot.
Assemble a Custom Astromech Droid Unit
Visit a workshop stocked with parts, chips, manuals and other tech items useful for constructing your very own droid, one of the galaxy's most indispensable sidekicks.
To experience Star Wars: Rise of the Resistance, guests may either wait in a traditional standby queue or purchase individual Lightning Lane entry to experience the attraction.
Ready to live your Star Wars adventure? See ticket options to visit Star Wars: Galaxy's Edge at Disneyland Park.
*All Star Wars: Galaxy's Edge experiences requir4e a valid Disneyland Park ticket or Magic Key pass and park reservation. Park reservations are limited, subject to availability and not guaranteed.
Live Your Star Wars Adventure
in a Galaxy Far, Far Away
Discover Disneyland Resort Hotels
Disney's Grand Californian Hotel & Spa
Discover Star Wars: Galaxy's Edge at Walt Disney World Resort and the Disneyland Resort, where you can live out your own Star Wars story, fly the Millennium Falcon and explore a remote outpost where adventure awaits.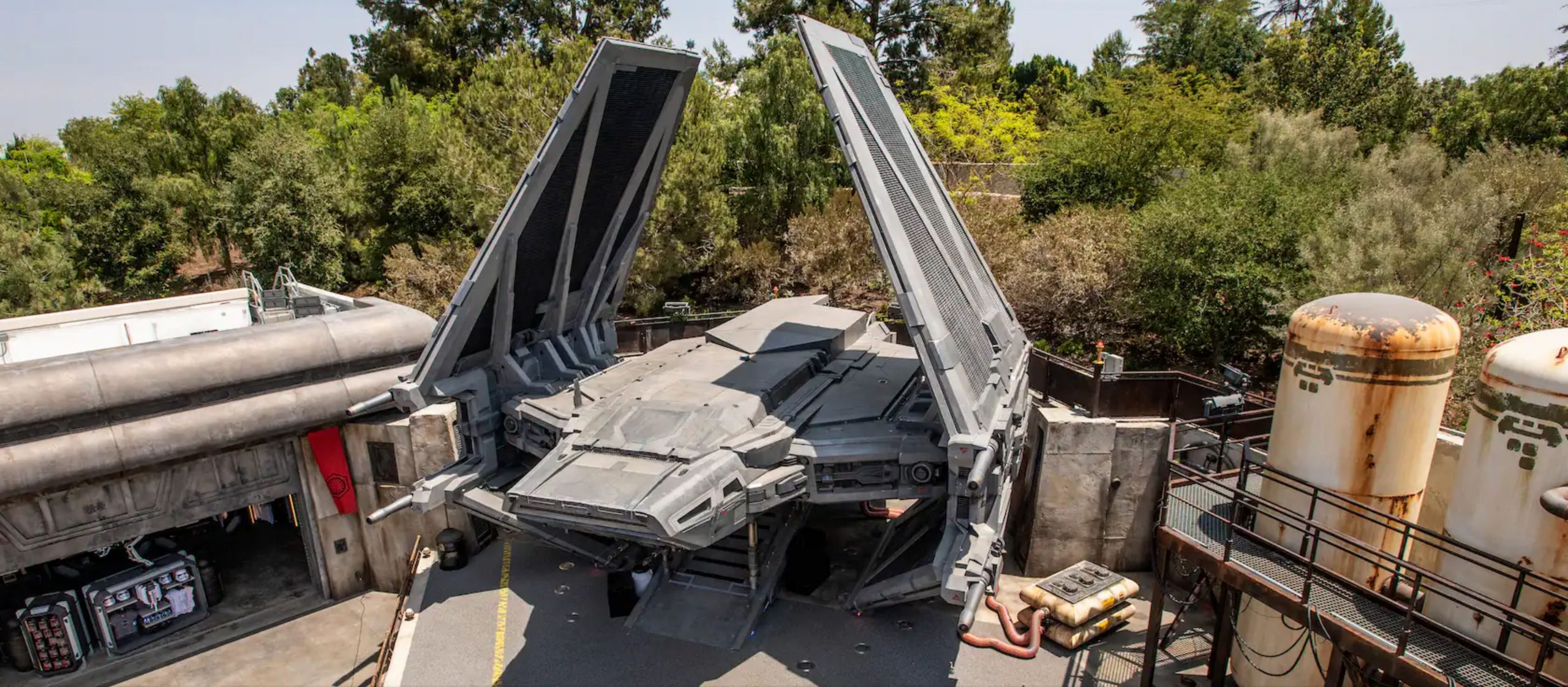 The First Order has recently arrived in Black Spire Outpost in pursuit of the Resistance. Report for duty and make your way to Docking Bay 9 where the First Order has set up a temporary post next to their shuttle to win the hearts and minds of the locals. Browse for gear and other products to show your support for the First Order.
Dok-Ondar's Den of Antiquities
Shop for mysterious and unique galactic artifacts collected by a legendary antiquities dealer.
Blizzcon 2023
Halloween Time at the Disneyland Resort

Spirit Away for Eerily Awesome Fun with Themed Attractions, Entertainment and More
Main Street Pumpkin Festival
A Horde of Grinning Gourds
Main Street, U.S.A. welcomes you this fall with a spooktacular treat, incredible displays of unique carved pumpkins— including the giant Mickey pumpkin—that are frightfully delightful. Carve out some time to see it!
Haunted Mansion Holiday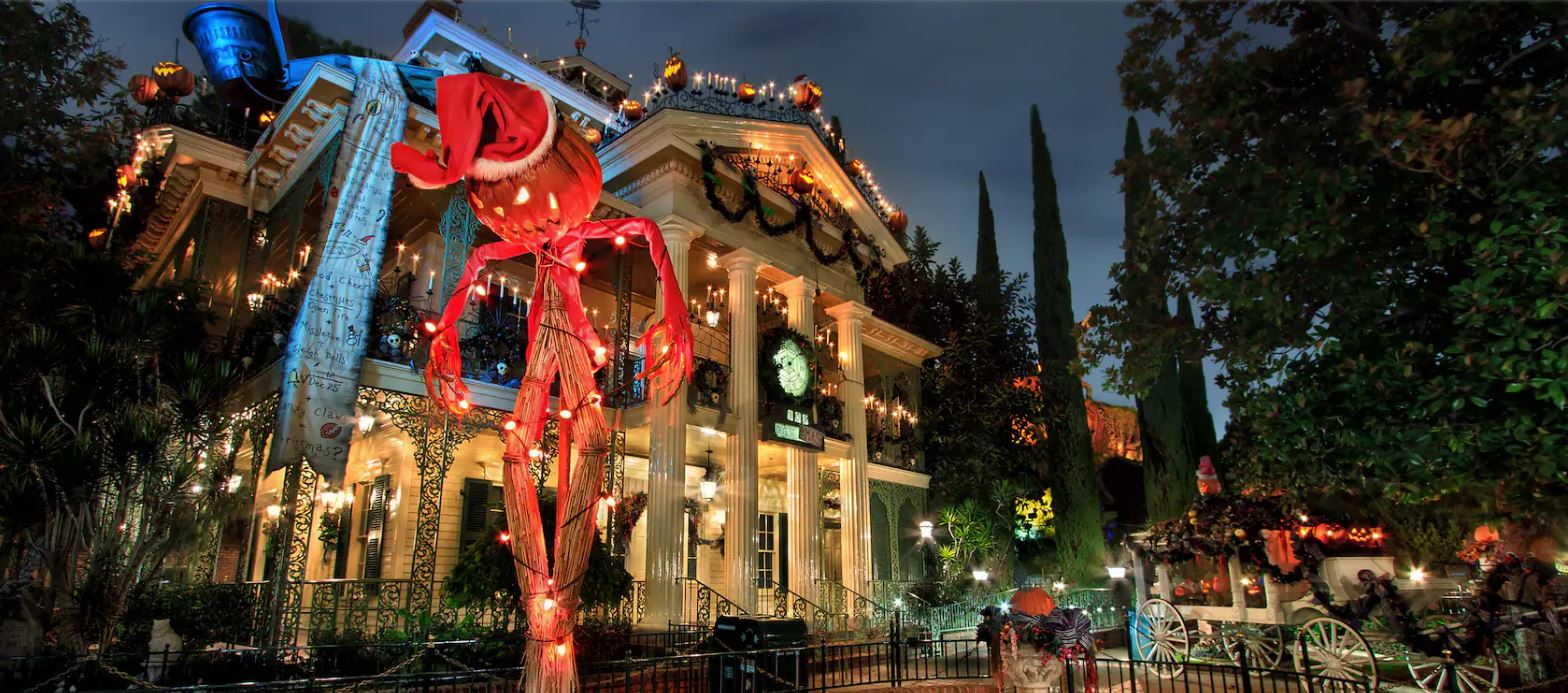 Decked Out for the Hallow-Days
Pumpkin King Jack Skellington has been busy decorating the Haunted Mansion with frightfully festive touches inspired by Tim Burton's The Nightmare Before Christmas.
Experience thrilling sights and seasonal surprises created by the citizens of Halloween Town. Sally, Oogie Boogie and other Nightmare nasties will be on hand to wish you "Season's Screamings!"
Unleash the Magic of Disney Genie Service
Get ready to make your visit to the Disneyland Resort easier and more fun by harnessing the power of Disney Genie and Disney Genie+ services, conveniently built right into the Disneyland app. It's like having a genie in the palm of your hand!
Whether you're a first-timer or a seasoned pro, tap into them both to enjoy a whole new host of features that help you get the most out of your visit to the Disneyland Resort.
You've Never Had a Friend Like This!
Our complimentary Disney Genie service creates your best Disney day inspired by your top interests. It also grants you new planning features, including a personalized itinerary creator. You'll love how it saves you time by seamlessly mapping out your special day, with updates that continue from morning to night—just like a favorite navigation app.