The Elder Scrolls Online: Murkmire
Delve into the treacherous swamps and jungles in Murkmire, The Elder Scrolls Online's latest DLC game pack, as you explore Argonia and discover a hidden world as dangerous as it is beautiful. Investigate Murkmire's long-forgotten past and help an Imperial scholar recover a mysterious and powerful relic. Brave the challenges of Blackrose Prison, a new 4-player arena, and test your might.
The Murkmire DLC will be available on October 22 for PC/Mac and November 6 on Xbox One and PlayStation4. This new adventure will be free with an ESO Plus membership or available for purchase from the in-game Crown Store.
Venture into the deep swamp and experience Argonian culture like never before in Murkmire, The Elder Scrolls Online's newest DLC game pack. Discover this new adventure and zone in addition to the free Update 20 base-game patch!
We are thrilled to announce that the Murkmire DLC game pack and Update 20 base-game patch are now live on PC/Mac. If you play on Xbox One or PlayStation®4, don't worry, you'll be able to begin your own expedition into Black Marsh on November 6!
This new DLC game pack and update brings the following additions to ESO:
A new zone to explore: Murkmire
A new main story quest line
A new 4-player arena: Blackrose Prison
Destructible bridges and Milegates in Cyrodiil
Quality-of-life improvements to the Housing Editor
…and many more changes!
This new DLC is available free for all current ESO Plus™ members or can be purchased with crowns from the in-game Crown Store. In addition, Murkmire will be available as a Daily Reward during the month of November. The Update 20 base-game patch is available free for all ESOplayers. – ESO
MURKMIRE
In the Murkmire DLC game pack, you are able to explore a new zone located on Black Marsh's southern coast, experience a brand-new story questline, and test your mettle in the Blackrose Prison Arena.
Explore a New Zone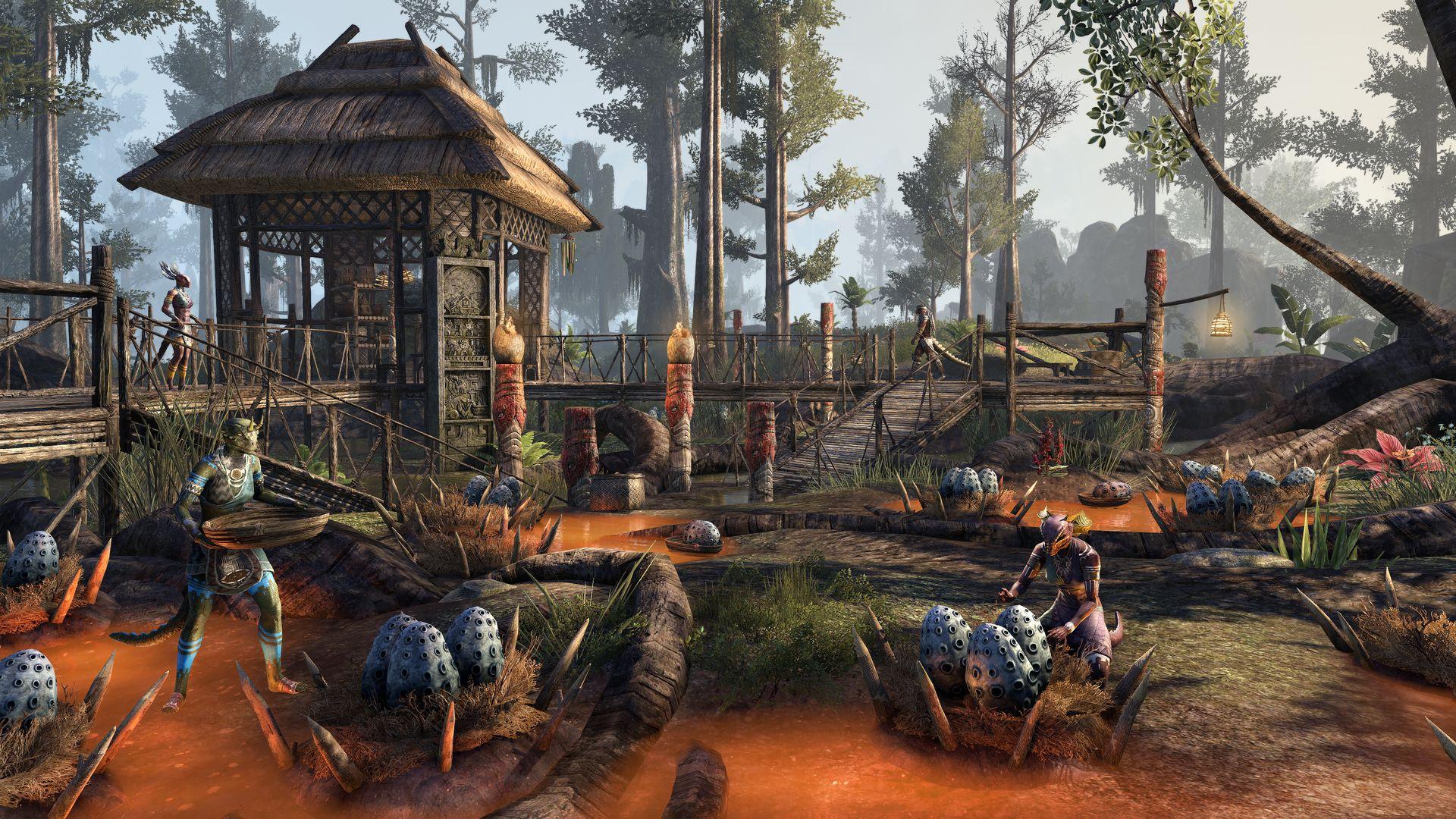 In this new zone, you can venture into the heart of Black Marsh to learn about the native Argonian people, their culture, and their history. In addition to the main story, this new zone is packed full of new adventures to experience, including unique quests, Delves, World Bosses, and countless other dangers that lurk in the deep swamp.
Recover a Piece of Murkmire's History
In Murkmire's story questline, you shall work to investigate the long-forgotten past of this remote and unforgiving land and help an Imperial scholar search for an ancient and powerful Argonian relic. Ready your supplies and prepare to embark into a world secluded from Tamriel for centuries. You might even discover the hidden history of the Argonians themselves.
Face Blackrose Prison
If you're looking for a fight, you and your companions will be challenged by Murkmire's new four-player Arena, Blackrose Prison. In this former prison colony, you must face waves of monstrous beasts and Blackguard warriors in vicious combat. Be sure to make use of the new Sigils to survive, because should you claim victory, you'll earn powerful new Blackrose weapons not found anywhere else in Tamriel!
As you explore, quest, and battle your way through the deep swamp, you'll be rewarded with three new zone sets and unique, Murkmire-themed collectibles. Finally, this new zone also introduces the new Dead-Water motif style, acquired by completing daily quests – so get exploring!
VENTURE INTO MURKMIRE & GET A NEW PET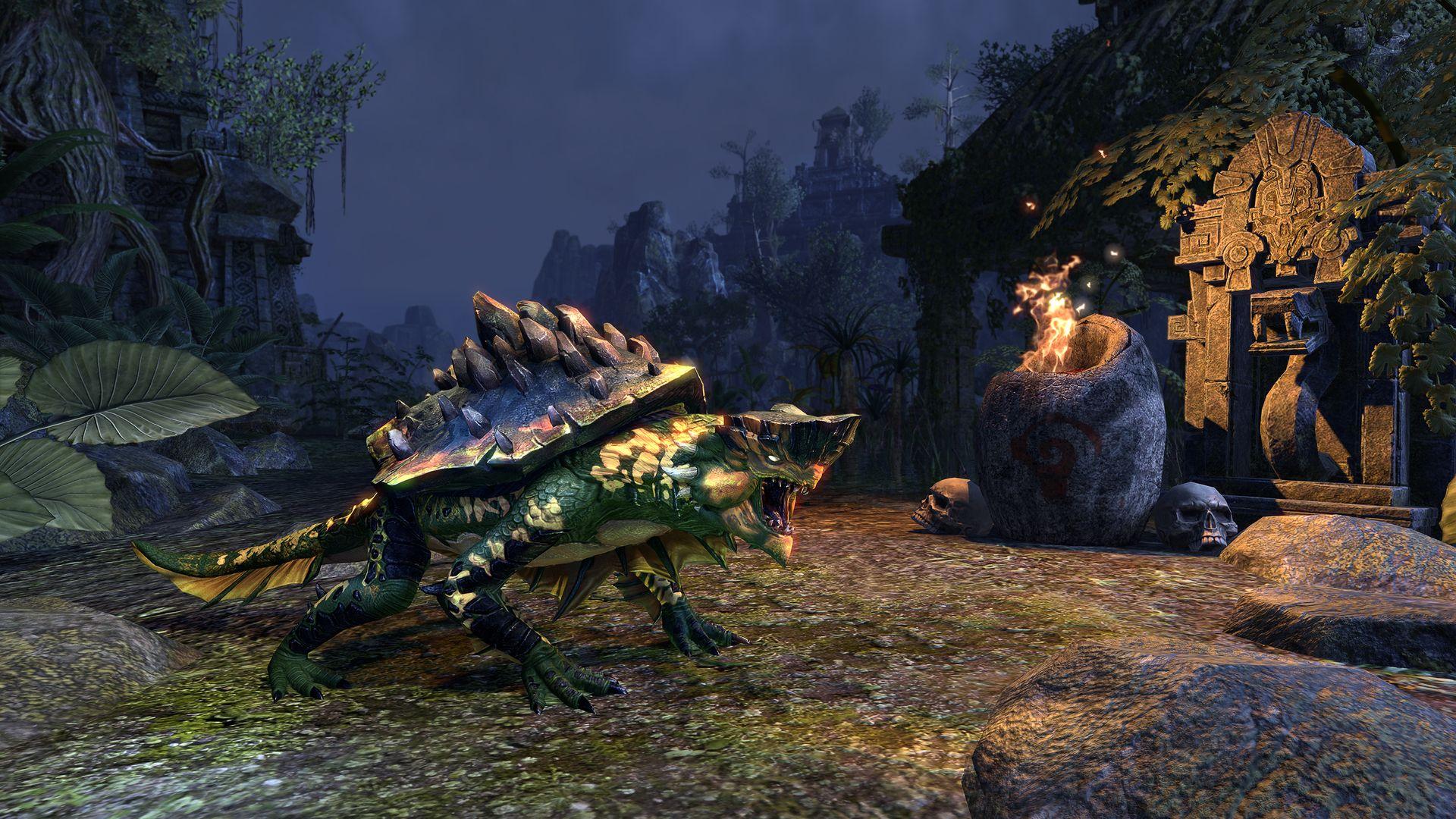 Once you have acquired Murkmire, the moment you set foot in Black Marsh's southern coast, you'll receive the Verdigris Haj Mota pet, completely free!
Here's how you enter this new DLC zone:
By picking up the Murkmire main quest from the Collections UI

Go to your Collections UI, navigate to Stories, then Zone DLC, then Murkmire, and finally select "Accept Quest"

By teleporting directly to the city of  Lilmoth (Murkmire's main city) via your map
By taking a ship from Vulkhel Guard, Davon's Watch, or Daggerfall
Arriving alongside the new DLC game pack is the free Update 20 base-game patch. This update has a host of improvements, fixes, and changes to ESO's core experience, but it also introduces a series of new and exciting features that can be enjoyed by all ESO players.
Bring Ruin to Cyrodiil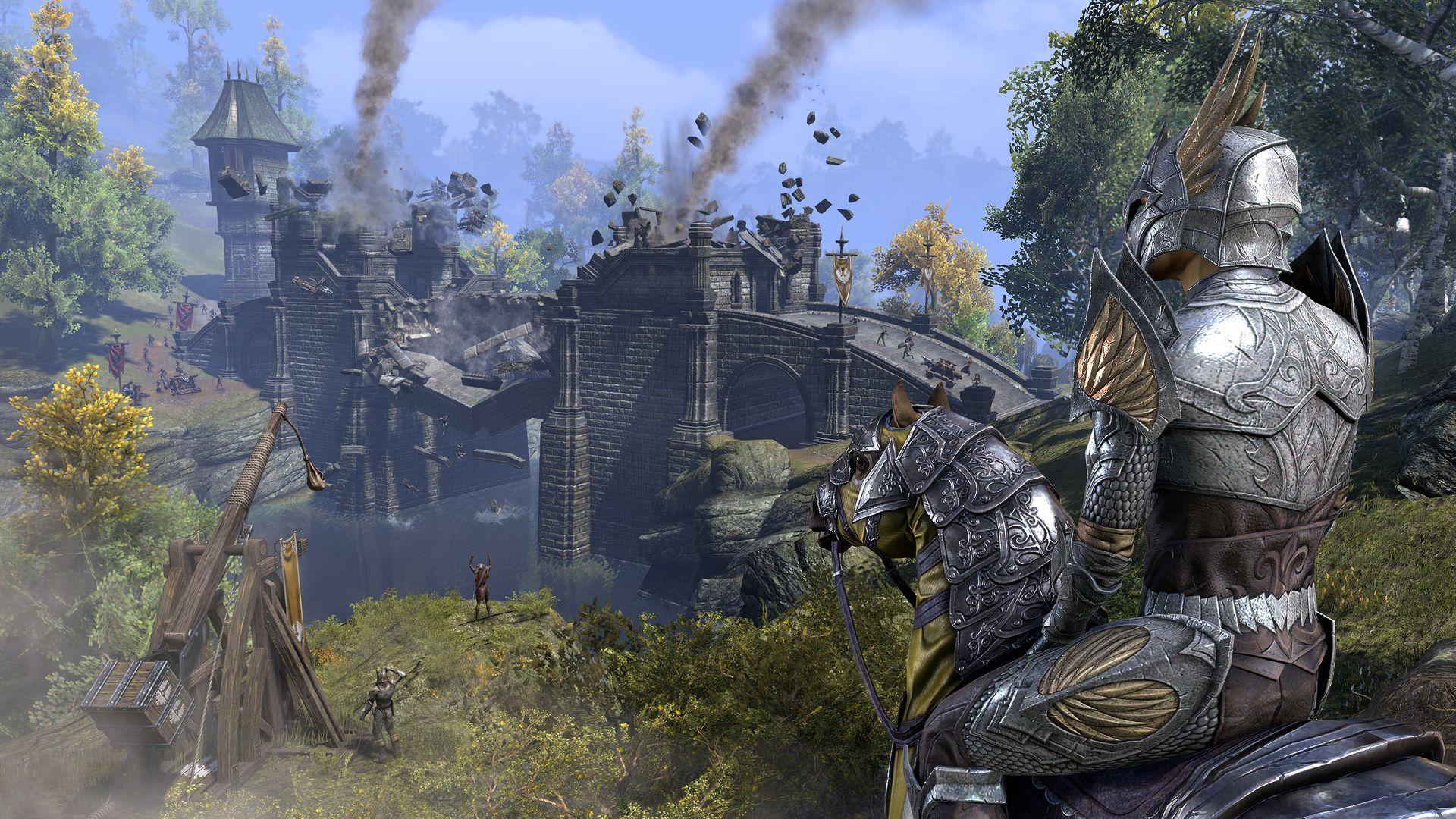 With Update 20, Cyrodiil is getting even more deadly with the introduction of destructible bridges and Milegates. Now, you're able to bring down any of the bridges and Milegates in Cyrodiil using ballistae, catapults, and trebuchets. Don't worry, you can repair them if you wish, but we've also introduced a series of new goat paths around these chokepoints, giving you another way to enter enemy territory. This update also changes the shape of Cyrodiil by introducing a series of new Outposts AND offers brand new rewards, too.
New Housing Editor Tools
If you're an avid home decorator, you'll be thrilled to find that Update 20 also introduces an Undo/Redo function and the ability to link items together. With these new tools, you'll be able to more easily make both small and large adjustments to your home, taking some of the pain out of shifting large or complex scenes. In addition to this, we've also added the first of the upcoming Music Boxes, allowing you to bring a little ambiance to your home. You can pick up the new Music Box from the Housing Editor for 800 crowns.
In addition to the above new features, Update 20 also introduces the ability to reorder your character select screen and brings a host of improvements to ESO Plus starting November 13. No matter how you play, Update 20 has something that'll help you get the most out of Tamriel! Be sure to check out the Patch Notes forum for everything that's coming with this update.
BEGIN YOUR EXPEDITION
Venture into the deep swamp and discover an environment that is equal parts beautiful and perilous. Uncover the long-lost history of the strange Saxhleel people and face the Black Marsh's many hidden dangers. Great adventure, knowledge, and rewards await those brave enough to explore the dark swamplands and mossy ruins of Murkmire – will you? Head on over to Twitter @TESOnline and Facebook to let us know if you're planning to set off on an expedition of your own!
To learn more about The Elder Scrolls Online and Murkmire, visit these sites: