SEASON 23 | THE DISCIPLES OF SANCTUARY | PREVIEW BLOG | PATCH 2.7.0 NOW LIVE!
Source: Blizzard Entertainment

Update on April 1: Updated a bug fix for console players related to Follower skills.
Update on March 30: Patch 2.7.0 is now LIVE on all platforms!
Update on March 26: Additional changes to Firebird's Finery set and developer notes have been added.
Update on March 22: The latest changes from our PTR testing period can be found with annotations in RED.
Developer Note: Thank you to all the players who participated in PTR and provided feedback through various online sources! Your input is invaluable and plays a critical part to the development of the game.
Season 23 will begin on April 2, at 5PM (PDT/CEST/KST) shortly after our next Diablo III update. Read on to learn more about the Follower system revamp, leaderboard changes, and Legendary item changes coming in Patch 2.7.0. We are expecting this update to be released on March 30.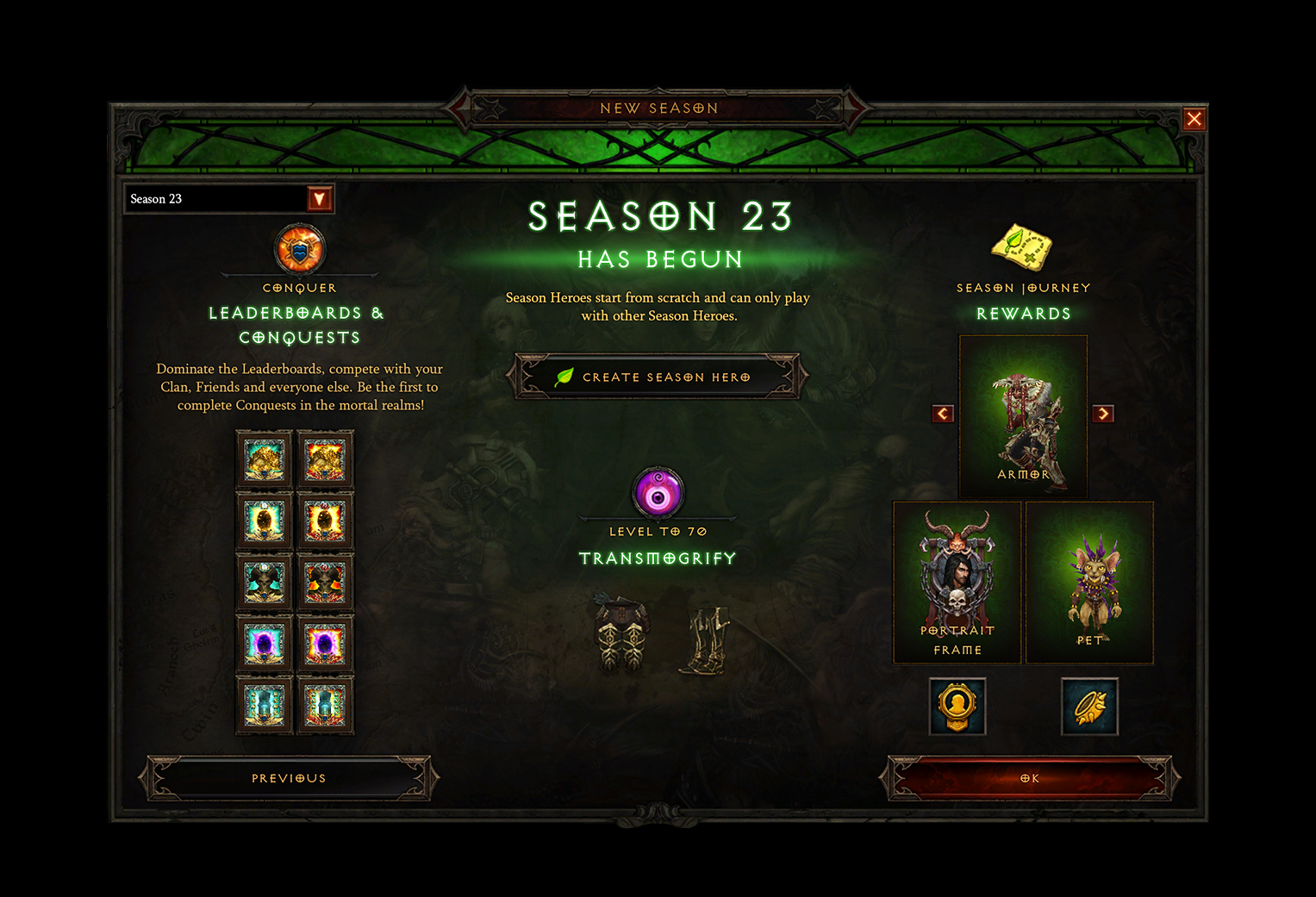 TABLE OF CONTENTS
NEW SEASON THEME
Kormac, Lyndon, and Eirena have long been studying and observing the Nephalem, learning from the best how to conquer darkness. Now the Disciples of Sanctuary are ready to take their place among legends, equip wondrous items and emanate their inner power to aid in the fight against the minions of hell….
Season 23 kicks off our brand new Follower system revamp! Players can now equip Followers with a total of 14 different item slots which include the Follower Relic Item, Helm, Shoulders, Chest, Gloves, Bracers, Belt, 2 Rings, Neck, Pants, Boots, main-hand weapon, and off-hand.
The Season 23 launch also introduces the new Follower feature Emanate, which allows the player to gain the intended effect of certain Legendary Powers and Set Bonuses when equipped on the hired Follower.
SEASONAL COSMETIC REWARDS
Beginning with Season 17, we began reintroducing previous rewards to make them available to players who may have missed them the first time around. For Season 23, this means awards originally available from Season 11 are returning. Pet collectors will be pleased to see the return of the Emerald Dragon… and, in addition to the Pant and Boot slots of the exclusive Conqueror Set, the Treasure Goblins portraits will be available.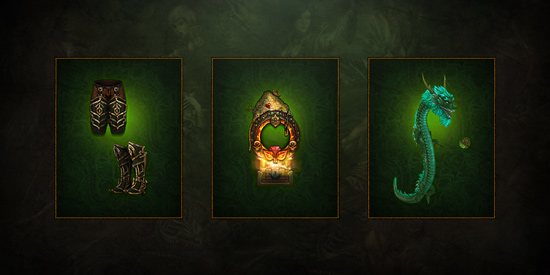 However, we know it's nice to have something new to aim for if you've participated in previous Seasons. We're continuing to provide new End of Journey rewards as introduced in Season 17, with two new cosmetic ones for those who complete the entirety of the Season journey. Prove your worth with The Disciples of Sanctuary alongside and complete the Season 23 Guardian Journey to earn the Lacuni Cub pet and the Chopping Block portrait.
SEASON JOURNEY REWARDS
If you've been diligently slaying demons before and reached Conqueror in the Season Journey each time, you've surely accrued a few extra stash tabs. You'll earn one additional tab each Season by finishing the Conqueror tier, up to a maximum of five:
Far Away: Kill the Siegebreaker Assault Beast at level 70 in under 30 seconds on Torment X difficulty.
Money Ain't a Thang: Slay Greed on Torment X difficulty. Treasure Goblins outside of Nephalem Rifts will sometimes open portals to Greed's domain, The Vault.
A Little More: Reach Greater Rift Level 60 Solo.
4 Minutes to Save the World​: Finish a level 70 Nephalem Rift on Torment X difficulty within 4 minutes.
Gem of My Life: Level three Legendary Gems to level 55.
All I Do is Win: Complete 2 Conquests this Season.
SEASONAL CONQUESTS
Speaking of Conquests, we're rotating those too! Do you love collecting lots of gold as fast as possible? You'll be set with Avarice and Avaritia. Want to go fast while killing things? Speed Demon and Need for Speed will serve your purposes. Want to go fast while killing big things? Boss Mode and Worlds Apart are right up your alley. Divinity and Lionhearted are also making a return, if challenging Greater Rifts are more your style. Finally, if you're keen to prove your mastery of various Class Sets, Masters of the Universe and Masters of Sets will also be returning.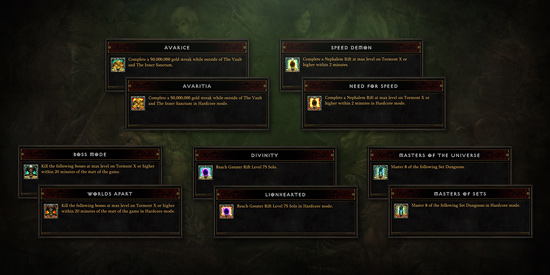 HAEDRIG'S GIFT
Finally, the Class Sets rewarded for completing certain chapters in the Season Journey courtesy of Haedrig's Gift have rotated once more. We've listed the available Sets below. For those new to Seasons, here's how it works:
Completing Chapters 2, 3, and 4 of the Season Journey will reward you with three of Haedrig's Gifts. These contain a few pieces from one of your Class Sets. Players can only unlock one Class Set in this manner per Season across Hardcore and Non-Hardcore, so choose wisely! The set you receive depends on the class of the character you're playing when you open each Haedrig's Gift. To collect a full Class Set, you'll need to open all three on the same character. Here are the sets granted by Haedrig's Gift in Season 23:
Monk – Raiment of a Thousand Storms
Demon Hunter – Unhallowed Essence
Crusader – Roland's Legacy
Wizard – Tal Rasha's Elements
Barbarian – Wrath of the Wastes
Witch Doctor – Helltooth Harness
1Necromancer – Bones of Rathma
PATCH NOTES
Below you will find the patch notes for the upcoming update for Diablo III, Patch 2.7.0
TABLE OF CONTENTS:
Seasons
Items
Bug Fixes and Misc Updates
Note: All changes apply to all versions of Diablo III, including PlayStation 4, Xbox One, Nintendo Sw2itch, and PC unless otherwise indicated.