Experience Destiny 2 in 4K with uncapped frame rates for PC, exclusively on Blizzard Battle.net.
From the makers of the acclaimed hit game Destiny, comes the much-anticipated action shooter sequel, Destiny 2. Experience an all new cinematic story campaign, innovative cooperative gameplay, and intense competitive multiplayer as you journey across unexplored worlds to discover an arsenal of weapons and devastating new combat abilities. Rally your friends or venture alone. The choice is yours. New Legends Will Rise on October 24.
No matter where you are, you can start playing Destiny 2 on your PC at 10 AM Pacific on October 24 digitally via Blizzard Battle.net. This is an important moment for our community. If you're joining us for the first time, we're thrilled that you'll be taking a step into our world. – Bungie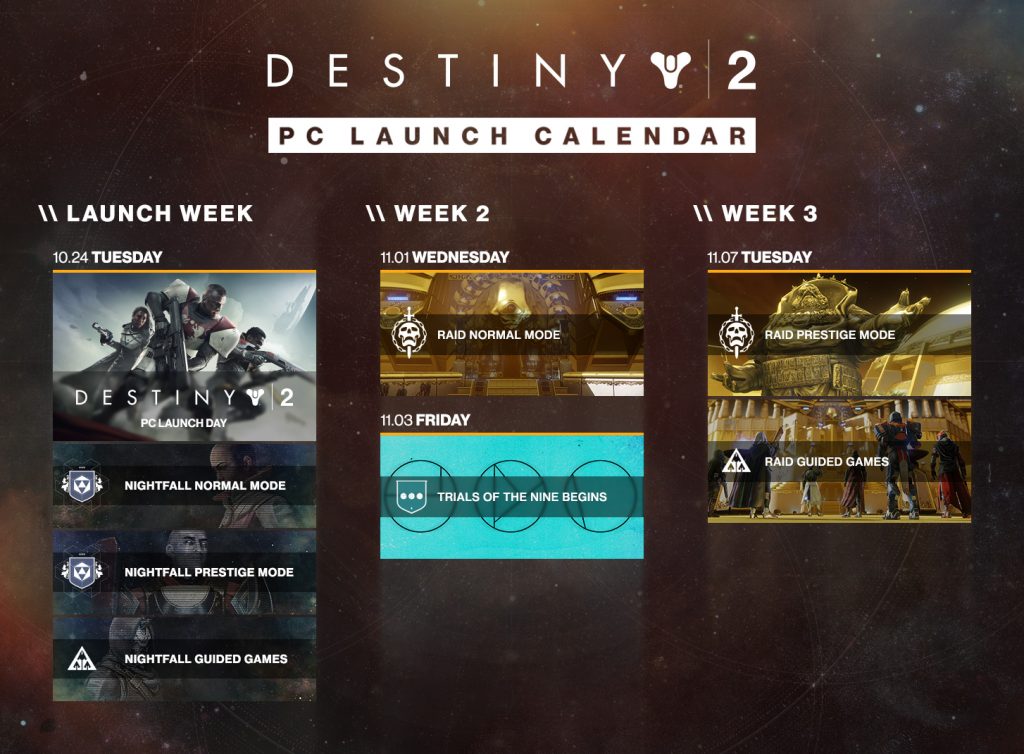 THIS WEEK AT BUNGIE –10/19/2017
Resources:
What Time Do 'Destiny 2' Servers Go Live For PC?
Destiny 2 is launching on PC at an interesting moment. The game has been out for a little while now on consoles, and the endgame hasn't been very well received, particularly by the longtime player base. Destiny 2 is far more generous with loot than its predecessor, and some would say that that's been an issue: endgame activities like the Prestige Raid don't necessarily have the sort of rewards that make them feel special, and many of us hit the current cap of 305 power in fairly short order after launch. Without new rewards, there's little incentive to return to the frustrating timed Nightfall or the somewhat exhausting Leviathan Raid. PC players are starting fresh, of course, but console players have not been quiet about their experience, and it's bound to color the PC launch to some degree. – Forbes