The Tomb of Sargeras: PATCH 7.2 ARRIVES MARCH 28!
Begin your campaign on the Broken Shore, storm the Cathedral of Eternal Night and rally the armies of Legionfall!
Source: Blizzard
For the heroes of Azeroth, the Broken Shore represents pain, sorrow . . . and an opportunity for vengeance. It is the source of the Burning Legion's seemingly unending incursion, and an ever-present reminder of the defeat suffered at their hands by both the Horde and the Alliance. But now it's time to return to where the invasion began—this time as a more prepared force.
Assault on the Broken Shore
Hospitality isn't the Legion's strong suit, so don't expect them to roll out the welcome mat for Azeroth's forces. You're going to need to break through their defenses, clear the beach, and establish a foothold for your base. Similar to the launch of World of Warcraft: Legion, if you've reached max level, Khadgar will have a quest for you which will begin a solo scenario on the Broken Shore.
You and your forces will progress through a series of stages as you press the attack against the Burning Legion. This culminates in the infiltration of one of the Legion's ships to face the dreadlord Mephistroth — this won't be the last you'll see of him however.
Once complete, you'll arrive at Deliverance Point. This base of operations will serve as a sanctuary for members of all Class Orders as they begin working on a new campaign on the Broken Shore alongside the Armies of Legionfall.
Deliverance Point and Securing the Broken Shore
Your first foray into the Broken Shore will involve getting a few things established and learning more about these fel-befouled lands. Evidence remains of a once shining elven civilization, and crumbling structures are all that bear witness to what once was. Even the statues have been touched by the corruption of the Legion.
As you progress through the Broken Shore, you'll undertake a variety of new World Quests for rewards and continue the evolution of your Artifact weapon.
Completing World Quests within the Broken Shore will also provide Legionfall War Supplies and reputation with the Armies of Legionfall. They can also be obtained from other sources such as rare Elites found around the island. Legionfall War Supplies are essential for contributing to the construction of powerful buildings within Deliverance Point, which will provide additional benefits for those working their way through the Broken Shore.
There's plenty to do here and more than enough demons to keep everyone on their guard.
Constructing Defenses
You can contribute to the construction of three different buildings by accessing the Legionfall Construction Table. The first time a building is established, a brief scene plays and a quest becomes available that grants the buffs associated with the building. Each building provides access to different benefits, and there are a variety of extra bonuses each building has a chance to provide. Make sure you pay close attention to them—these additional bonuses could sway your choice of which to donate to. Contributions toward each building are accumulated across your game region, so choose wisely.
Constructing each building requires a steady influx of Legionfall War Supplies. Once constructed, the building is available for 3 days, during which players can reap the benefits the building provides. The building will come under attack on the last of those days, after which it is destroyed and must be rebuilt. You'll then need to wait a cooldown period of one day before you can contribute again to rebuild.
Here are the buildings that can be constructed:
Mage Tower
Harness arcane energies to move Legionfall forces quickly throughout the Broken Isles and uncover challenging agents of the Legion.
Benefits Include: Fel Treasures, which provides access to Artifact Challenges, bonus treasure spawns, and city portals.
Here's an example of just one type of buff that could be provided when this building is constructed:
Knowledgeable: When you loot an item which grants Artifact Power in a raid or dungeon, there's a chance you will receive a bonus Artifact Power item.
Command Center
A fortified base of operations for Order Hall leaders to gather together and plan their attacks across the Broken Shore.
Benefits Include: Forces of the Order, which provides access to dungeon World Quests, the ability to call in Legionfall Reinforcements, and a Challenge Mission.
Here's an example of just one type of buff that could be provided when this building is constructed:
War Effort: When earning Legionfall War Supplies, you have a chance to get bonus Legionfall War Supplies.
You'll also have access to your Class Order Command Map here, so you can send your Followers on missions without having to travel back to your Class Hall.
Nether Disruptor
Harness arcane energies to move Legionfall forces quickly throughout the Broken Isles and uncover challenging agents of the Legion.
Benefits Include: Epic Hunter, which provides you with access to world bosses, Unstable Nether Portals, and Armorcrafter Commendations.
Here's an example of just one type of buff that could be provided when this building is constructed:
Reinforced Reins: Allows you to interact with objects while mounted.
Continuing Your Class Hall Quest Line
Where the factions failed, the Class Orders are determined to succeed, and now you have the weapons at hand to make it happen. Each class can continue their Class Order Campaign on the Broken Shore and continue unlocking the power of their Artifact weapon.
For those who are at Artifact Knowledge level 25, you can unlock Knowledge level 26 and beyond.
For those not at Knowledge level 25, don't worry. You'll be led to Dalaran to get a boost up.
If you've purchased all 35 ranks of your Artifact weapon for at least one specialization, a new quest to continue your journey will appear. After a short series of quests, you'll unlock access to four new traits for your Artifact weapon.
If you haven't opened all 35 ranks of your available traits, a quest will become available so you can complete that before moving on.
As with the beginning of the expansion, you'll progress your Class Order quest line over time as you play the Broken Shore experience. You'll also gain one new Follower a few weeks in and can take part in some new class-specific World Quests on the Broken Shore. In some cases, these World Quests will have you aiding other classes along the way.
Under the Glow of the Sentinax
Looming high above the island is the Burning Legion's command ship, the Sentinax. Fighting creatures within its shadow, will allow you to loot a beacon from these creatures that can be used to command the ship to open portals. These portals will produce more Legion adversaries for you to take on. Each level provides new opportunities to get a higher-level beacon. These higher-level portals in turn allow access to even more dangerous foes.
Open enough portals and overcome enough adversaries and you'll eventually gain access to a raid boss for you and some friends to take on. It goes without saying—but we'll say it anyway—this is a great way to amass Nethershards.
Nethershards are a useful currency for purchasing catch-up gear from the vendors Warmage Kath'leen and Thaumaterge Vashreen in Deliverance Point. These can also be used to purchase chances for higher item level gear as well. We hope you have your good dice ready for those upgrades!
Don't worry about being confined to the shadow of the Sentinax any time you want to collect Nethershards. You'll also gain them through a variety of other activities and sources as you adventure on the Broken Shore.
Cathedral of Eternal Night
Once you complete the opening Scenario and first quests on the Broken Shore, you'll gain access to the new dungeon, Cathedral of Eternal Night. Khadgar will have a quest that will send you into its upper reaches, where you'll face Mephistroth once more. Venturing into the cathedral isn't required to progress through the Broken Shore—but if you want another shot at Mephistroth, this is your chance.
---
While there's plenty to do on the Broken Shore, don't be surprised when something like Demon Assaults on the Broken Isles pulls you away.
Ultimately, your efforts on the Broken Shore will lead to a confrontation unlike any other at the Tomb of Sargeras. With powerful Artifact weapons and the Pillars of Creation at hand, victory over the Burning Legion and Kil'jaeden is nearly assured.
Are you ready for the next chapter?
Patch 7.2: The Tomb of Sargeras
If patch 7.1.5 is a small patch, what exactly is a "big" patch? In this case, it's Patch 7.2: The Tomb of Sargeras. This patch introduces larger pieces of content which include a new raid, the continuation of the Class Order Campaign, and much more.

Return to the Broken Shore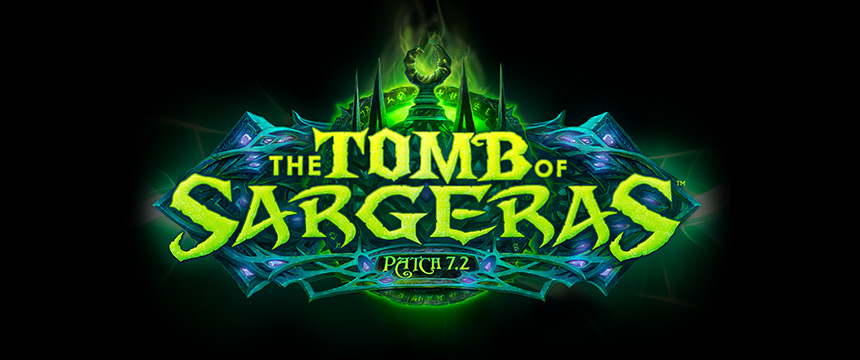 The demonic forces of the Burning Legion have built massive structures on the Broken Shore as a base of operations for their assault on Azeroth. It's here that the Horde and the Alliance experienced a series of tragedies at the hands of the Legion. Now that they've regrouped, acquired their new weapons of power, and recruited new allies, it's time to make a triumphant return.

Where factions failed, the Class Orders will succeed. Each class will continue their Class Order Campaign on the Broken Shore, and a new faction will be introduced: the Armies of Legionfall. Players will take part in helping build the Legionfall base to establish the initial foothold on the island, then work their way through the Legion's defenses and eventually reach the stronghold.

To do this, the Class Orders will need to work together build up their forces by fortifying ancient elven buildings and upgrading them into one of three buildings—Nether Disruptor, Command Center, or Mage Tower—which will provide additional benefits.

Players will also discover new World Quests on the Broken Shore—along with other new challenges.

Legion Assaults


Remember the Legion invasions across Azeroth prior to the expansion's launch? As the fight against the Legion intensifies, new assaults will be unleashed within the various zones of the Broken Isles, and heroes will be implored to thwart them once again. As the assaults intensify, the battle will culminate in a new three-player scenario that takes the fight to the Legion ships above.

Flying!

If you haven't been working your way through Broken Isles Pathfinder Part One, make sure you're well on your way before the introduction of Part Two. Once players have earned this achievement, they'll be rewarded with Broken Isles Flying account-wide.
What's even better than flying over the Broken Isles? Flying over them on your own new epic class mount! By completing the Broken Shore campaign and maxing out your Legionfall reputation, you'll be rewarded a mount that's unique to your class as a symbol of your dedication to defeating the Legion.

New Raid Zone: Tomb of Sargeras

On the opposite end of the Broken Shore, the Tomb of Sargeras lies in wait. Formerly the Temple of Elune, this raid dungeon will contain nine new bosses to conquer. After gaining the fifth Pillar of Creation—the Eye of Aman'Thul—from within the Nighthold, you'll descend into the depths of the tomb and use the pillars to seal the portal through which the Legion entered Azeroth.

New Dungeon: Cathedral of Eternal Night

It's been some time since we've added a new dungeon in a patch, so we thought it was about time. Patch 7.2 also features a new four-boss dungeon: Cathedral of Eternal Night. While the raid descends into the tomb, the dungeon ascends into the upper reaches of the spire. You'll use the Aegis of Aggramar to open the rest of the tomb.

PvP Brawls

Inspired by other Blizzard games' Brawl modes, Battleground Brawls will alter the typical rulesets in Battlegrounds. A new Brawl will be available weekly, which will add variety to the gameplay and give players some fun new activities to check out. Here are a few examples:

Southshore vs. Tarren Mill – Dive into this classic large-scale game of team deathmatch.
Instant-Cap Warsong Gulch – You don't need to protect your own flag. Just grab and go!
Packed House: 15 v 15 Arena – Who needs elbow room?
Gravity Lapse – Defy the law of gravity in this brawl.
Winter Arathi Basin – Low visibility and iced over waterways await you.
Eye of the Horn – Mounted ram fights are the new PvP.
Artifact Updates

Artifact weapons are one of the major features of the expansion, with many players increasing their Artifact Knowledge, unlocking new traits, and customizing the looks of their weapons to suit their characters. As a part of Patch 7.2, we're making a few new system updates to go along with all that.

The first of these updates is the addition of new Artifact traits that can be earned and unlocked via a new Artifact campaign, which you can embark on once you've maxed out your Artifact weapon. There will be at least three new traits per weapon, and you can unlock the ability to spend a fourth point on every existing minor trait on your weapon. There will be approximately 15 new traits for players to earn and spend to upgrade and customize their character.

There will also be new Artifact Knowledge levels to make sure there are adequate catch-up mechanics for those who switch between characters, have alts, or are just coming into the expansion a bit late.

For additional variety and customization, we're adding new relics that modify two Artifact traits instead of just one, so that players can further guide the direction they want their character to progress.

Beyond unlocking new traits, the new Artifact campaign will provide an opportunity for players to show mastery of their class with a solo skill challenge, which will unlock a new appearance for their chosen spec weapon. These appearances have been inspired by previous class questlines that led to weapons like Anathema/Benediction, and Rhok'delar. No grouping required—or allowed—and completing the challenge will reward a truly distinctive appearance.

Dungeon Updates

Even as we're adding new dungeons, we're also working to keep dungeons relevant through the entirety of the expansion.

Karazhan offers an opportunity for Mythic Keystones, but at nine bosses, it's a bit large to fit within the Keystone structure. To address this, we're splitting the dungeon into Upper and Lower Karazhan. There will be two separate four-boss sections that will fit into the system alongside existing dungeons and the new Cathedral of Eternal Night dungeon. This will bring the total of Mythic Keystone dungeons to 12.

To make sure all Mythic Keystone dungeons are kept relevant, we'll also bump up the baseline difficulty, along with increasing the item rewards. To go along with this, we'll also be experimenting with some new affixes on Keystones.

Players will get to see Patch 7.2: The Tomb of Sargeras on the PTR some time after the launch of Patch 7.1.5.
Source: Blizzard 
New Armor Models:
http://www.mmo-champion.com/content/6272-Patch-7-2-Tier-20-Armor-Set-Models
End of the Nighthold
Legion – Nighthold Cinematic
Wow Token Overview
The WoW Token is an in-game item that allows players to simply and securely exchange gold for game time or Battle.net Balance. Learn more at https://worldofwarcraft.com/en-us/new…
Suramar Lore
FLYING
http://www.wowhead.com/legion-pathfinder-class-mounts
https://www.icy-veins.com/forums/topic/26316-patch-72-how-to-unlock-flying-in-legion/