Connect with your allies and rivals across the community, discuss your favorite games and universes, and check out some of the epic things Blizzard has been up to in this free, all-digital community celebration. Source: Blizzard
Three Decades' Worth of Fun
Denizens of Azeroth, defenders of Sanctuary and the Koprulu Sector, heroes of Overwatch and the Nexus—we'd like to extend you a formal invitation to connect with your allies and rivals across the Blizzard community (virtually) during BlizzConline™ this February 19–20!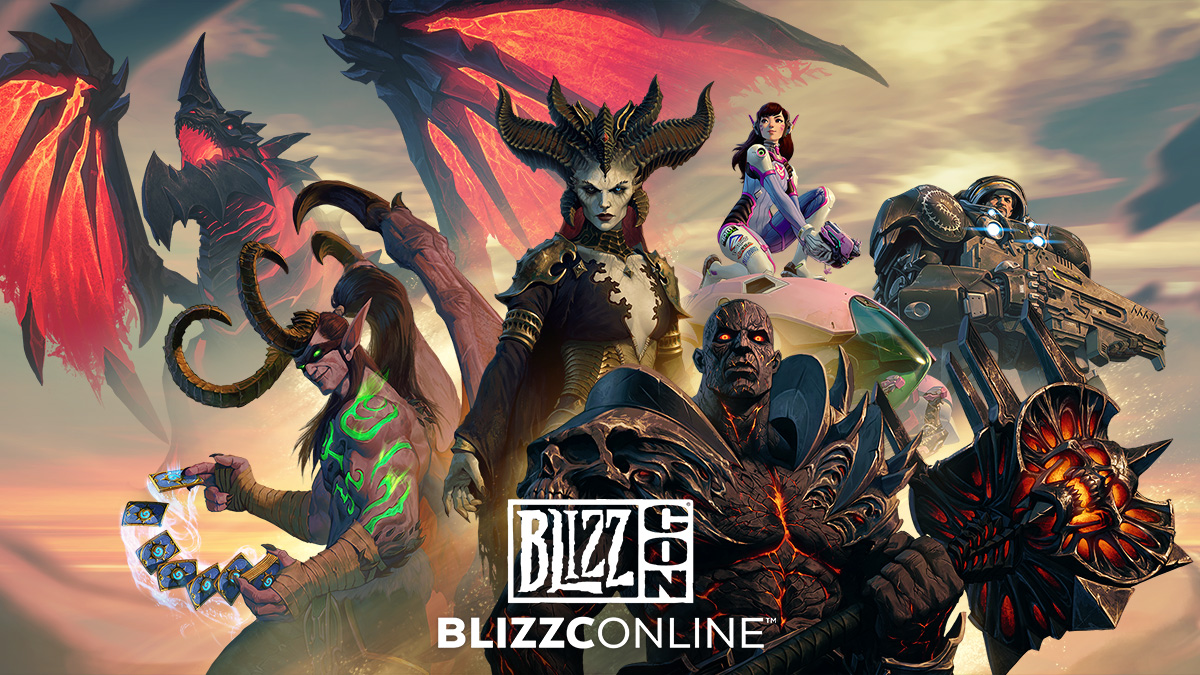 BlizzConline is an all-digital community celebration and exhibition of Blizzard games and universes—a chance for us to get together in the online world while circumstances keep us from gathering in the real one. We'll be celebrating some fun milestones, shining a spotlight on the epic things the Blizzard community has been up to, and sharing the latest Blizzard game news with everyone.
You'll be able to watch the entirety of the show completely free through the BlizzCon website, where you can choose between six channels of content covering your favorite games. You'll also be able to watch the show on your favorite streaming platforms, including Twitch and YouTube.
On both days, we have a variety of events and preproduced segments planned to bring some of the BlizzCon spirit into your homes. We'll dive deeper into Blizzard's games and universes with developers, host some fun gaming competitions featuring esports pros, and a whole lot more.
Day 1 will kick off at 2 p.m. PST on Friday, February 19, with an opening segment that includes a first look at some of the latest game content the development teams have been working on. Then for the next three-plus hours, you'll have the option to tune in to one of the six different themed channels, so you can decide whether you want to sample a little bit of everything or dig deeper into the games you're interested in most.
Day 2 will pick back up at 12 p.m. PST on Saturday, February 20, with multiple channels once again, until the fun wraps up at later that afternoon. Throughout this second day, we'll be shining a spotlight on the global Blizzard community, including the winners and outstanding entries in the Community Showcase contests and exhibitions.
If you miss anything along the way, don't worry: you'll be able to watch it later free in the BlizzConline video archives.
Select BlizzConline content will be supported in 12 languages via livestream or VOD, including English with subtitles in European Spanish, French, German, Russian, Latin American Spanish, Brazilian Portuguese, Arabic, Japanese, Korean, simplified Chinese, and traditional Chinese.
We'll be sharing a detailed schedule of events and segments in the weeks before the show—stay tuned!
This month is also 30th anniversary of Blizzard, and we'll be using the BlizzConline occasion to celebrate three decades of playing together alongside our community. Starting today, we also have some commemorative in-game goodies for sale themed around 30 years of Blizzard as part of three Celebration Collections—check out our blog to learn more about what's available for each game. And keep an eye on the Blizzard Gear Store for a selection of merchandise to help bring some of the online fun into the physical realm—including a replica of the Helm of Domination once worn by Arthas—coming to the Gear Store on February 19.
Commemorate 30 years of Blizzard® games and universes with three treasure troves of in-game items and extras!
The limited-time bundles will help you channel the anniversary spirit as you adventure and battle in World of Warcraft®, Overwatch®, Hearthstone®, Diablo® III, StarCraft® II, StarCraft®: Remastered, and Heroes of the Storm®.
Available through September 15, 2021
Limit 1 per Blizzard® account.
Overwatch® skin, portrait, and spray and StarCraft® portraits will be in-game no later than February 18, 2021; Diablo® III in-game items will be in-game no later than February 28, 2021.
Diablo® III items available in PC version only. To redeem Overwatch® items on consoles, players must link their Blizzard® account with their console account.
Upgrading to the Heroic Pack or Epic Pack will not re-grant any in-game items previously unlocked on your account, and Heroes of the Storm™ Tracer Hero will not be regranted if already owned.
Individual items require associated game(s), Internet connection, Blizzard® registration, and Blizzard® Battle.net® desktop application.