Prepare for the Queen of Tides' grand reemergence June 25 with the Rise of Azshara content update!
The Rise of Azshara content update is packed with new features, including the addition of Essences to the Heart of Azeroth system; two entirely new zones—Nazjatar and Mechagon; Heritage Armor for tauren and gnomes; new Benthic gear to help you face the trials ahead; a raid that takes you into the depths of Azshara's Eternal Palace; and much more. – Source: Blizzard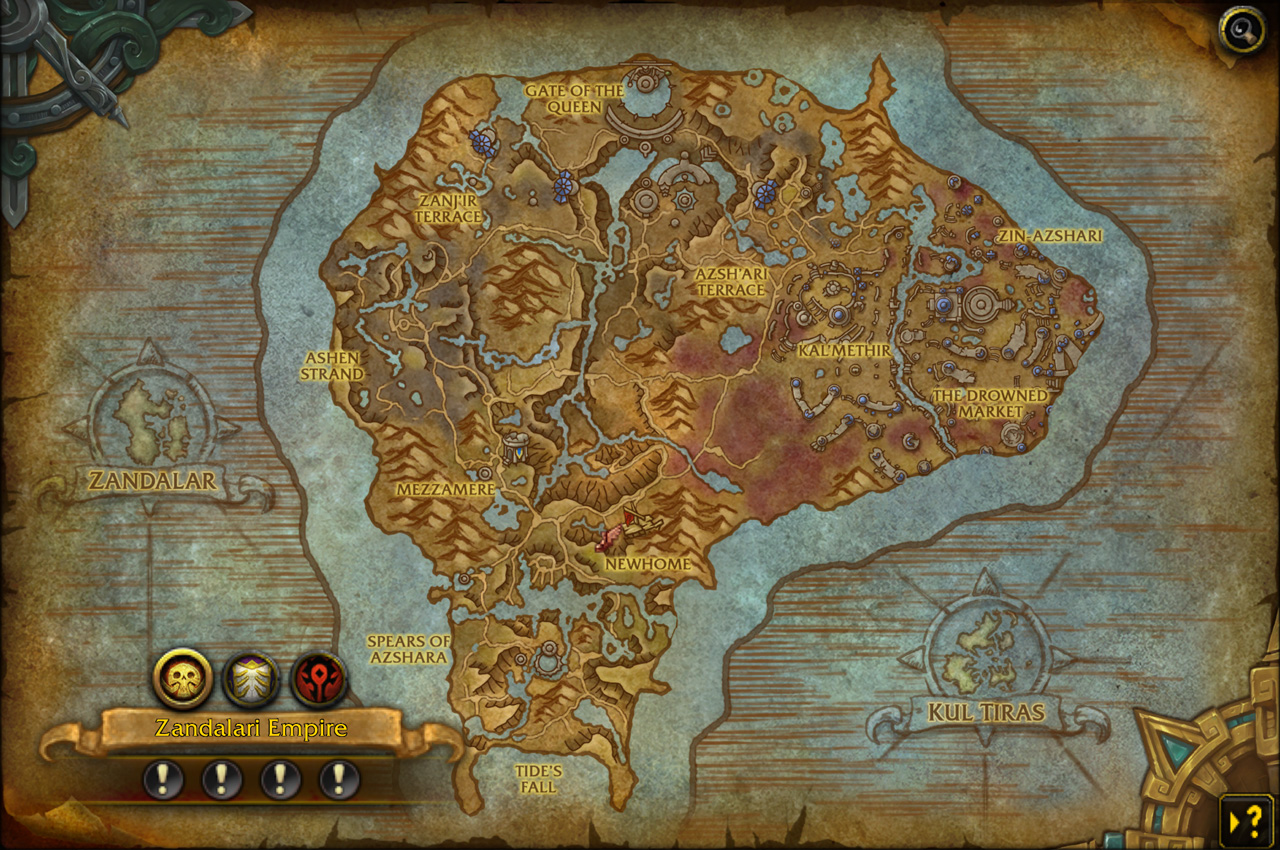 After a high-stakes chase across the seas, the Alliance and the Horde find themselves facing an ancient enemy who has long been lurking in the depths: Queen Azshara and her fearsome naga army. With their ships decimated by Azshara's ambush, the Alliance and Horde must establish a new base of operations and join forces with new allies in the perilous realm of Nazjatar.
Mechagon Island Visitor's Guide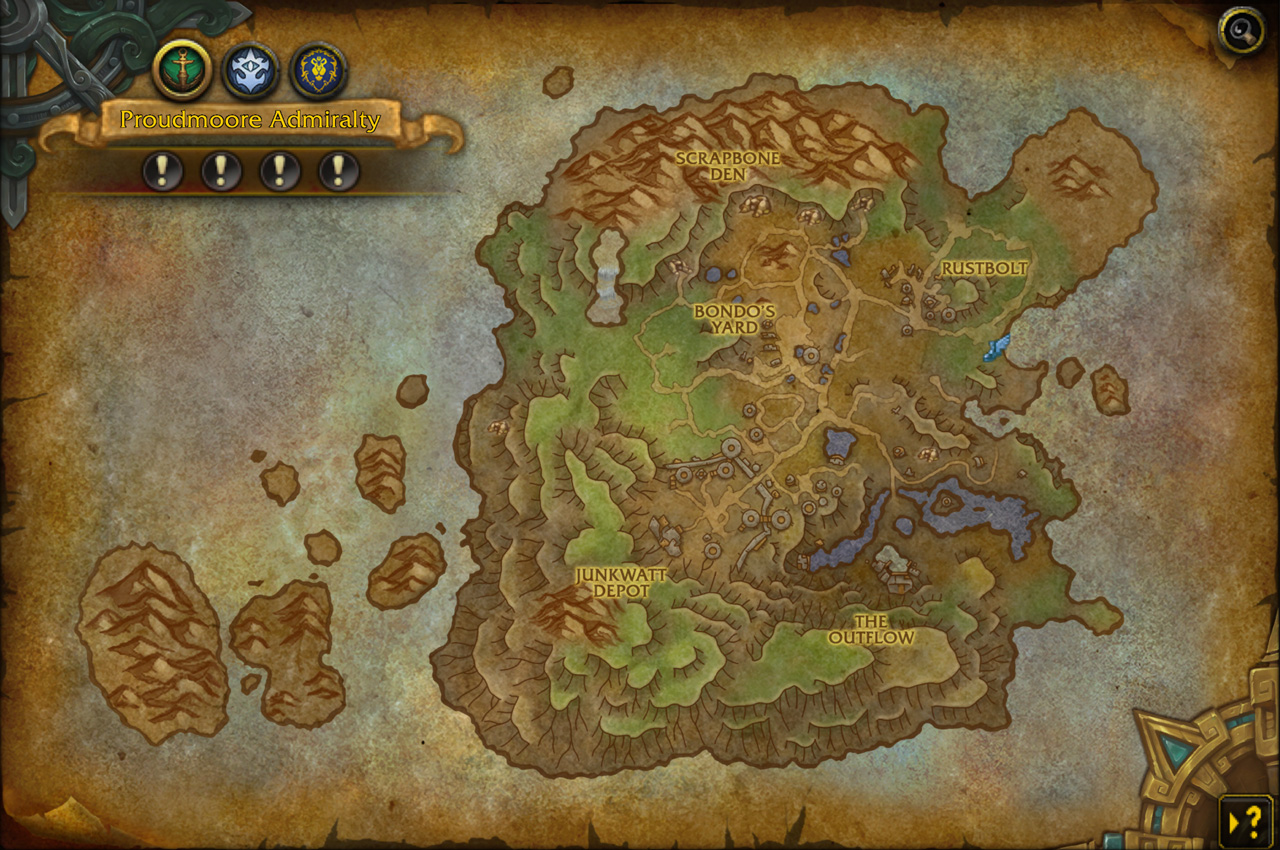 Legends speak of a place off the craggy coast of Kul Tiras whose denizens have replaced blood and bones with bolts and brass: Mechagon Island, home of a society of mechanically augmented gnomes and their iron-fisted ruler King Mechagon.
The Eternal Palace Raid Preview and Schedule
Ten thousand years ago, as the seas engulfed Zin-Azshari, Queen Azshara forged a dark bargain with N'Zoth that transformed her loyal subjects into the sinister naga. Through millennia of brutal conquest, Azshara has built a new empire from the ruins of the old and now holds dominion over the depths that once threatened to claim her. Ever the gracious host, she has invited the Alliance and Horde alike into her eternal palace to witness her glorious ascension… and their ultimate demise.
RAID UNLOCK SCHEDULE:
July 9 – Normal and Heroic Difficulties
July 16 – Mythic and Raid Finder Wing 1 (Abyssal Commander Sivara, Blackwater Behemoth, Radiance of Azshara)
July 30 – Raid Finder Wing 2 (Lady Ashvane, Orgozoa, The Queen's Court)
August 13 – Raid Finder Wing 3 (Za'qul, Queen Azshara)
Take to the Skies With Battle for Azeroth Pathfinder, Part 2
You've fought on the shores of Kul Tiras, explored the far corners of Zandalar, and faced the enemy at every turn. You survived the Battle of Dazar'alor, and aided Magni Bronzebeard in his critical quest to save Azeroth from her grievous wound. Soon, your journey will take you into the depths of Nazjatar and the wonders of Mechagon, where even more dangers await—but you don't have to face them all from ground level. Once you complete the account-wide achievement Battle for Azeroth Pathfinder, Part 2, you'll be able to take to the skies . . . and earn a brand-new mechanical mount in the process!
To earn your wings in Battle for Azeroth, you'll need to:
Reach Revered with the following factions: The Rustbolt Resistance and either the Unshackled (Horde) or Waveblade Ankoan (Alliance)
Earn the achievement Battle for Azeroth Pathfinder, Part 1 (progress is account-wide)
Explore Nazjatar: Ashen Strand, Azsh'ari Terrace, Coral Forest, Deepcoil Tunnels, Dragon's Teeth Basin, The Drowned Market, Elun'alor Temple, The Empress's Approach, Gate of the Queen, The Hanging Reef, Kal'methi, Shirakess Repository, Spears of Azshara, Zanj'ir Terrace, Zanj'ir Wash, Zin-Azshari
Explore Mechagon: Rustbolt, Sparkweaver Point, Junkwatt Depot, The Heaps, Scrapbone Den, Western Spray, The Outflow, The Fleeting Forest
Completing Battle for Azeroth Pathfinder, Part 2 will allow you to fly in Kul Tiras and Zandalar, as well as the new zones of Nazjatar and Mechagon—plus the new Wonderwing 2.0 mechanical parrot mount.
Additional Information
Rise of Azshara Features
Something sinister churns beneath the waves—the Queen of Tides' return is imminent! Rise of Azshara, the next major Battle for Azeroth content update goes live June 25 and is packed with many new features, including the addition of Essences to the Heart of Azeroth system; two new zones to explore, Nazjatar and Mechagon; Heritage Armor for tauren and gnomes; new Benthic gear; a raid that takes players into the depths of Azshara's Eternal Palace; and much more.
The Heart of Azeroth will get a boost with the help of MOTHER, and players can seek out new ways to customize their powers through Essences.
NAVIGATE THE PERILS OF NAZJATAR IN NEW BENTHIC GEAR
We're introducing a new type of gear that can be collected in Nazjatar—and can help you stand against the rising threat of Queen Azshara.
Saddle Up for Epic Adventures with Mount Equipment
Every hero has their favorite mount—whether it's Baron Rivendare's steed, Kael'thas Sunstrider's beloved pet Al'ar, or the very first pony you purchased back when you earned Apprentice Riding skill. The Mount Equipment you earn, craft, and purchase in Rise of Azshara will make it so your choice of mount can be steered by your heart—not what's most efficient.
THE WAR CAMPAIGN CONTINUES: STAY OF EXECUTION
Upon learning of Sylvanas's plans to execute Baine Bloodhoof for treason, the Alliance and the Horde send strike teams to infiltrate the Kor'kron Barracks and rescue the noble tauren chieftain—meeting up with an old orcish ally along the way.
The latest episode of the War Campaign is available to level 120 players who have completed the previous chapters and finished the quest "Clearing the Cache." Speak to Lady Jaina Proudmoore or Lor'themar in Nazjatar to begin this perilous mission.
---
NEW ISLAND EXPEDITIONS
Set sail and discover two new Islands: Crestfall and Snowblossom Village. New loot including armor, weapons, and pets awaits players, but beware: you're not alone. Faction rivals will want to hoard the spoils for themselves. Take them down!
---
MYTHIC KEYSTONE SEASON 3
The new Mythic Keystone Dungeon season opens July 9th with opportunities for new rewards and an all-new challenge with a new seasonal affix: Beguiling. Queen Azshara's agents have infiltrated dungeons to strike down Azeroth's champions when they least expect it. Three different emissaries will bolster enemy ranks, and they'll prove to be deadly adversaries, so make them treat them as priority targets! Visiting emissaries can change every week and can even disrupt patrolling units, who will stop to pay them tribute. Learn more in the Rise of Azshara content update notes.
---
PVP SEASON 3
Season 3 brings a wave of new player-versus-player content on July 9th. Get ready to raze the enemy faction in the Ashran Epic Battleground, and take on all comers in the new Mechagon-themed Arena. Participants can earn two new Vicious Basilisk mounts, and the highest-rated players will unlock new Notorious Gladiator mounts. Learn more in the Rise of Azshara content update notes.
---
PATHFINDER PART 2
Take to the skies in Battle for Azeroth by undertaking Pathfinder Part 2 to earn your wings and a brand new mechanical parrot flying mount.