http://www.youtube.com/watch?v=5UJQsgVT9Uk&feature=related
Apparently a Polish website released images and details of the SWTOR collector's edition pre-order.
Many of our members have speculated that this comes prior to an official announcement from Bioware of a release date and pre-order details in the United States. We are concerned that based on the current state of SWTOR based on those involved in Beta that EA will push Bioware to release the game prematurely. The playable build showcased at E-3 was rife with bugs and other glaring issues including an absence of pvp beyond a handful of small battleground/scenario encounters. Apparently EA is attempting to push out SWTOR by the end of the year. Considering the scale of the SWTOR project and the sheer volume of unfinished work in critical areas of the game, particularly in pvp we are concerned that EA is setting the stage for failure.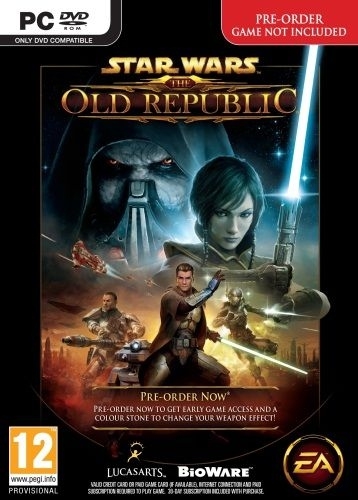 The Collector's Edition will include:
Exclusive Gentle Giant Darth Malgus statue
Star Wars: The Old Republic game discs in collectible metal case
The Journal of Master Gnost-Dural annotated by Satele Shan
Old Republic galaxy map
Custom Security Authentication Key (i.e. Authenticator)
Exclusive Music of Star Wars: The Old Republic CD
High-Quality Collector's Edition Box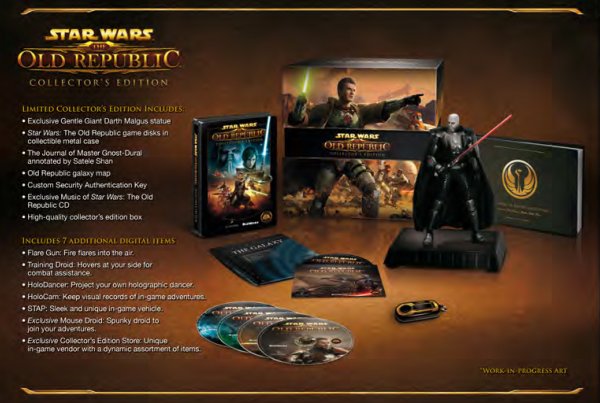 The Collector's Edition will also include seven digital items:
Flare Gun: Fire flares into the air
Training Droid: Hovers at your side for combat assistance
HoloDancer: Project your own holographic dancer
HoloCam: Keep visual records of in-game adventures
STAP: Sleek and unique in-game vehicle
Exclusive Mouse Droid: Spun-ky droid to join your adventures
Exclusive Collector's Edition Store: Unique in-game vendor with a dynamic assortment of items
The Collector's Edition is currently priced at 150 Euros, which would be about $220 USD. For more information on the Star Wars: The Old Republic Collector's Edition bonuses, and to check out the cover art for the game, check after the break. 
It's also been stated that there will be a head start period for those who pre-order SW:TOR. Standard pre-orders will get a three day head start, while those who pre-order the Collector's Edition will get a six day head start.
Read more: http://www.g4tv.com/thefeed/blog/post/714659/star-wars-the-old-republic-box-art-and-collectors-edition-leaked/?cmpid=sn-110418-facebook-28-fbfantrack#ixzz1SfVu3A9U