CHECK OUT STUNNING NEW PRINTS HONORING THE ENTIRE STAR WARS SAGA, ALL COMING TO STAR WARS CELEBRATION IN MAY.
There's only one art show where you can find a love letter to Solo: A Star Wars Story, a tribute to Carrie Fisher, and a Max Rebo Band concert poster.

For years, the Star Wars Celebration Art Show has served as a way for artists to pay tribute to the galaxy far, far away — showing the many ways the saga has impacted themselves and fans everywhere. The tradition continues at Star Wars Celebration Anaheim 2022, with a wide range of new prints available from artists of various disciplines and styles.

Pre-orders will go live at DarkInkArt.com on May 2 at 12 p.m. PT and run through May 16 at 12 p.m. PT; all prints will be limited to 250 pieces, with 200 available for pre-order and pick up at the Art Show, and 50 reserved for sale at Celebration. StarWars.com is thrilled to offer a first look at all the prints below, along with commentary from the artists.

"Heart of the Rebellion," Steve Anderson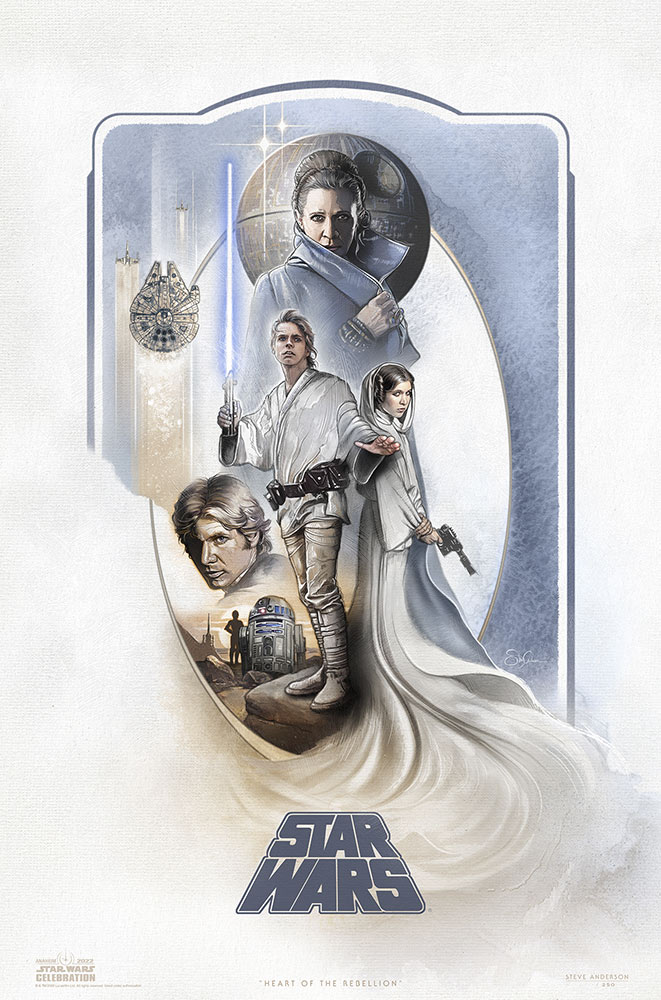 "I've been fortunate enough to have been an official Style Guide artist for Lucasfilm for 29 years, so given the chance to do a piece of whatever I want, I'll always love going back to our original three heroes and the film that started the legacy.
"While doing research for my work on The Book of Boba Fett series, I fell in love (again) with Ralph McQuarrie and Joe Johnston's concept drawings and all the creators back then. That research cemented an idea I already had in my head. A Han, Luke, and Leia piece that would reflect 'hope' as well as pay homage to our forever Princess Leia, our general, and most importantly, Carrie. A strong woman, a strong character, a strong role model."
"Reflective Power," Al Abbazia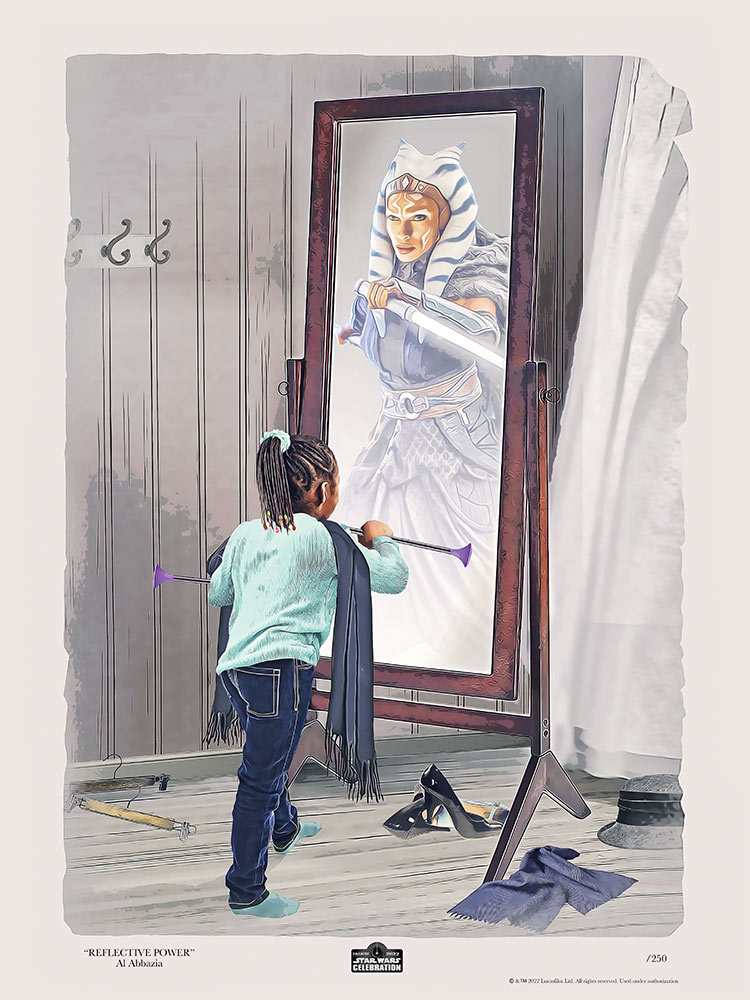 "My daughter Emily and I came up with the overall concept years ago. She mentioned how great it would be if I created a piece with a child looking up to their hero, feeling confident and empowered. My daughter was my inspiration; her thoughts and vision drove my work in a piece like this.
"This art embodies not only every child's dreams, but also the bond between my daughter and me. I hope 'Reflective Power' conveys a sense of wonder, admiration, and endless possibilities in all of us."
"Tensions in Mos Pelgo," Jonathan Beistline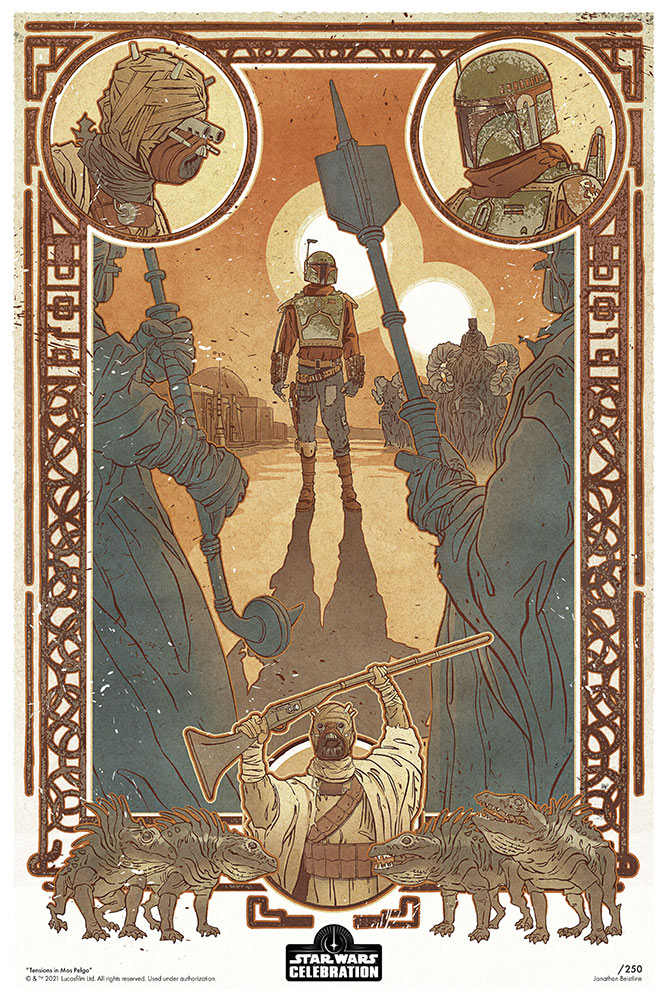 "When the Mandalorian is attempting to forge an alliance between the Tuskens and Cobb Vanth, there is a tense argument over the campfire that alludes to a hostile history. I wanted to create a piece inspired by that argument that visualized the past encounters between Vanth and the Tuskens in Mos Pelgo. My goal was to evoke the classic Western motifs of the episode and bring tension and anticipation to a standoff between the two sides under the blazing twin suns of Tatooine."
"Max Rebo Live," Kate Carleton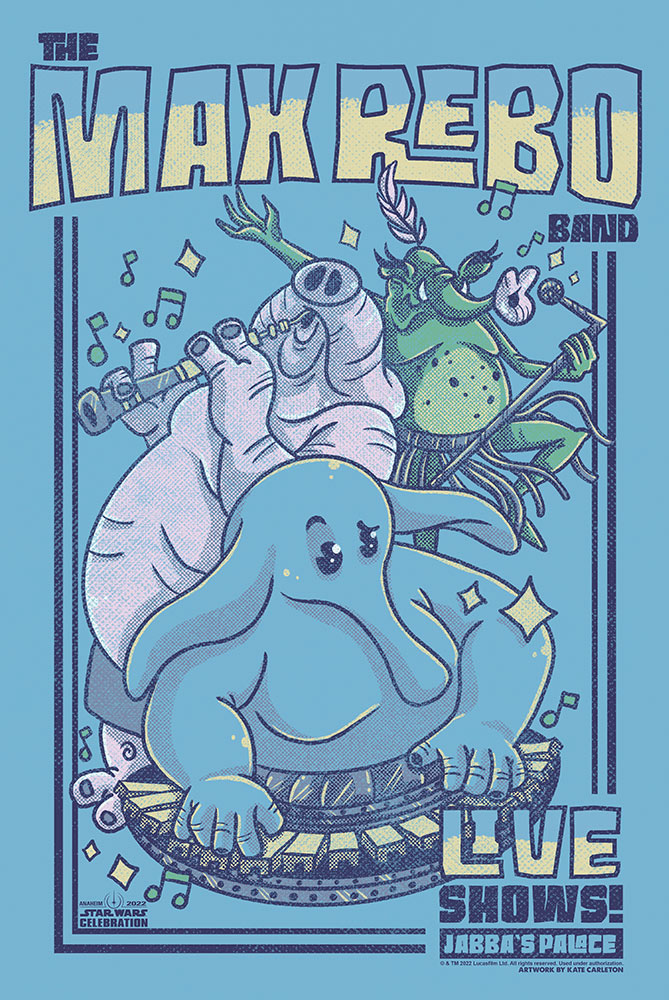 "I wanted to create a fun gig poster for one the best bands in the galaxy, the Max Rebo Band. Here's hoping they get to go on tour soon across the galaxy playing hits like 'Jedi Rocks' and finally escape the Tatooine heat."
"A New Hope Death Star," Jason W. Christman

"In the minimalist style I love so much, I tried capturing as many iconic moments in the Death Star into a single print as I could. I spent three years conceptualizing it and a full year developing it. From the boardroom to the trash compactor there's something in this print for every Star Wars fan to love."
"Punch It, Chewie!," Joe Corroney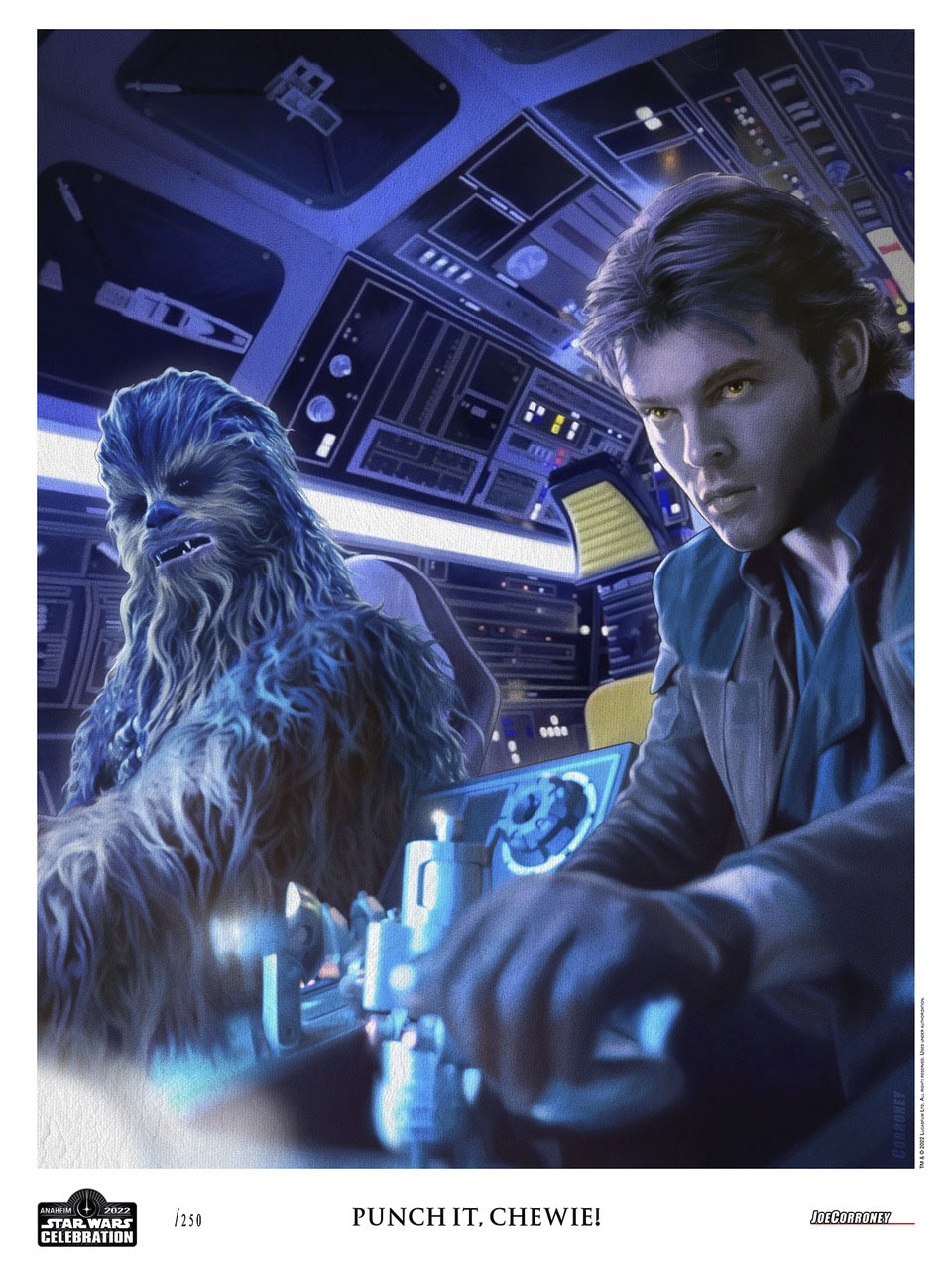 "I loved everything about Solo: A Star Wars Story when it came out a few years ago — the adventure, the action, the new planets, and the new characters. But most especially the origin story of the saga's most infamous Corellian smuggler, his faithful Wookiee co-pilot, and the iconic Millennium Falcon. I wanted to capture the excitement and the love for these earlier versions of the characters along with the sleeker, original design of the Falcon's cockpit from the movie in my new artwork. 'Punch It, Chewie!' is my love letter to Solo."
"The Sun and Moon," Kaela Croft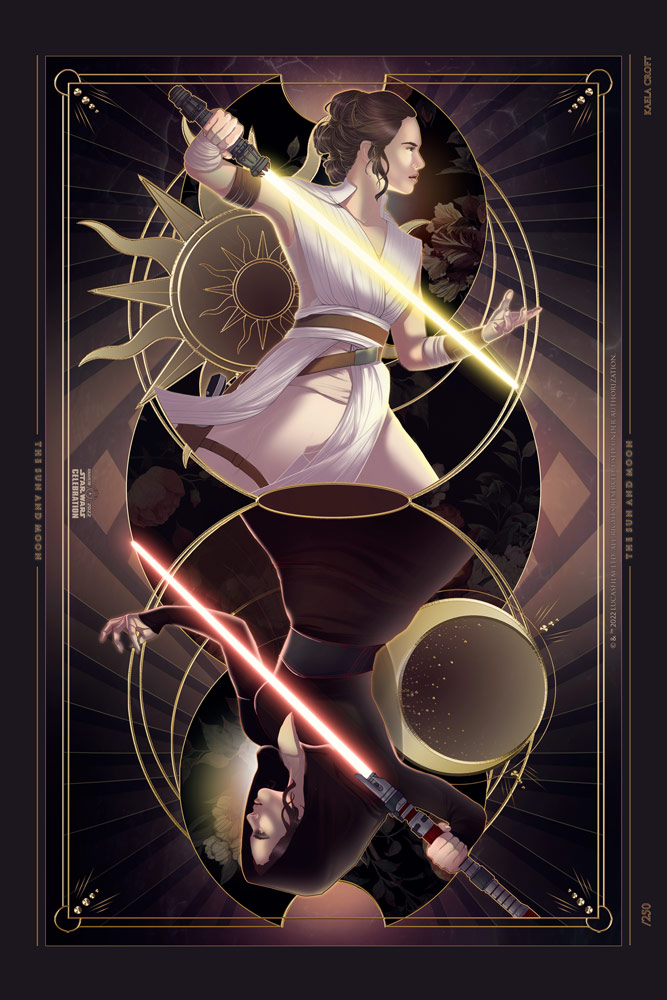 "This piece plays off of the tarot cards 'The Sun' and 'The Moon,' which when pulled together, sometimes represent a sort of duality in life. It seemed fitting for Rey."
"A Night with the Max Rebo Band," Asia Ellington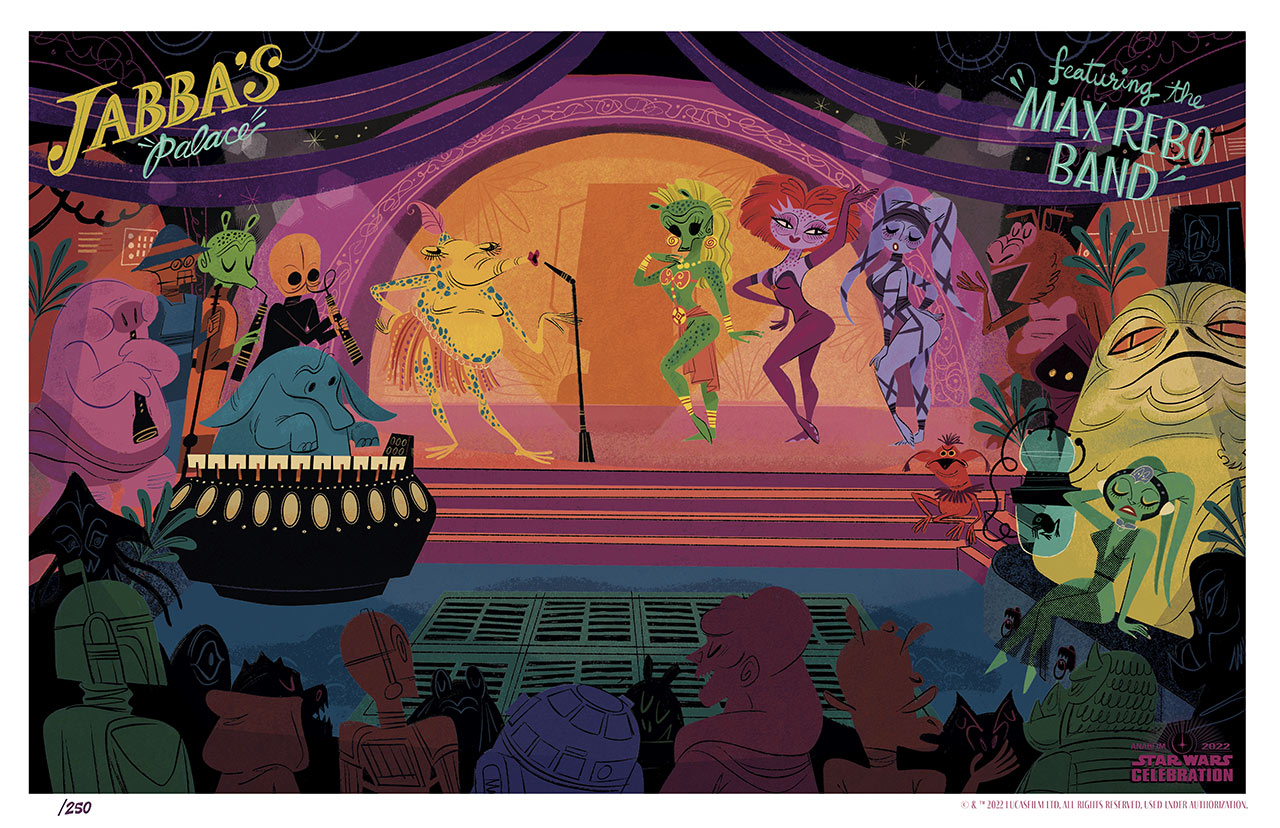 'A Night with the Max Rebo Band' is a playful, jazzy, colorful depiction of the band performing at Jabba's palace. I've always loved this scene for its glam and the campiness of Sy Snootles and the rest of the band, and would imagine their concerts being an absolute blast — minus the fear of Jabba feeding anyone to a rancor by the end of it, of course!"
"Victory and Death," Danny Haas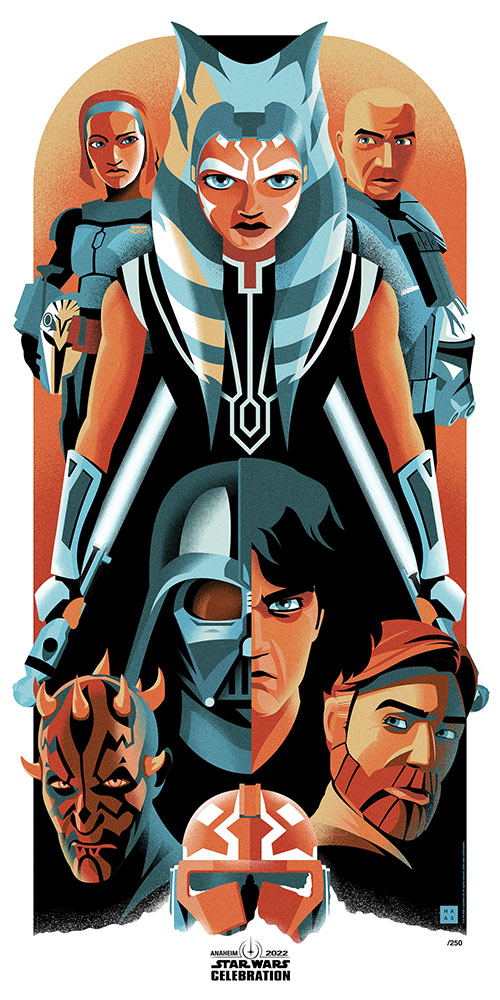 "When thinking about what art to make for this year's Celebration, I really wanted to focus on my favorite part of the Star Wars universe at the moment. For me that was the final season of The Clone Wars. So for this piece I wanted to focus on the characters that made this season special, and solidified it as one of the best moments in Star Wars."
"I'm Not In It For You, Princess," Karen Hallion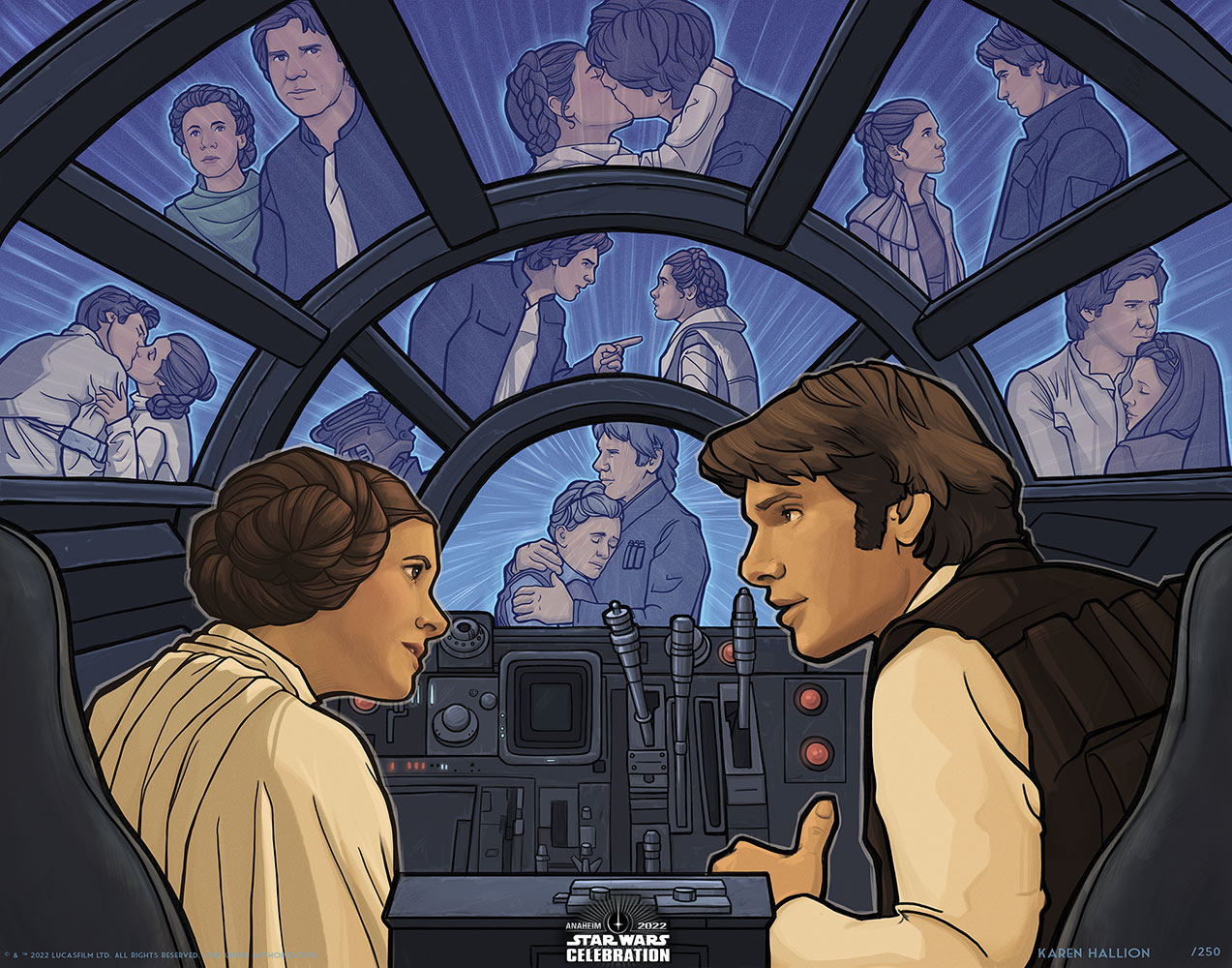 "This piece showcases some of the different facets of Han and Leia's relationship; using this shot seemed to frame that perfectly. All of the windows of the Falcon are a great mosaic to place scenes. This key scene of Han saying 'I'm not in it for you,' which I feel like ended up being false, was important to show. To me, Leia helped Han become a better man; he stayed with the rebels because of his love for her and because she changed him."
"A Grand Army," Joe Hogan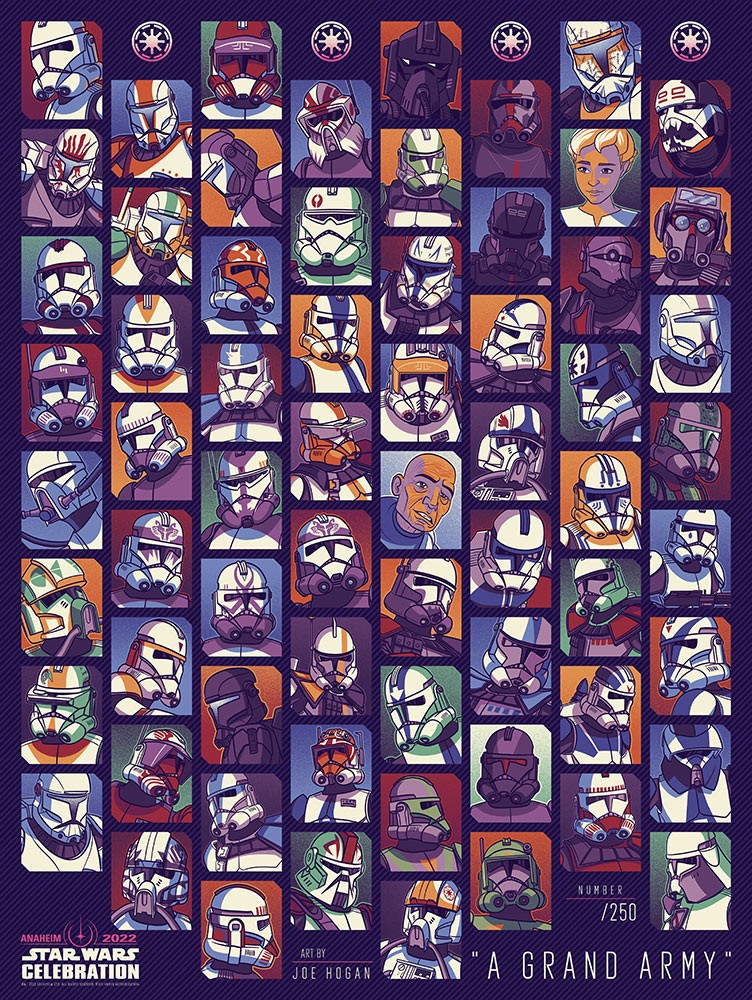 "'I will create a grand army of the Republic to counter the increasing threats of the Separatists!' These words by Supreme Chancellor Palpatine changed the galaxy forever, bringing forward a legion of heroes to Clone Wars fans. Represented in this piece are 66 clones of Jango Fett. And not all of the heroes wear helmets!"
"Date Nite at Black Spire Outpost," Brian Miller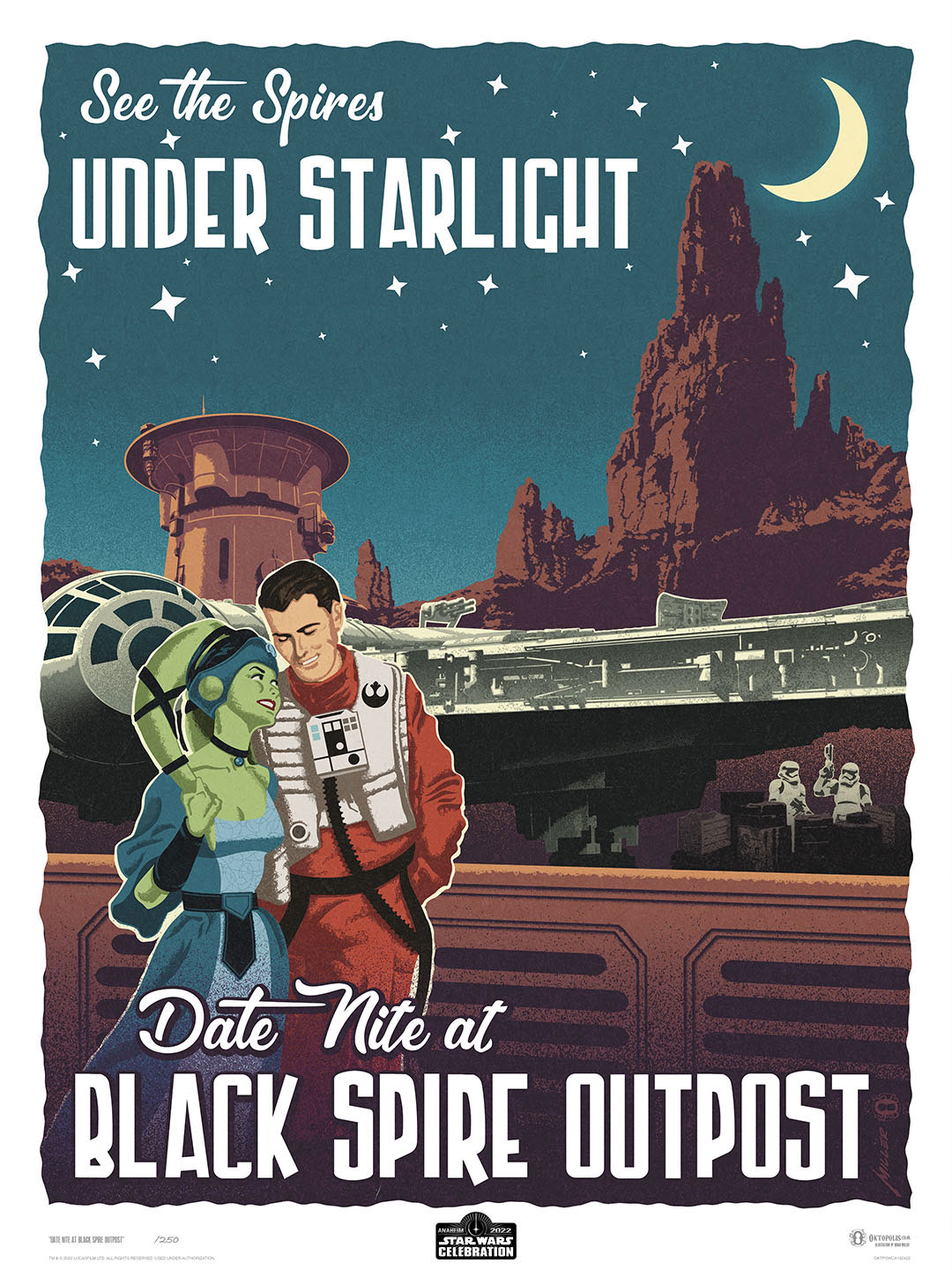 "I hoped to capture a bit of that retro-magic inspired by the original Date Nite at Disneyland poster by Brice Croskey, and imagine what the perfect 'Date Nite at Black Spire Outpost' might look like. This illustration gives each of us the chance to imagine our own dream date nite in a galaxy far, far away. It is an honor and a privilege to have this illustration featured in the Star Wars Celebration Art Show."
"In a Galaxy Far, Far Away…," Alex Mines
"Star Wars has many iconic scenes and landscapes, yet throughout my many years illustrating licensed sketch cards, I had rarely drawn these vistas. That was until my most recent card sets, where I hand painted scenes from the saga, but I was constrained by the limitations of the 2.5 x 3.5-inch card size.
"These cards inspired my piece, as I wanted to recreate those same landscapes and scenes, but on a much larger scale. This in turn allowed me to convey the cinematic spectacle of each of the nine episodes with a unique panoramic view."
"The Senator's Wardrobe," Dawn Murphy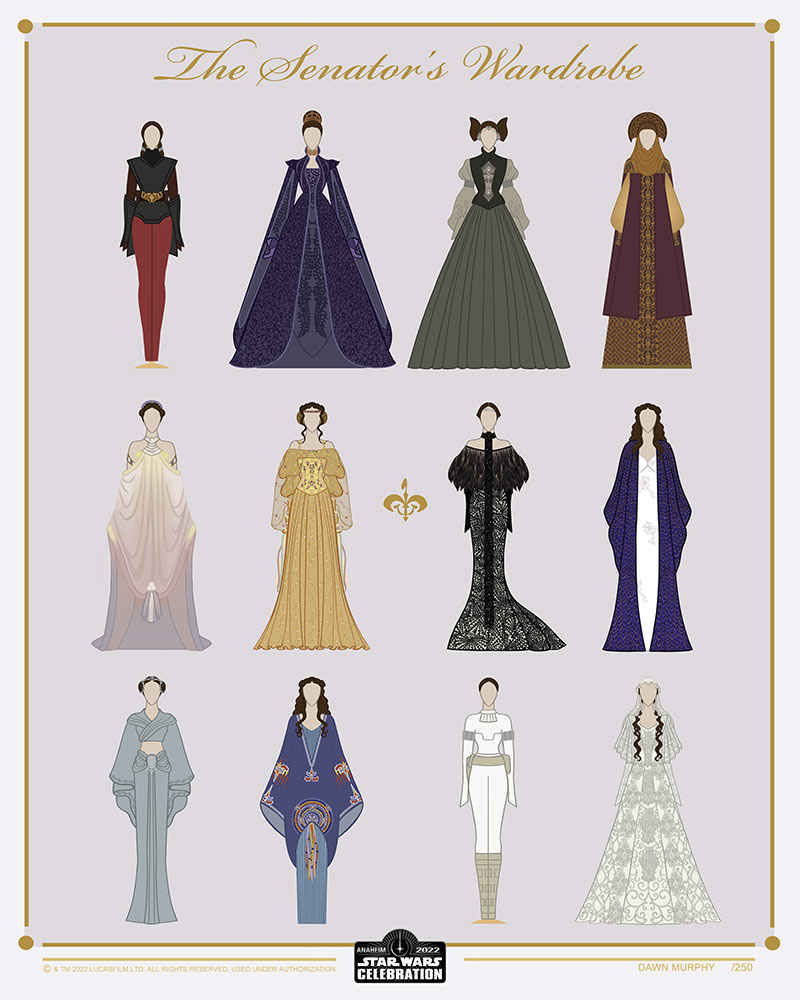 "'The Senator's Wardrobe' is my homage to the artistry and craftsmanship that went into creating Padmé's costumes for Attack of the Clones. It also celebrates the community of Star Wars cosplayers who always grace the halls of every Celebration. It's designed to be displayed alone or as a companion piece to 'The Queen's Wardrobe' from the 2020 Celebration Art Show."
"Legacy in the Making," L. Jason Queen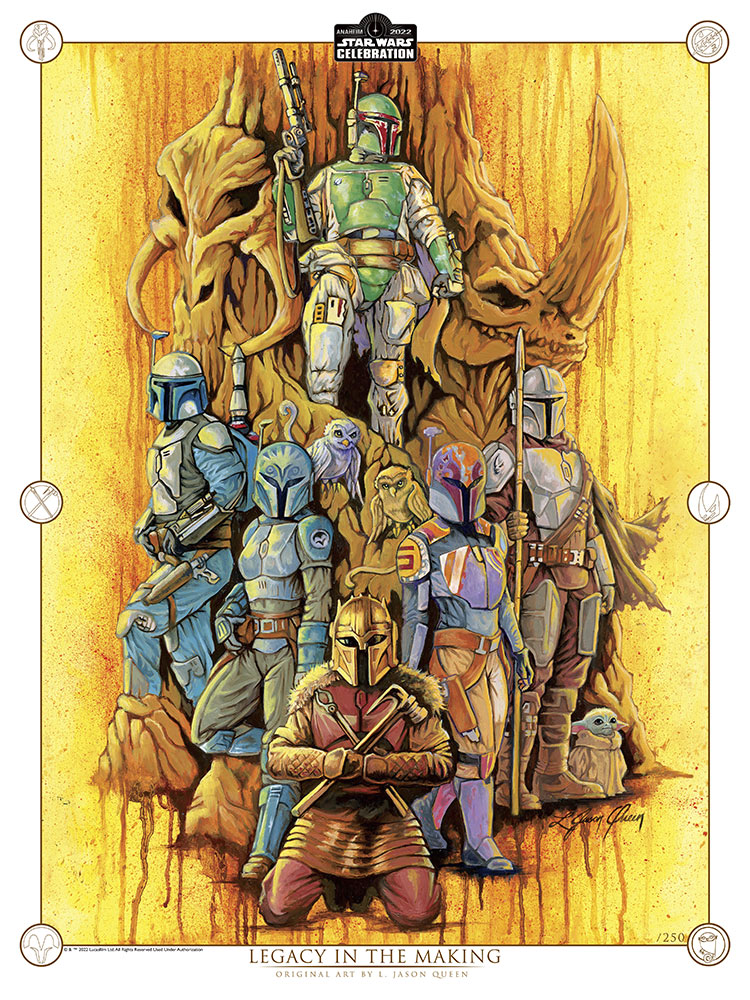 "'Legacy in the Making' is my exploration of the Mandalorian culture. I was five when I first encountered Boba Fett in Empire Strikes Back. Who was that masked man? His mystery and on-screen presence peaked my childhood curiosity. From movies and animated series to the recent television series, I love everything there is to love about Mandalorian culture. As Mandalorians in the television series referred to themselves as the 'tribe,' that word inspired the piece I created. I found inspiration from the majestic totems of the art of various Native American cultures. I also found inspiration from the visual design of Disney's Animal Kingdom Tree of Life. So with these ideas in mind, I set to work combining my concept with my somewhat chaotic yet slightly organized painting style. The result is a piece of art that I hope captures my admiration of the strength and heart of the Mandalorians. This is the Way!"
"Beacon of Hope," Adam Schickling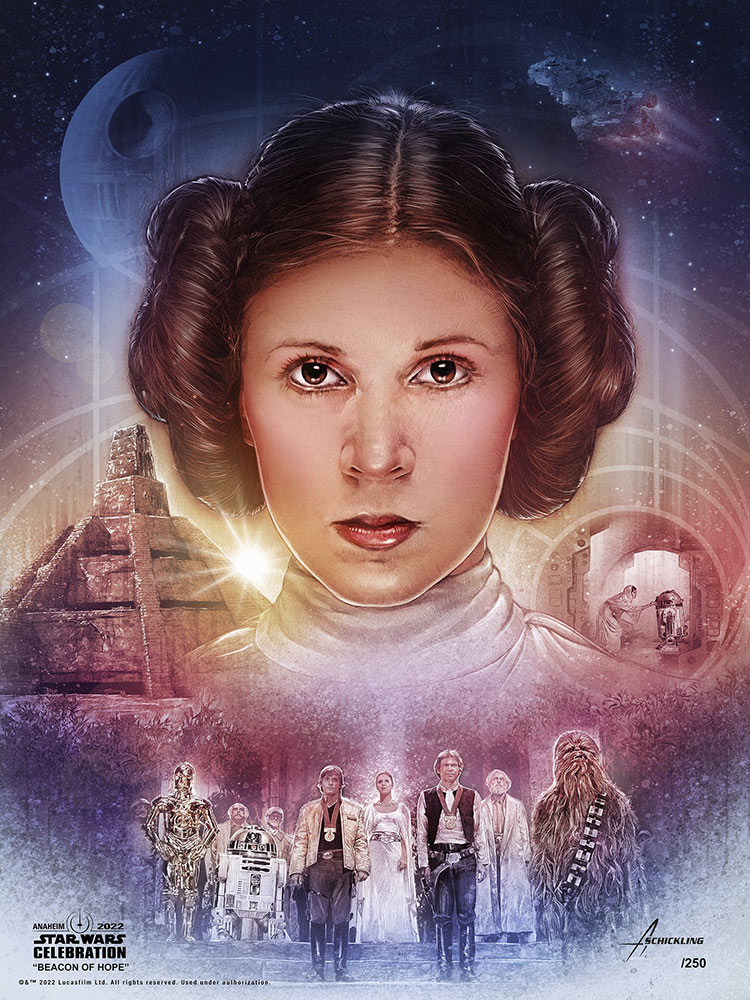 "Princess Leia was devoted to the Rebellion's cause of protecting the galaxy from the Empire. This piece captures the strength of the young princess who, against all odds, formed a friendship with a farm boy, a smuggler, a Wookiee, and a pair of droids to destroy the Death Star and defeat the Empire. She would continue to guide the Rebellion's continued conflicts against the oppressive Galactic Empire. Her leadership and determination serve as a 'Beacon of Hope.'"
"A Queen's Light," Lin Zy Selestow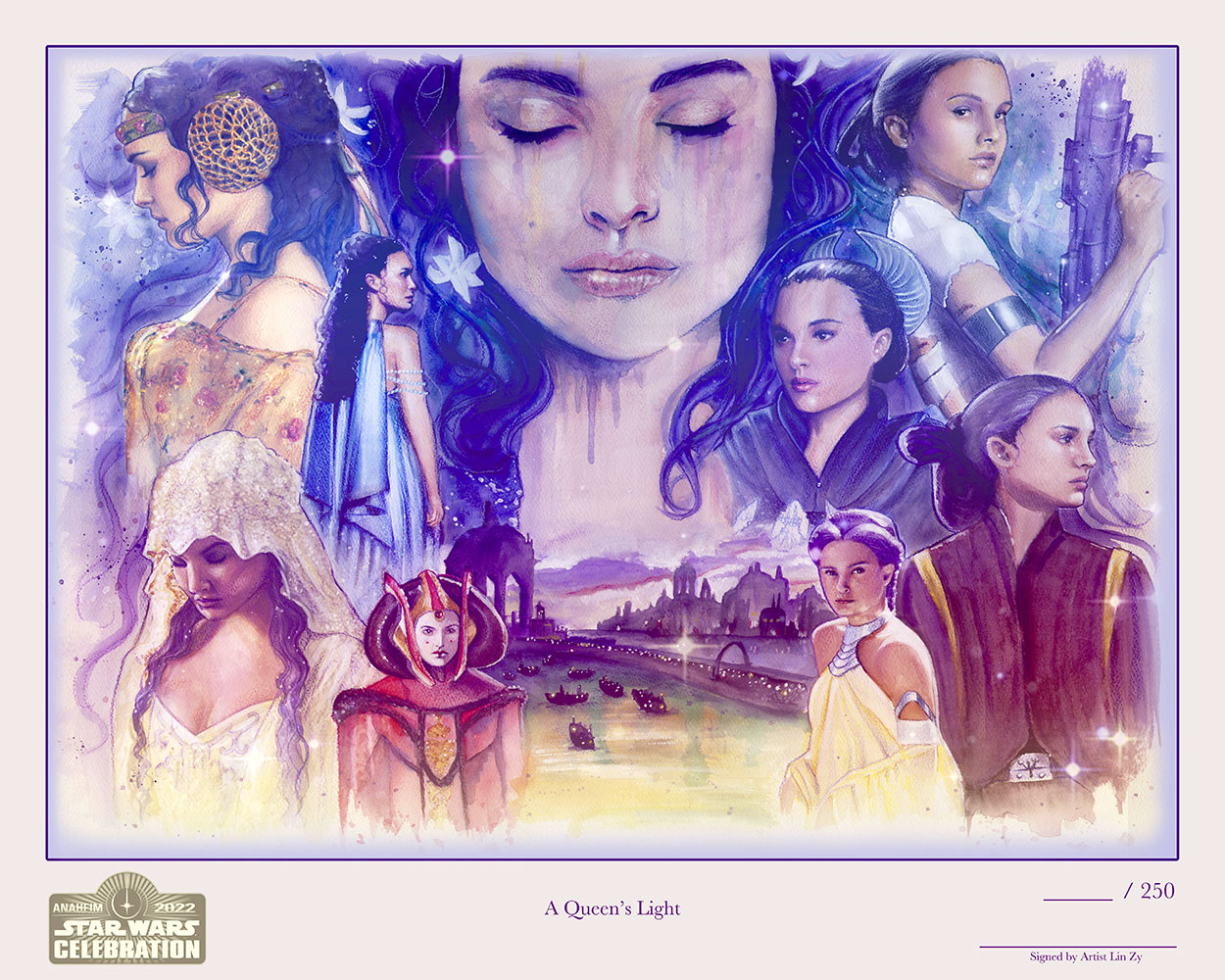 "When conceptualizing this piece, my main inspiration was the life and tragic death of Padmé. I tried to capture her strength and beauty by using different moments I felt played a strong emotional role in progressing her storyline. I wanted this piece to feel whimsical and light, so I used watercolor paints mixed with colored pencils to get the desired effect."
"The Princess' Gambit," Chris Trevas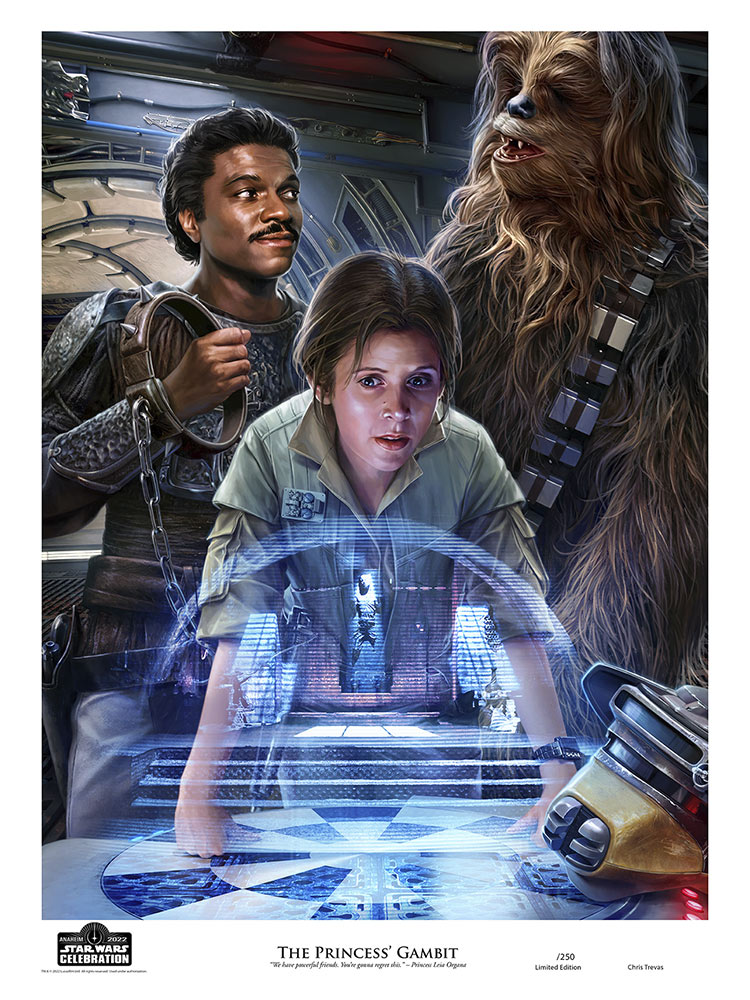 "I love the beginning of Return of the Jedi, as each of our heroes makes it to Jabba's palace leading up to Han's rescue. I wanted to show how each seemingly sacrificial move was accounted for, so that everyone was in place to win the day. This is the coordination of one half of the team. Lando has snuck away from the palace with important recon from inside. Chewie has been on the Falcon as their Tatooine base of operations. Leia is in place as leader, wearing her general's uniform, making final preparations.
"With the scene in mind, I figured out poses and found character reference with perfect expressions to convey the emotions I wanted. I painted the piece digitally, keeping in mind the lighting and visual style of the movies to make it feel like a piece of film we just missed. While I'm working I can almost hear what the movie would sound like at this moment, and my goal is to make that happen for the viewer as well."
"The Jundland Wastes," Malcolm Tween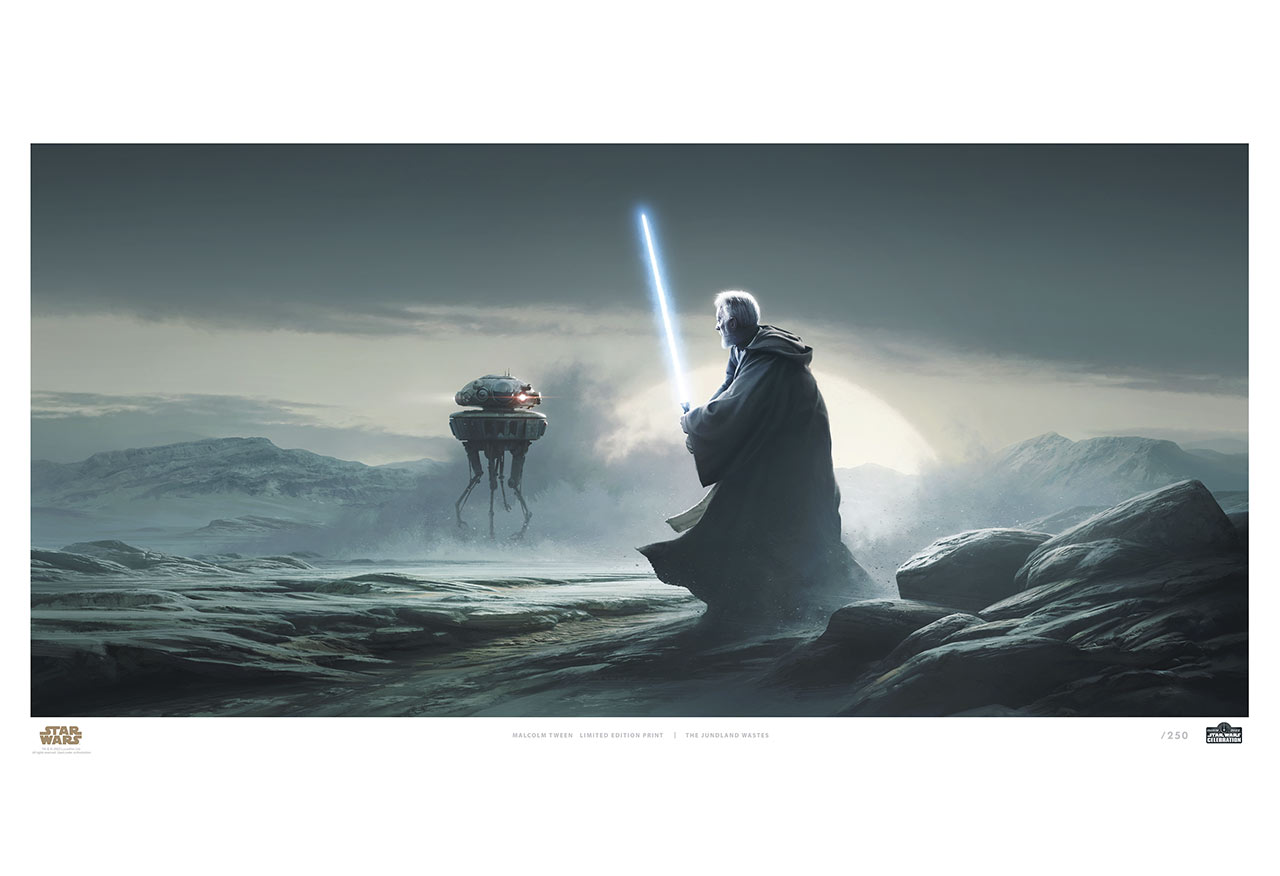 "In the barren expanse of the Jundland Wastes, Obi-Wan confronts an ominous Imperial presence, but what is it searching for? I really wanted this to represent 'old Ben' in the style of A New Hope, but also as someone who is still a formidable warrior capable of dealing with the Imperial threat."
"A Friend," Adrianna Vanderstelt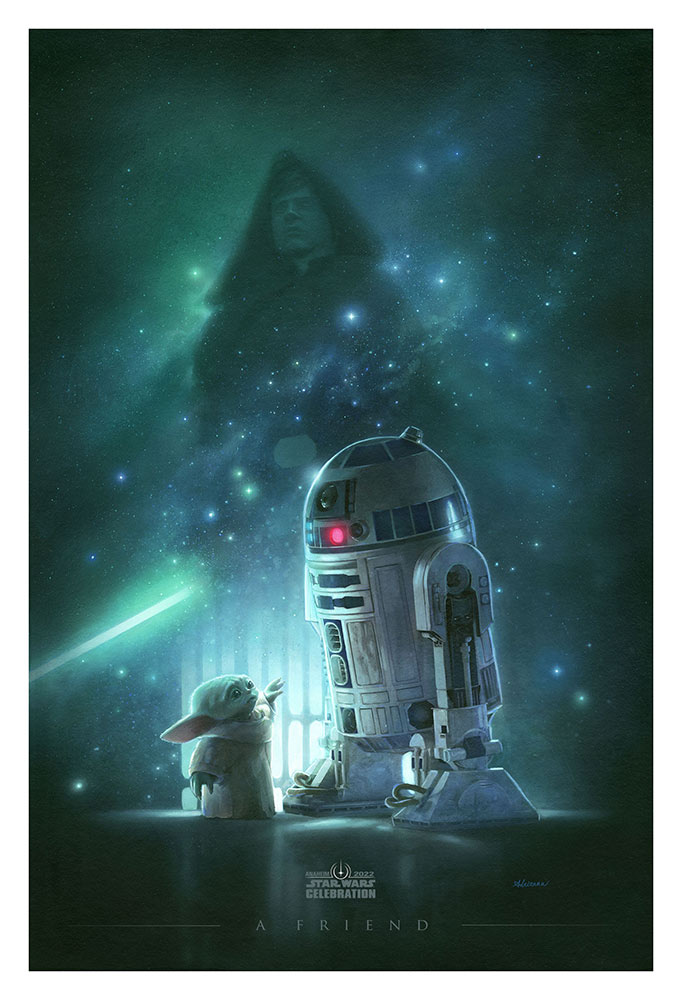 "This art is intended to capture that magical moment between Artoo and Grogu at the end of The Mandalorian Season 2. A nostalgic touch in the distance with Luke Skywalker amongst the glittering stars."
"One Heart Divided," Ksenia Zelentsova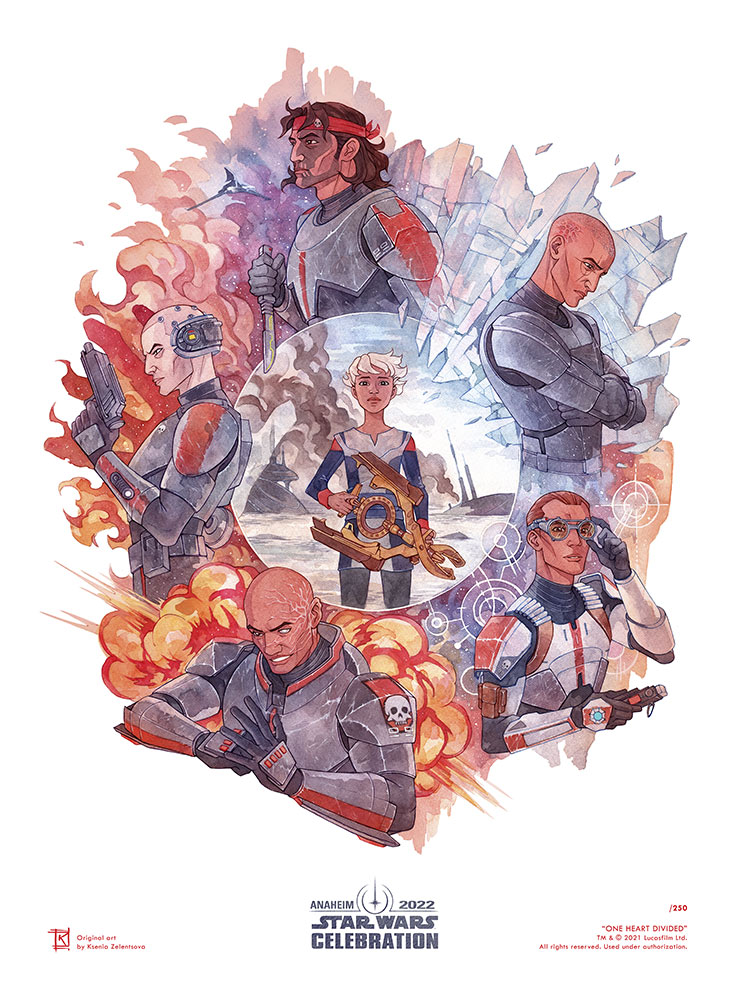 "Star Wars animation is what made me truly fall in love with the galaxy far far away. The story of clone troopers, their place in the events of the saga, as well as each of their personal stories are what resonated with me the most, very much like The Bad Batch tackles very personal conflicts against the backdrop of this major shift in the galaxy. When creating this piece I wanted to focus on the strong emotional bonds that make each of these individual characters a part of one whole. All members of the squad have their own history, and Omega is placed in the heart of things to represent their combined future."
Star Wars Celebration Anaheim 2022 will be held May 26-29, 2022, at the Anaheim Convention Center in Anaheim, California.