Guild Leveling and Perks System
As you and your guildmates conquer planet after planet, together you will be able to reach greater glory with the new Guild leveling system! This isn't just limited to conquering planets though. Whether it's hunting down a legion of rancors or facing the gauntlet of the Eternal Championship, it all adds up. Through these activities, everyone in a Guild, no matter the level, will be able to earn Conquest points to bolster their Guild leveling. The more Conquest points earned, the faster the Guild levels. As the Guild levels with its members, new bonuses and Perks will become available for everyone. – Bioware
Unlocking Perks is as much a team effort as conquering a planet. A combination of several resources will be needed to purchase these benefits, but they're worth it. Guilds could race across the terrain with faster mount speed, gain newfound strength with buffs in Flashpoints, and much more! In order to capitalize on these new benefits, Guilds will need to have a Flagship at their disposal. This might seem like a huge hurdle for some, but taking advantage of this newfound growth with Guilds, Flagship emporiums across the Galaxy will be offering ships at an all-time low of 15,000,000 credits!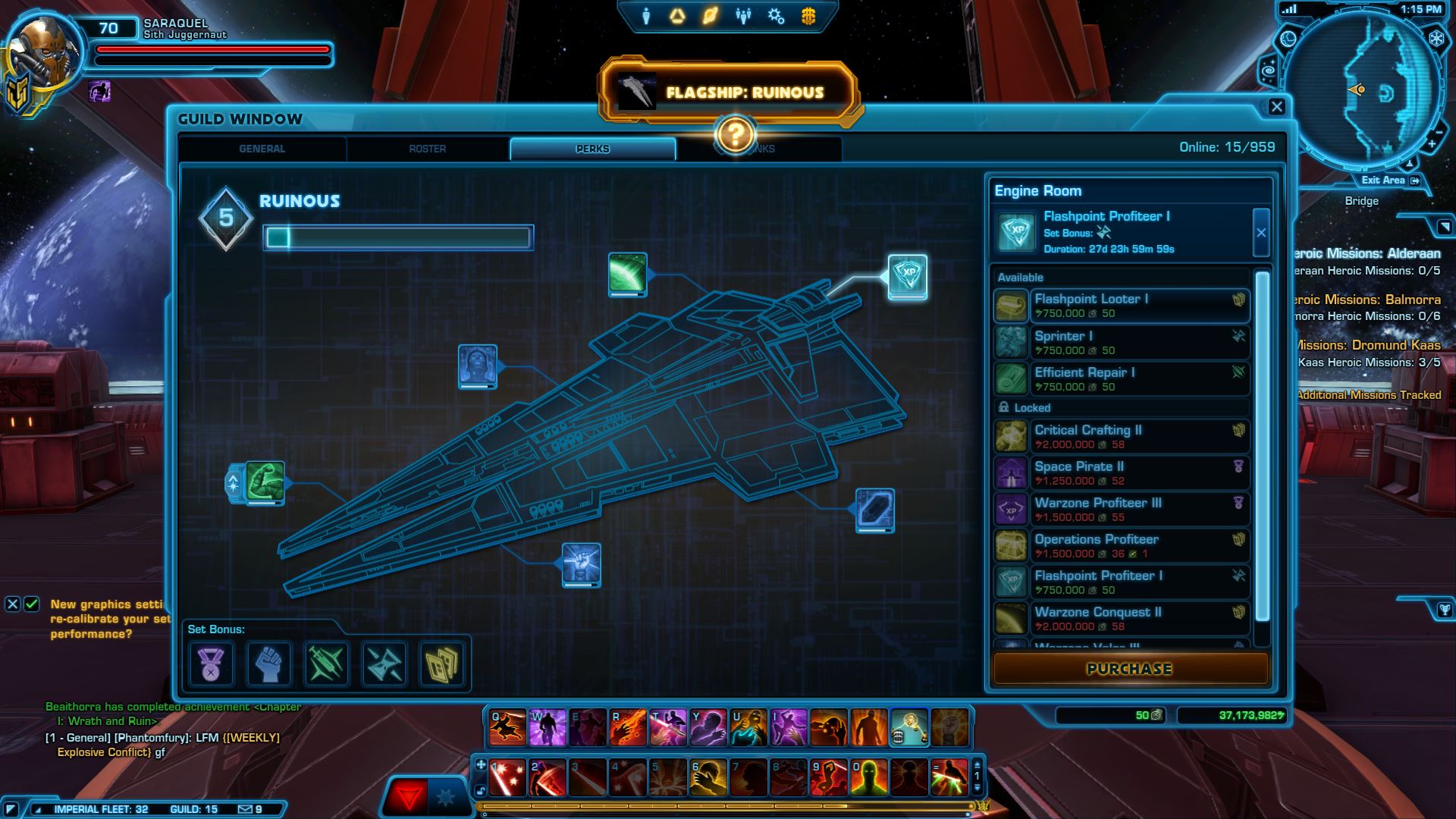 Guild leaders can rejoice as they will now have some new management tools! Did some funds go missing coincidentally as a recruit got that sleek Manaan Stronghold that everyone wanted? With new Guild logs you'll be able to keep track of all items and persons either leaving or joining the Guild. Tired of messaging Guild members individually? Guild leaders will now be able to send mail to all the members with ease. Is there an unsavory individual that keeps finding their way into your Guild? Guilds can now ban by Legacy. Meaning that it's not a character that's banned, but the entire account. Want to see who the strongest Guild is this side of the system? Guilds that participate in PvP challenges with each other will be able to track their wins for bragging rights and glory!
Exciting rewards, new Guild management tools, Guild leveling and so much more await guildmates who rally together in Game Update 5.10: Jedi Under Siege!
GUILD IMPROVEMENTS
Joining and playing alongside a guild will be easier and more rewarding than ever before with the following guild system and management improvements:
System Improvements:
Progression System – allows active guilds to customize and improve their experience the more they play.
PVP Challenge System – Create custom warzones, arenas, and Galactic Starfighter skirmish matches and track your record against other guilds.
Conquest improvements – supporting the new guild features.
Management Improvements:
Inspect Tool – Potential members can review guild profile and information.
Logging – logs and displays a variety of guild member activity.
Member Mail – Easy way to send a message to the whole guild.
Member Ban by Legacy –Allows removal of members based on their Legacy.
Increased Rank Cap – The number of guild ranks will be increased.