On November 11, The Elder Scrolls V: Skyrim commemorates a decade of adventures. From epic battles with mighty Dragons across Tamriel's snowy peaks to countless numbers of pilfered cheese wheels, one common element defines the Skyrim experience: you! Source: Bethesda
That's why this fall, we're celebrating Skyrim's 10th anniversary by focusing on the players who made Skyrim theirs. From displaying your artwork to a special concert performance, you don't want to miss it!
Reliving the Opening of Skyrim with the Creators from BGS
Hey you! You're finally awake. Celebrate Skyrim's 10th Anniversary and watch the opening moments of Skyrim as the creators discuss insider stories and relive memories from development.
BECOME PART OF THE CELEBRATION WITH THE SKYRIM MUSEUM
The Skyrim community has made a name for itself with the passion and creativity they bring, from incredible fan art to bringing characters to life through cosplay. The Skyrim Museum is where we pay tribute to these amazing works, submitted directly from you, the fans!
Have your own masterpiece you want to share? Join the festivities and submit your own creation today!
SAVE THE DATE FOR SKYRIM IN CONCERT
Experience a once-in-a-lifetime musical event as the London Symphony Orchestra and London Voices Choir takes us through the sounds of Skyrim at the historical Alexandra Palace Theatre. Tune in November 11 at 2PM EST on the official Bethesda YouTube or Twitch channel and take in a tribute to the many anthems, ambient soundscapes and memorable tunes of Skyrim as we celebrate those who've made the game what it is today: the players.
FREE CREATION CLUB CONTENT, NEXT-GEN ENHANCEMENTS & THE ELDER SCROLLS V: SKYRIM ANNIVERSARY EDITION
Finally, we have some exciting announcements for the game itself. Current and future owners of The Elder Scrolls V: Skyrim Special Edition on any platform including Xbox Game Pass Subscribers will receive access to three free pieces of Creation Club content: Fishing, Survival Mode and even new quests with Saints and Seducers. Additionally, Skyrim Special Edition owners on PlayStation 5 and Xbox Series X | S, as well as Xbox Game Pass subscribers on Xbox Series X|S will receive a free upgrade to an enhanced version on November 11 for their respective PlayStation 5 and Xbox Series X | S systems!
We're also excited to announce the most definitive version of Skyrim to date: The Elder Scrolls V: Skyrim Anniversary Edition. The Anniversary Edition includes Skyrim Special Edition and 74 creations, all 48 currently available and 26 to be released. These showcase over 500+ individual elements such as quests, items, armor, houses, etc.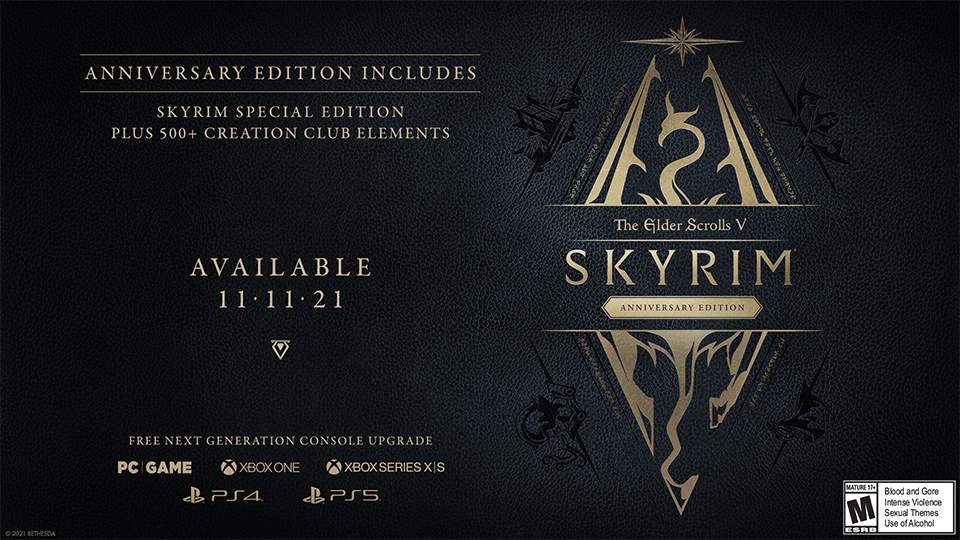 Existing owners of The Elder Scrolls V: Skyrim Special Edition and Xbox Game Pass subscribers will also receive the option to purchase an Anniversary Edition upgrade for their Special Edition version of the game to gain access to all the additional content found in the Anniversary Edition.
After ten years, we can say with certainty that Skyrim's fans are what make the game shine and its anniversary worth celebrating. This coming November, we can't wait to revisit a modern classic and share the festivities with you, so don't miss out!