Overwatch 2 Launch Trailer
Prepare yourselves for a one-of-a-kind, action-packed, free-to-play experience with new maps, new modes, and new heroes.
OVERWATCH 2 READY CHECK: PREPARE FOR LAUNCH!
Overwatch 2 is almost here! There are a few things to know ahead of its official launch on October 4. We have a new SMS Protection requirement that's important to understand in order to play, so please read thoroughly and take the steps listed to ready your account so you can jump in and play right away once the game is live!
EARN A LEGENDARY KIRIKO SKIN BY WATCHING OVERWATCH 2 ON TWITCH!
To celebrate the launch of Overwatch 2, we'll be giving away a Legendary Sukajan Kiriko skin, a Razor Sharp spray for Kiriko, and a Donut Weapon Charm via Twitch Drops! As a reminder, with the introduction of cross-progression, unlocking these items means you'll have them on your account on any platform you choose to play on.
ALL-NEW HEROES
Several extraordinary heroes will be joining the current soldiers, scientists, and adventurers of Overwatch. Whether you like to lead the charge as a tank, ambush enemies with powerful damage, or empower and aid your allies, there's a new hero for you–and many more to come.
OVERWATCH 2 EXPLAINED: BATTLE PASS, SHOP, HERO UNLOCKS, AND MORE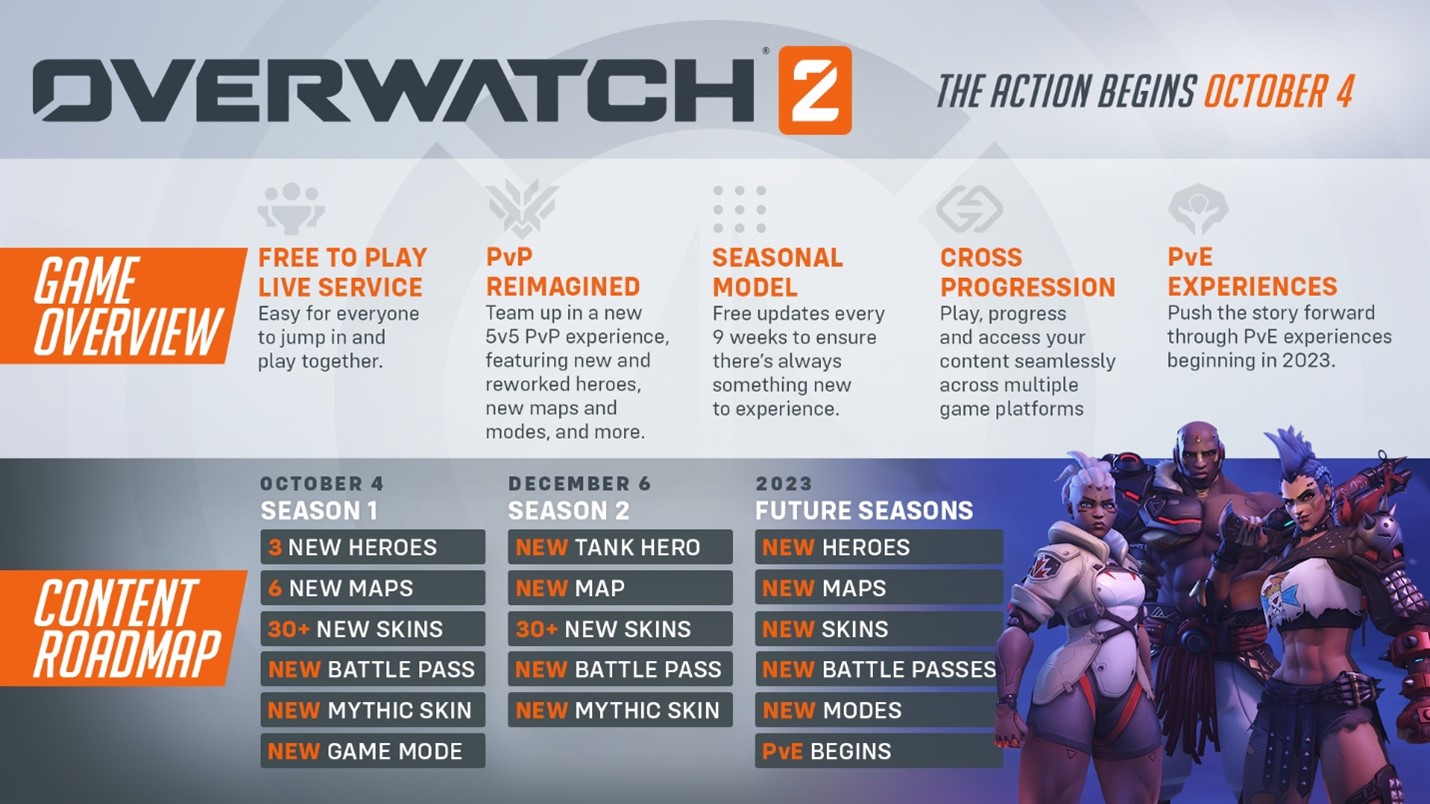 Overwatch 2 releases October 4th and will usher in a new era for the game. The changes we're making will support our goals to deliver more content to the game, more regularly, all while helping more players than ever before experience the Overwatch universe.