THE FUTURE HAS NEVER LOOKED BETTER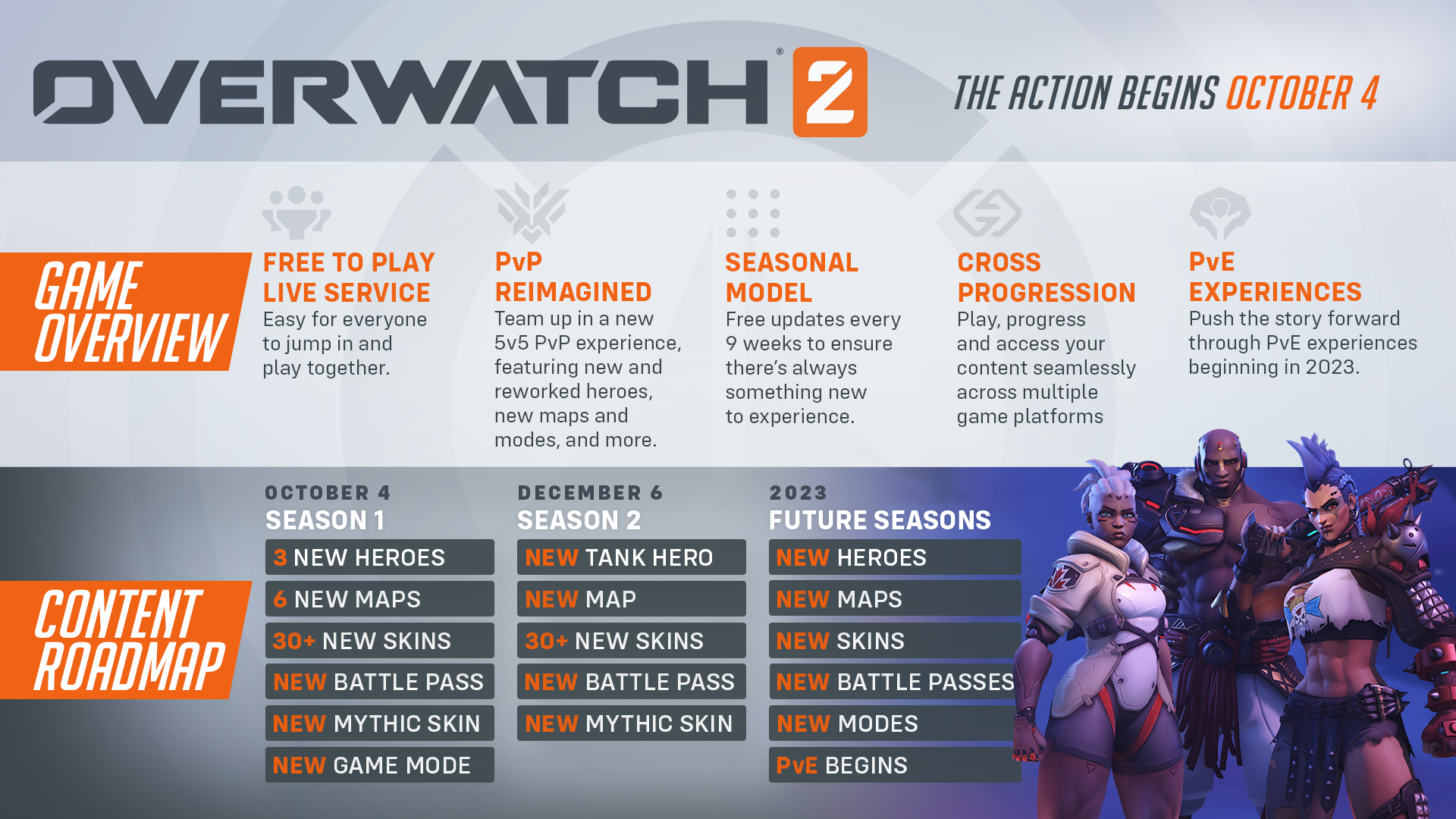 OVERWATCH 2 REVEAL EVENT RECAP
Overwatch 2 is releasing on October 4 as a free-to-play live experience, and we'd like to explain exactly what that means for our game. Overwatch 2 will have seasonal updates on a regular cadence and a Battle Pass that will feature new content including new heroes, game modes, maps, cosmetics, and more! We'll also be outlining Seasons One and Two and plans extending into 2023 with a roadmap for the game.
It's time to reunite and stand with your fellow heroes. The Closed Beta heralds a new era of epic competition; we're inviting you to travel the world and experience exhilarating new ways to play as you brawl it out on the battlefield. Dive into action, unleash your power, and spearhead the vanguard of Overwatch history. The future is worth fighting for–will you join the fray?
ALL-NEW HEROES
Several extraordinary heroes will be joining the current soldiers, scientists, and adventurers of Overwatch. Whether you like to lead the charge as a tank, ambush enemies with powerful damage, or empower and aid your allies, there's a new hero for you–and many more to come.
Overwatch 2 | PvP Reimagined (Reveal Event Clip)
Overwatch 2 arrives this October with a reimagined PvP experience. Hear from Overwatch developers as they discuss foundational changes made to the popular mode. Get a sneak peek at new and reworked heroes, all-new maps, and the new competitive game mode "Push". Discover details on Competitive 2.0 and how the team is optimizing the game to provide players with a more immersive experience.
Overwatch 2 | Seasonal Content Vision (Reveal Event Clip)
Overwatch 2 ushers in a new era for the franchise as a free-to-play live service game that evolves and grows over time. Go behind to scenes and hear from the development team as they share details on Overwatch 2's plan to deliver a steady cadence of new heroes, maps, modes and more through free seasonal content updates every 9 weeks that ensure there's always something new to play.
GEAR UP FOR OVERWATCH 2 WITH THE WATCHPOINT PACK
Join the fight with a bundle fit for a hero. Get the Season 1 Premium Battle Pass, two Legendary Hero skins, 2000 virtual currency, an exclusive Player Icon, and everything else you need to prepare for day one of Overwatch 2.
OVERWATCH OWNERS: LOG IN AND CLAIM YOUR FREE FOUNDER'S PACK!
Get two Epic skins, player icons, and other exclusive Overwatch 2 loot when you sign in starting June 23.
THE WORLD NEEDS HEROES
Slow down time, rain destruction from above in a jet-powered armor suit, or pilot a superpowered hamster ball: In Overwatch, every hero has a unique set of devastating abilities.