ABOUT STARFIELD
Starfield helped to kick off gamescom 2023 with the world premiere of its epic live action trailer. Accompanied by a stunning orchestral version of Elton John's "Rocket Man," the live action trailer follows our hero on a breathtaking journey through the stars. Experience the hope and danger of setting out into the unknown and get ready for your own adventure when Starfield launches on September 6 on Xbox Series X|S and Windows PC. Play it day one on Game Pass.
Starfield is the first new universe in over 25 years from Bethesda Game Studios, the award-winning creators of The Elder Scrolls V: Skyrim and Fallout 4. In this next generation role-playing game set amongst the stars, create any character you want and explore with unparalleled freedom as you embark on an epic journey to answer humanity's greatest mystery.
NEW STARFIELD GAMEPLAY TRAILER
Starfield, the next-generation role-playing game and first new universe from Bethesda Game Studios in over 25 years, arrives on September 6! Get ready to start your epic journey with a look at all new Starfield gameplay revealed during the Xbox Games Showcase.
STARFIELD LAUNCH DETAILS, PC SPECS & MORE
The year is 2330 and humanity has mapped the stars.
In Starfield – Bethesda Game Studios' first new universe in 25 years – you will explore a massive open galaxy. Create your character and tell your unique story as you explore the field of stars. Who will you be and what will you discover out there?
This next-generation RPG launches on Xbox Series X|S and PC on September 6 (midnight UTC). Play it day one with Game Pass. From early access information, PC specs, and launch timing to what's included in your edition of Starfield, we have all the information you need to prepare for launch.
GLOBAL RELEASE TIMING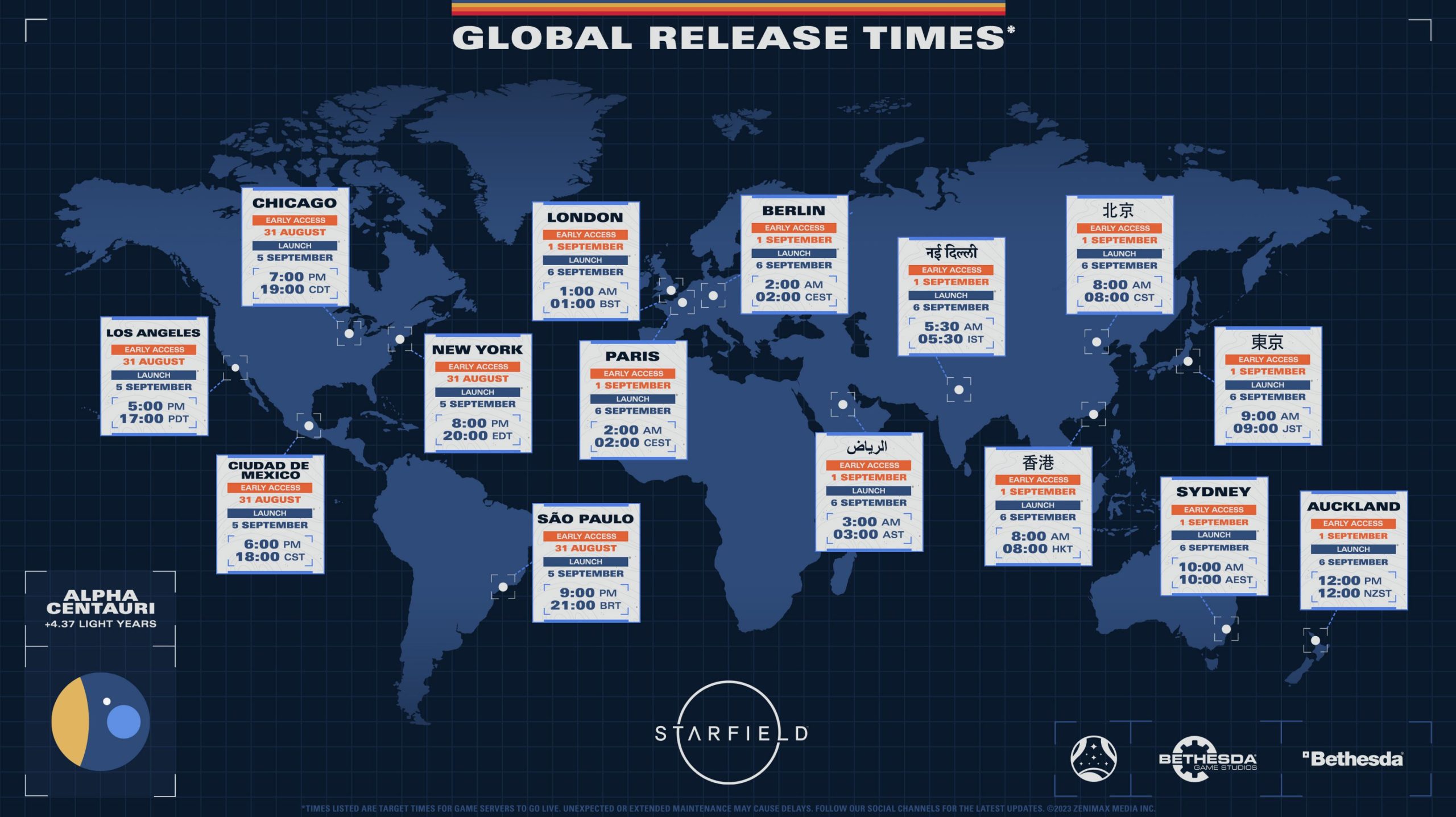 If you're still in the 'old neighborhood'–Earth–early access and launch times vary depending on your location. Find out when you can start playing Starfield where you are in this handy chart.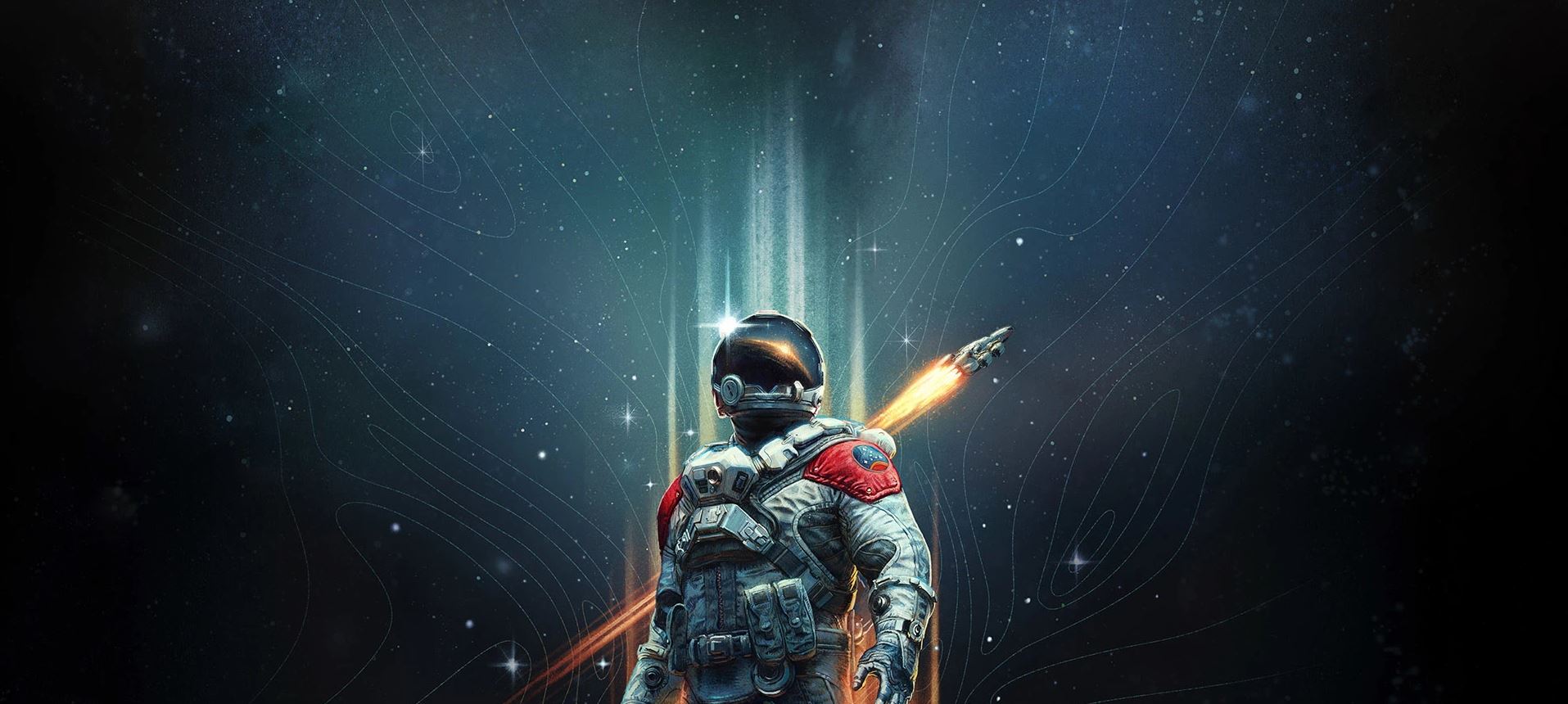 STARFIELD CONSTELLATION EDITION DETAILS
But there's even more to the Constellation Edition than we could fit in that chart. Along with your early access, here's a list of what you can expect when your Constellation Edition arrives.
THE SETTLED SYSTEMS – A STARFIELD ANIMATED ANTHOLOGY
In the city of New Atlantis, capital of the United Colonies, Kent, a courier pilot, aspires to live in the most desirable part of the settled systems. After joining the UC Vanguard and working his way up to the Capital's elite, Kent quickly realizes the adventures waiting for him off-planet are what he truly longed for.
WHERE HOPE IS BUILT
Vanna—an Akila City orphan of the famous Colony War—desperately wants to explore the stars and only one thing stands in her way: a broken ship. Her search for repair parts leads her throughout the city, and into some unexpected danger, as she closes in on her dream.
THE HAND THAT FEEDS
Two Neon street rats, Ada and Harper, are partners in crime eking out a living stealing from the wealthy partygoers that come to the "pleasure city" to let loose. When Ada is forced into a moral dilemma, she quickly catches the attention of the all-seeing Ryujin Industries, bringing her an exciting new opportunity. But at what cost?
PC SPECIFICATIONS
For those who are playing Starfield, a next-generation RPG, on PC, make sure your rig is outfitted with the right gear for the best experience.
MINIMUM:
OS: Windows 10 version 21H1 (10.0.19043)
Processor: AMD Ryzen 5 2600X, Intel Core i7-6800K
Memory: 16 GB RAM
Graphics: AMD Radeon RX 5700, NVIDIA GeForce 1070 Ti
DirectX: Version 12
Storage: 125 GB available space
Additional Notes: SSD Required
RECOMMENDED:
OS: Windows 10/11 with updates
Processor: AMD Ryzen 5 3600X, Intel i5-10600K
Memory: 16 GB RAM
Graphics: AMD Radeon RX 6800 XT, NVIDIA GeForce RTX 2080
DirectX: Version 12
Network: Broadband Internet connection
Storage: 125 GB available space
Additional Notes: SSD Required