A DUNE OPEN WORLD SURVIVAL MMO
Rise from survival to dominance in Dune: Awakening, an Open World Survival MMO set on Arrakis.
Join RUIN in Dune Awakening. Currently in early Alpha Testing. RUIN maintains an active presence in the most popular survival games.
Dune: Awakening – Pre-Alpha Teaser Trailer
Witness the epic scale of Dune: Awakening, an Open World Survival MMO inspired by Frank Herbert's sci-fi masterpiece and the award-winning blockbuster film by Dennis Villeneuve. Ascend from searching for water and building shelters against storms to controlling the flow of spice in the top echelons of Arrakis.
Rise from survival to dominance in a vast and seamless Arrakis shared by thousands of players. Dune: Awakening combines the grit and creativity of survival games with the social interactivity of large, persistent multiplayer games to create a unique and ambitious Open World Survival MMO.
New Information Revealed in Interviews
Awaken The Sleeper
Your journey begins on Arrakis, alone on the deadliest planet in the universe. Follow your story throughout Dune – meeting characters from the movies and books. Discover new allies and enemies and eploit your relationships to uncover the mystery that lies beneath the surface of the sands.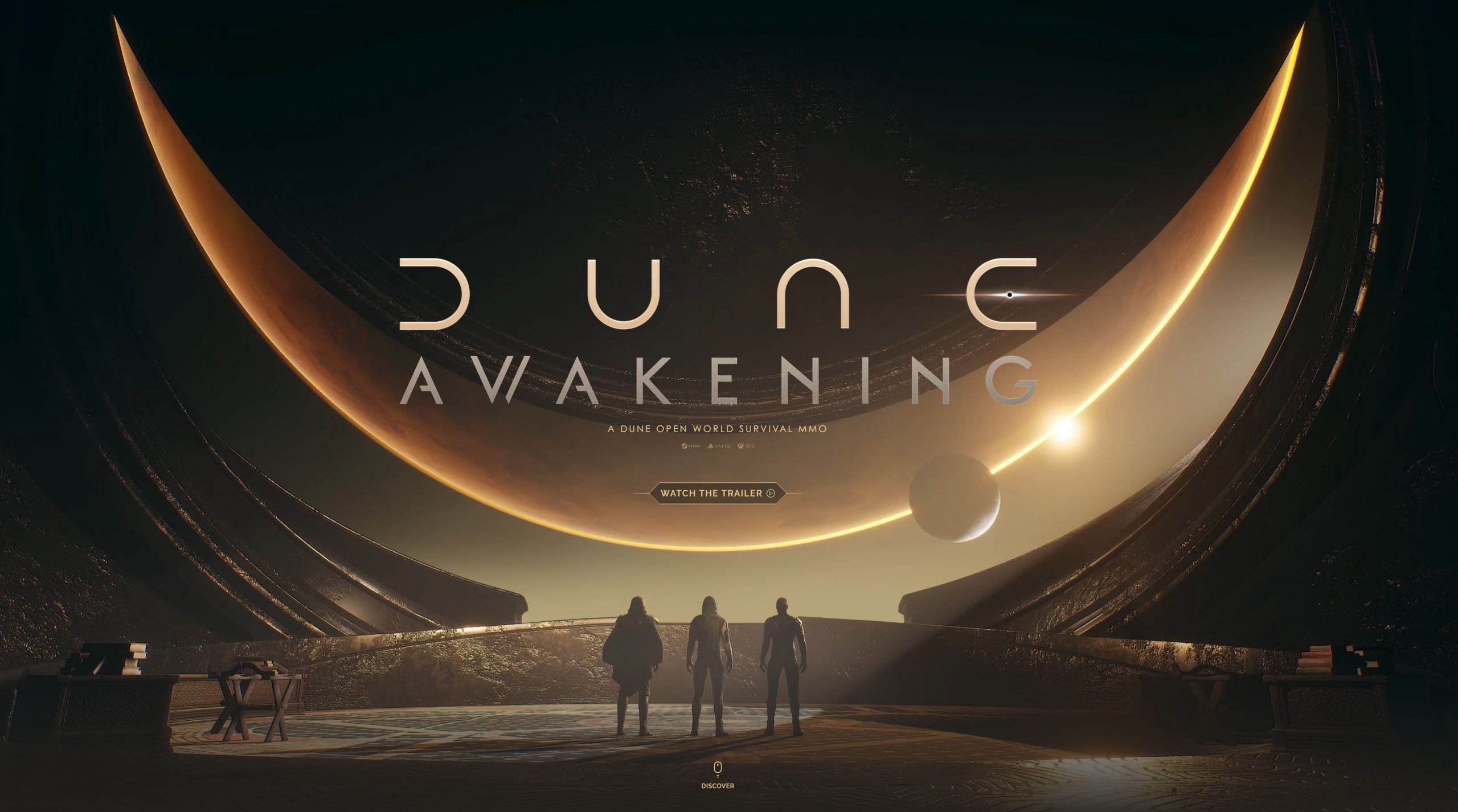 Artwork Drop: The spice must flow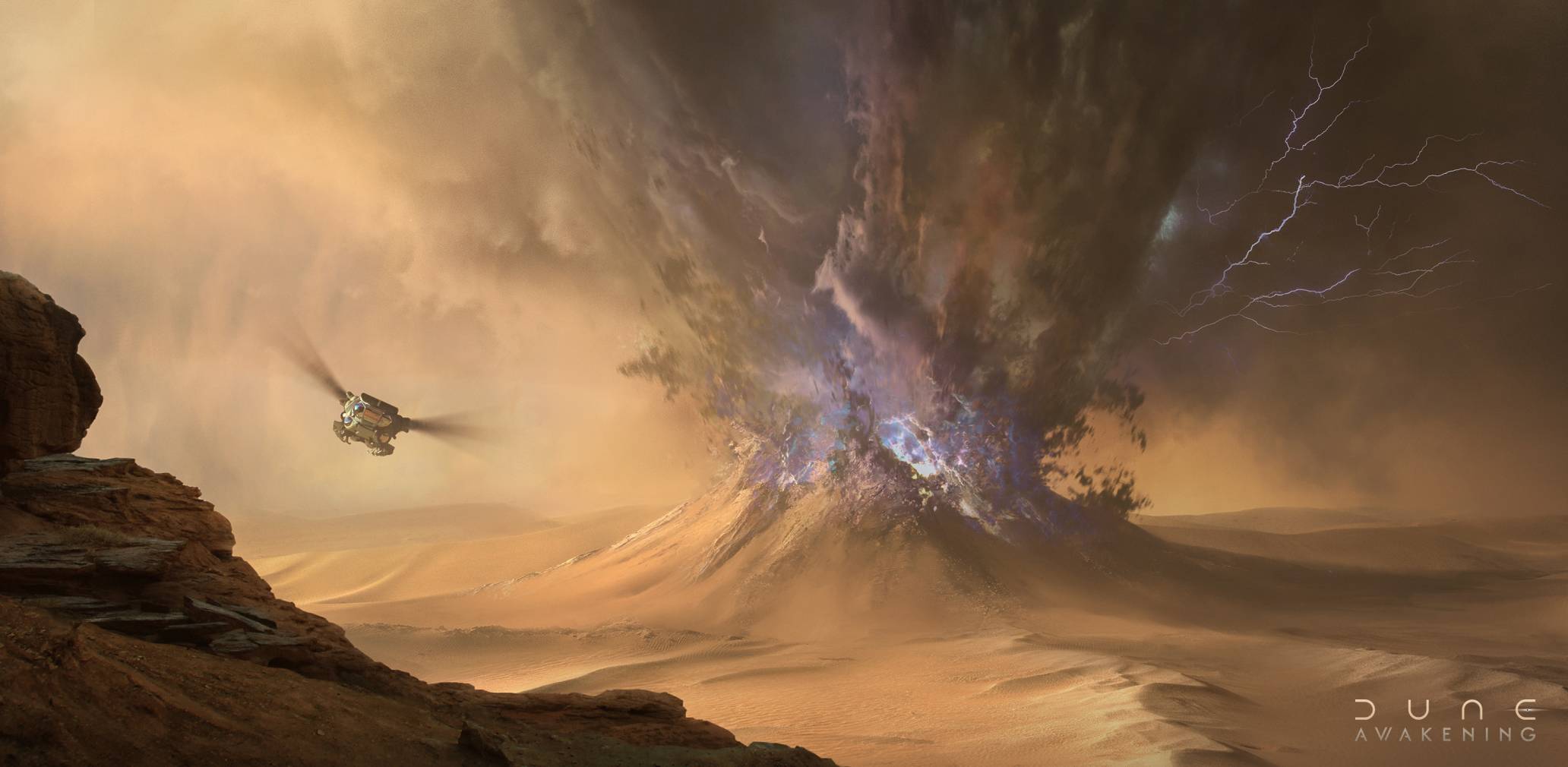 The spice blows of Arrakis offer the greatest rewards and terrible risk
Today's artwork shows a powerful spice blow from the deep deserts of Arrakis. We will keep revealing several new production artworks in the weeks to come, so stay tuned for more!
Out in the deep desert beyond the shield wall, a heavily laden transport ornithopter narrowly escapes being engulfed by a massive spice blow spewing huge quantities of mélange.
Artwork Drop: Exploration and peril
There is no room for errors when scouting for spice blows on Arrakis
Fresh off the announcement of our upcoming open world survival MMO Dune: Awakening, at the Opening Night Live show at Gamescom, we're excited to bring you two production artworks.
We hope you will enjoy them as they are the first in a series of many such production artworks we will be revealing. The two artworks give you a small glimpse of what you can expect in Dune: Awakening!
As a lone ornithopter pilot boards their craft, the twin moons of Arrakis offer a deceptively calm
backdrop to the hazards of tracking spice blows across the wastes of the desert.
Artwork Drop: Intrigue and subterfuge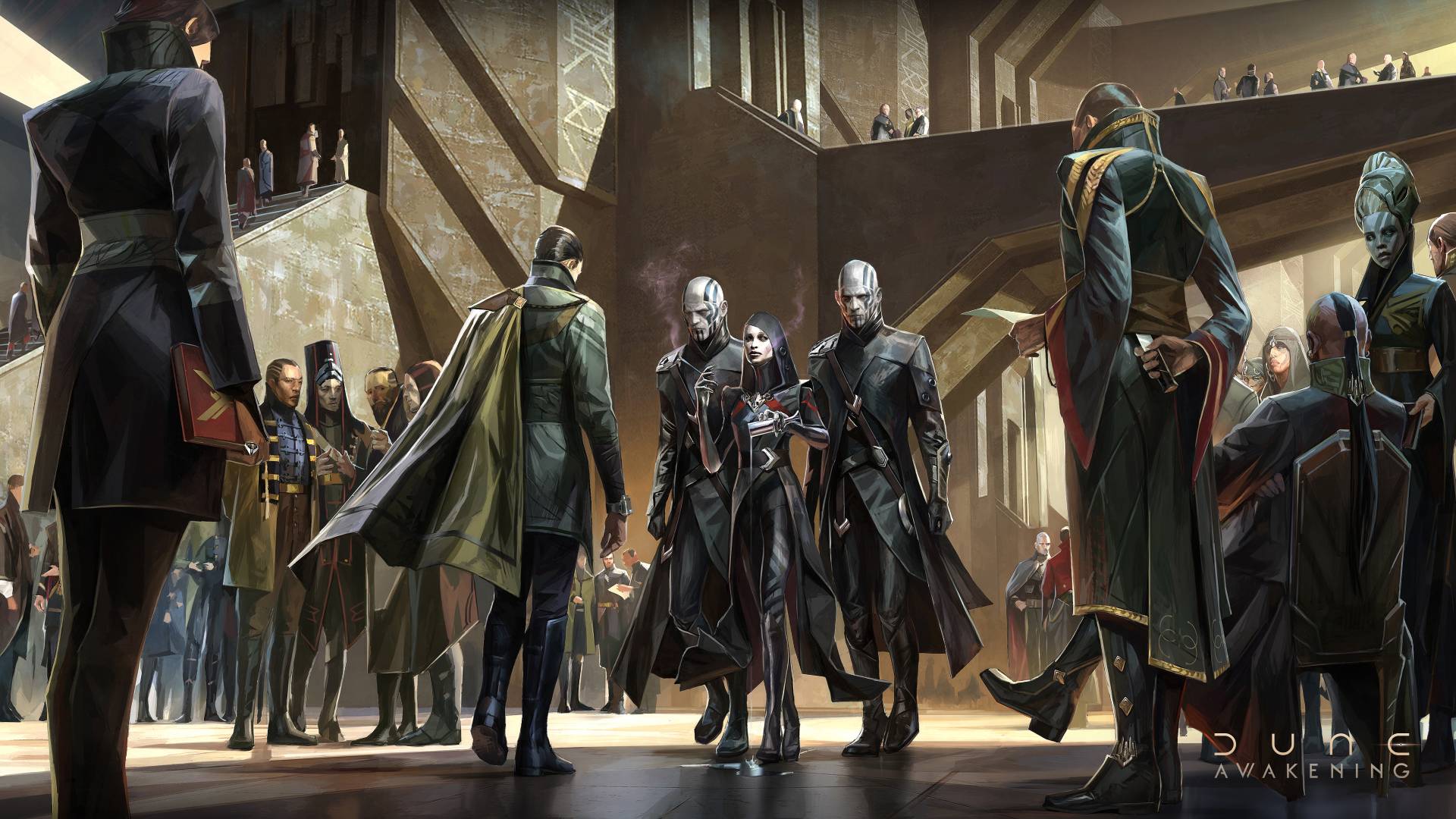 Check out the new art, rife with tension and conflict
We will be revealing several new production artworks in the in the weeks to come. Today we bring you a glimpse into the intrigue and subterfuge in Dune: Awakening.
Smoking a spice cigarette, an irreverent Harkonnen shows her disdain for the Atreides by pouring precious water out; while an assassin surreptitiously grasps his dagger, readying himself for violence.