Unreal 5 Architecture Visualization
RUIN remains highly interested in the role of next generation gaming engines not only in the building of virtual game worlds but in direct practical applications in fields like Architecture and design! The film and streaming industry has already fully embraced Unreal 5, heavily relying on this technology for all current Star Wars and Marvel series. We continue to look forward to seeing our favorite intellectual properties updated with this powerful new technology!
What if you could remove months from the design process? Win public support? Or visualize your building with a couple of clicks? With Twinmotion and Unreal Engine, the full spectrum of real-time architectural visualization is available, anytime, anywhere. Beginners, visionaries—the future is wide open. Source: Unreal
The representation of data is critical in architecture. Previously, technological limitations have made it impossible to seamlessly represent the vast array of data that goes into a building design. Unreal Engine 5 enables creators to include far more information and data in their architectural visualizations, in scenes that are of an incredible visual fidelity.
Unreal Engine 5 opens new doors for architectural visualization
Technological innoations have always been used by the architectural visualization industry. In the past, architects had to put huge financial resources aside to hire experts who specialize in using visualization tools. Not to mention the hardware and infrastructure requirements of this software in the past.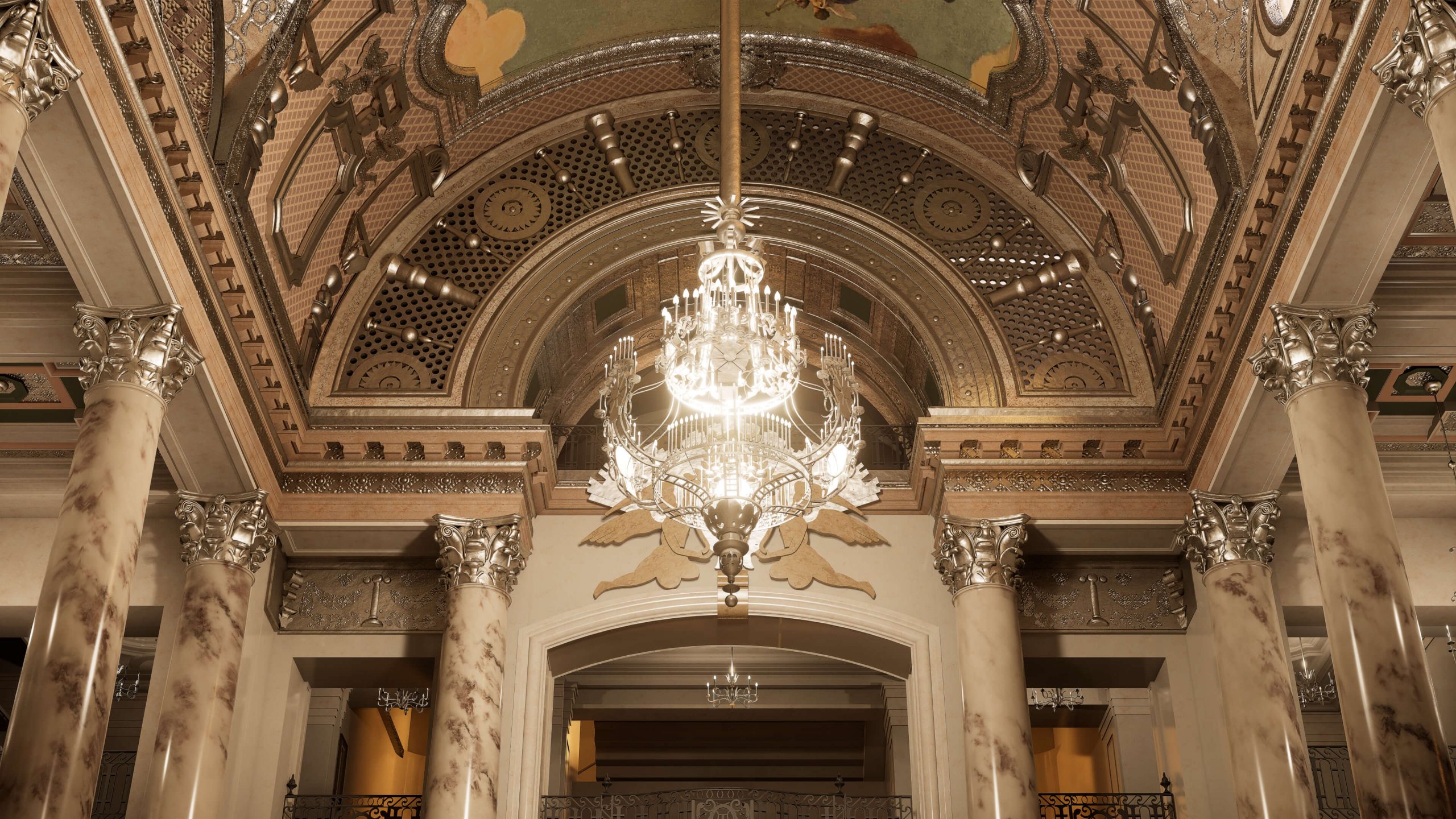 Wondering how Unreal Engine 5 can supercharge architectural visualization? Watch the replay of our recent webinar Unreal Engine 5 for Architecture, in which we demonstrate the technology advances in UE5 that are beneficial to the architecture community.
This webinar explores the new settings you can configure in the Architecture Project Template before starting an archviz project in UE5, the potential to expand projects efficiently, and fresh updates for building out environments. We also look at the improvements to Direct Link workflows and new techniques for lighting and rendering.
Watch now to learn about:
UE5 updates to the Architecture Project Template
The latest Datasmith improvements
How to use Lumen for archviz 
Various workflows for editing models
Looking for more learning content?
Check out the full webinar series to hear expert advice from Epic and industry speakers on a range of topics. And visit our Epic Developer Community for hands-on video courses and guided learning paths.
From design visualizations and cinematic experiences to high-quality games across PC, console, mobile, VR, and AR, Unreal Engine gives you everything you need to start, ship, grow, and stand out from the crowd.
The topics below will help you Sculpt your Landscape Actors, create customized Materials, and paint them on your Landscape to create your own immersive world.
World Composition has been designed to simplify managing large worlds. One of the goals is to avoid using a persistent level to store streaming information as it becomes a bottleneck when a team of level designers want to work on levels simultaneously. The persistent level does not store any streaming information and instead scans a folder and treats all found levels as streaming levels. Each streaming level has information stored in the package header, which World Composition can read without loading the level into memory. Initially, all levels except the persistent level are unloaded in World Composition. You can load or unload any part of the world manually at any time.
Environmental Light with Fog, Clouds, Sky and Atmosphere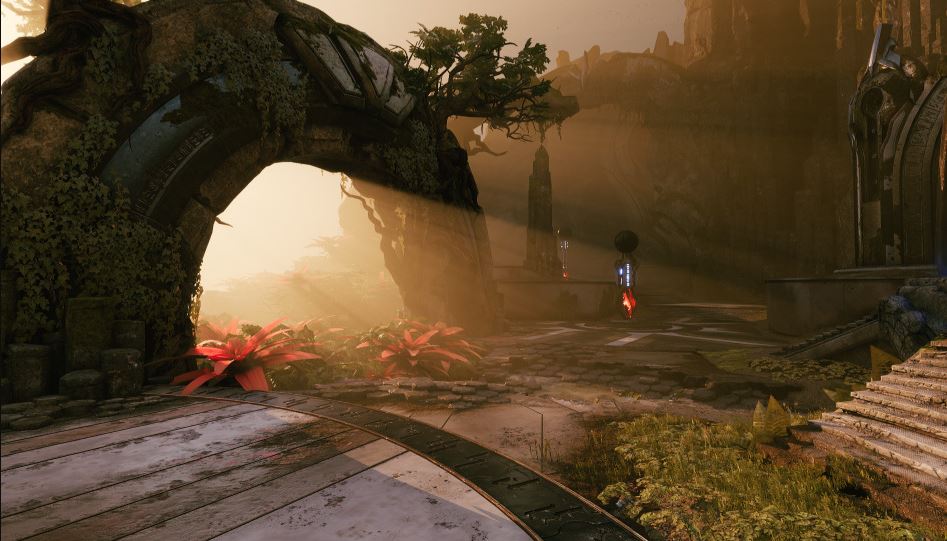 The Water system enables you to create rivers, lakes, and oceans that all interact and work together with your Landscape terrains using a spline-based workflow. The Water system unifies the shading and mesh rendering pipeline, with surfaces that support physics interactions and fluid simulation with gameplay, such as ripples caused by footsteps or the wake behind a boat moving through the water.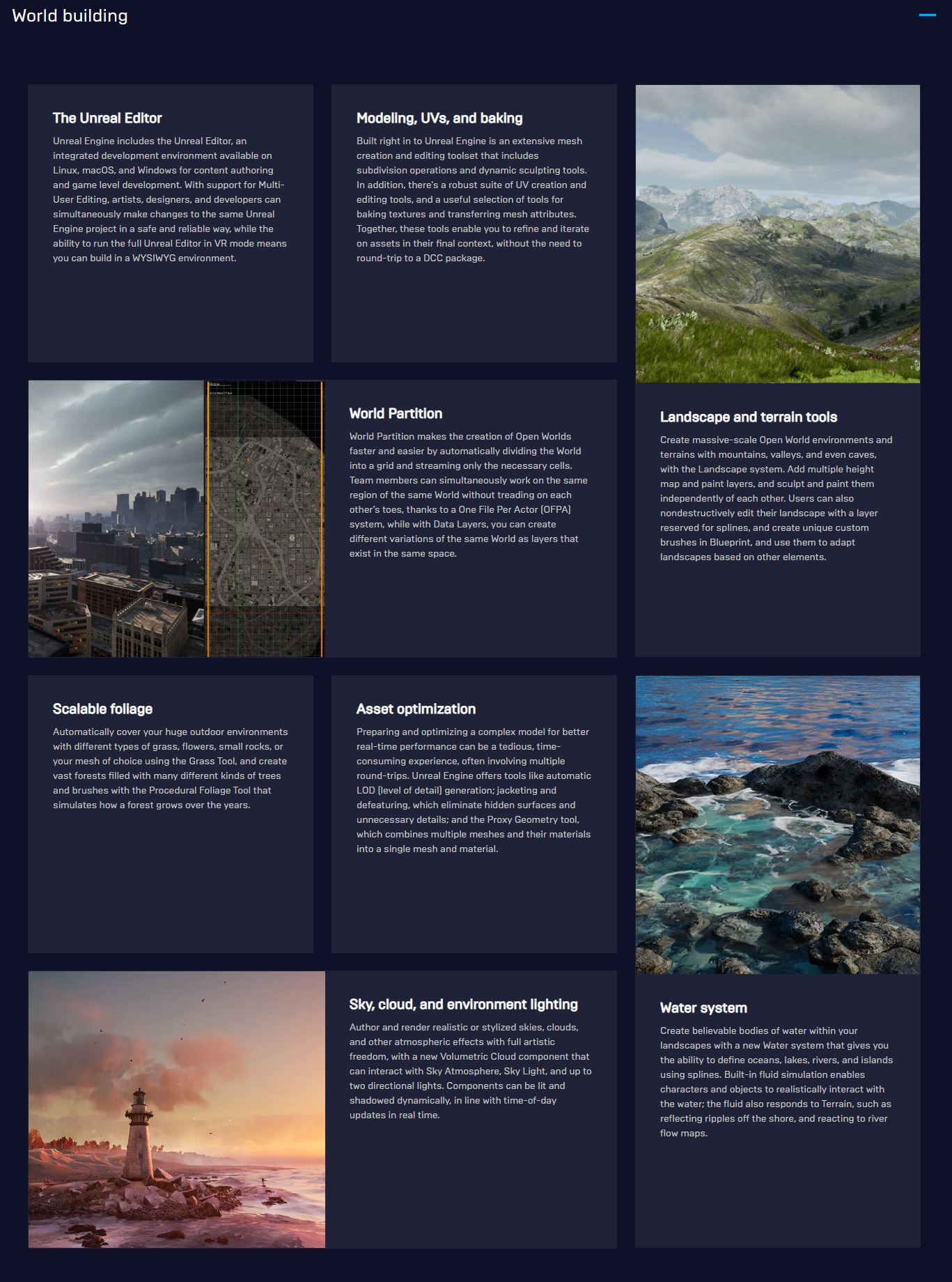 Get in, get into it
Unreal Engine makes it simple to bring in high-fidelity data from a host of 3D, CAD, and BIM applications, so you can start shaping immersive experiences right away. With support for massive designs and stunning photorealism, users can easily bring their boldest visions to life—even if it's in a taxi on the way to the presentation.
All together now
Create a bridge between stakeholders to solve problems before they start, using remote collaboration tools designed to make everyone feel involved. Explore a city using VR/AR, show the latest concepts to global clients, or suggest new possibilities during a public hearing—this engine connects the dots.
Big data redefined
In Unreal Engine, data can take on new lives, helping you make decisions or relay information in a way that instantly speaks to people. Create open worlds, airplane trackers, driving simulators that gauge bridge stability, or full-scale cities. The data is only the beginning.
Sound complex? Try Twinmotion.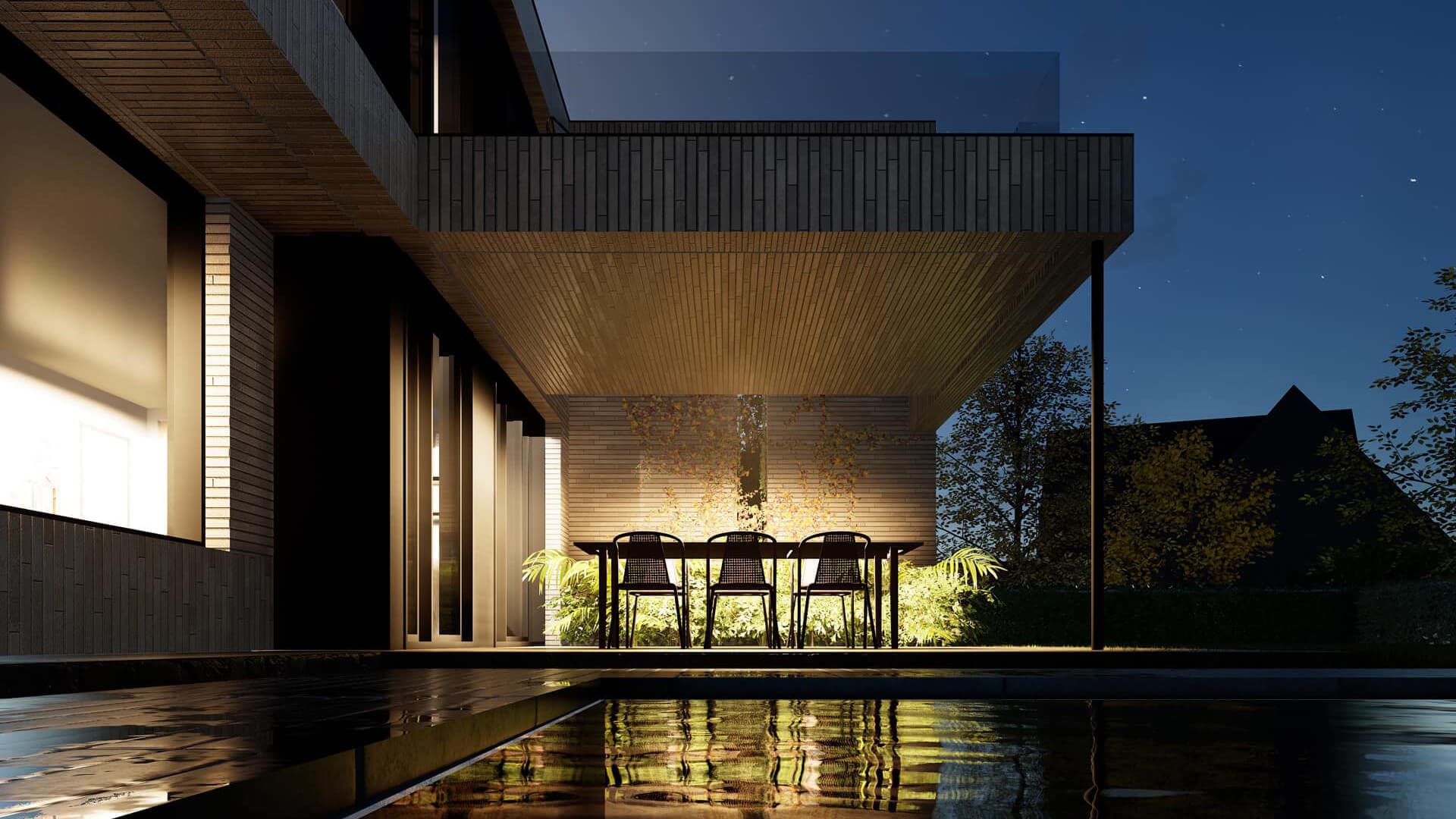 Transform BIM and CAD data into stunning visualizations and VR experiences with a few clicks—no training required. With Twinmotion, architects can present ideas in the easiest way possible, using drag-and-drop assets and a bridge to Unreal Engine that opens up smooth transfers down the line.
Real time in less time
Getting your data into Unreal Engine will always be fast and easy, whether you model in 3ds Max, Revit, SketchUp Pro, Rhino, Cinema 4D, or any other CAD, BIM, or DCC solution. Once in, continue to iterate in your 3D application using Datasmith's nondestructive re-import feature to add new changes to your real-time scene, or automate the process with Python scripting.
Combine and conquer
With Unreal Engine's comprehensive file format support, you can aggregate design data from different sources and contributors, then see your entire project in one place. And with multi-user editing, you can share your design with stakeholders in collaborative reviews for even faster iterations.
One asset, every deliverable
Present designs wherever stakeholders want to consume them: interactively on a touchscreen or desktop, at human scale in VR or a CAVE, or using an ultra-slick video. With Pixel Streaming, you can also deliver full-quality interactive content to remote participants on any device. Once your asset is in the engine, its destination is up to you.
Digital twins
FOR ARCHITECTURE, REAL ESTATE, AND THE BUILT ENVIRONMENT
The world of urban planning and city maintenance is changing. The benefits of digital twins are becoming more and more apparent, as these analysis tools help increase efficiencies and inform decisions. Want to learn more about the role Unreal Engine can play, or to discuss your own implementation of digital twins? Contact us to start the conversation.
What are digital twins?
A digital twin is a 3D model of a physical entity like a building or city, but with live, continuous data updating its functions and processes in real time, providing a means for analyzing and optimizing a structure. When live data from the physical system is fed to the digital replica, it moves and functions just like the real thing, giving you instant visual feedback on your processes. The collected data can be used to calculate metrics like speed, trajectory, and energy usage, and to analyze and predict efficiencies.
To learn more, see our What are digital twins? article.
To begin setting up digital twins for your own projects, see our Getting started with digital twins article.
Why are digital twins relevant?
At our latest 
Build: Architecture
 event, we explored recent developments and customer stories around digital twins, including getting an inside look at what's coming with UE5 and insights on how GIS technologies are bringing entire worlds to your fingertips.
Ask Unreal Anything: World Building | August 23, 2022 at 12PM EDT
Why stop at small scenes, when you can build entire worlds?! Chime in with your questions for the Worldbuilding Team on this month's Ask Unreal Anything, featuring our exciting guests Jean-Francois, Jean-Sebastien, Richard, and Vincent!
Drop your questions below for this AMA-style event about how to approach workflows for creating large levels and get insights on features like World Partition, Data Layers, and more! We're also happy to discuss overarching development guidance, career advice, industry questions, and general questions about the guests.