Guild Wars 2: End of Dragons
The Guild Wars 2: End of Dragons™ expansion is now live! Log in and begin your journey to Cantha.
You can read today's update notes on the official forums.
Getting Started
Guild Wars 2: End of Dragons content is designed for level 80 players. If you're new to Guild Wars 2 and you received a max-level boost with your purchase of the expansion, you can start playing after you use the item in your inventory and finalize the boost on your preferred character.
To begin the first chapter of the expansion story, press [H] to access your Hero panel and select Guild Wars 2: End of Dragons in the Story Journal.
If you encounter any bugs, press Escape to bring up the Options menu and select "Support." Don't forget to follow us on Twitter and Facebook for the latest news.
You can talk to other players, get help, find a guild, and more on our official forums. Visit our official wiki (type /wiki in game) and consider helping the community by adding information you discover on your adventures.
We'll see you in Tyria!
New Items in the Gem Store for Guild Wars 2: End of Dragons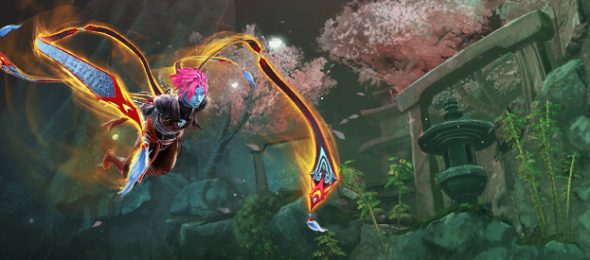 Fly over to the Gem Store for weekly supplies and more! When you purchase the End of Dragons Launch Supply Drop Requisition, the Black Lion Trading Company will send you a package of valuable items each week. The first supply drop will arrive as soon as you've purchased a requisition, and the others will be delivered on the three following Mondays.
This week, the End of Dragons Launch Supply Drop Requisition is available at the discounted price of 2,400 gems. The discount decreases each week, so pick up yours now for the best price—and to get your first shipment of items today! (Limited to one purchase per account. Purchases made after week one will include items from the previous weeks in the first delivery.)
Week One
Red Crane Weapon Choice
5 Black Lion Chest Keys
Golden Black Lion Chest Key
5 [REDACTED] Dye Kits
Week 2
Black Lion Backpack and Glider Combo Voucher
End of Dragons Expedition Board
2 Heroic Boosters
Week 3
Black Lion Outfit Voucher
Black Lion Weapon Voucher
2 Each—Blue, Green, Red, and Yellow Fine Black Lion Dye Canisters
Week 4
Gold Essence Weapon Choice
2 Guaranteed Wardrobe Unlocks
2 Black Lion Miniature Claim Tickets
Guild Wars 2: End of Dragons—The Story Thus Far
Tyria's future begins in Guild Wars 2: End of Dragons™. Look back at the history of the dragon cycle and remember the road we've traveled so far.
Guild Wars 2: End of Dragons™ arrives February 28. Explore the beautiful Canthan continent, travel and fish with your friends in your own personal skiff, unlock nine new elite specializations, and more! Prepurchase now to receive the Flame Serpent Weapon Chest, Shing Jea Mosaic Cape, and "Prodigy of Shing Jea" title bonus items.