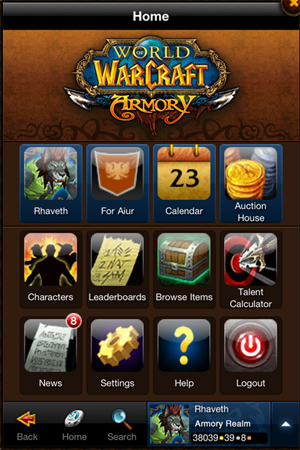 A new feature has just been added to the World of Warcraft Mobile Armory app: remote Guild Chat! As part of the latest update for the free Mobile Armory app for the iPhone and iPod touch, the new Guild Chat feature lets you stay in touch with your guildmates wherever you go:
– Read and contribute to your guild's in-game chat channel in real time
– Participate in one-on-one conversations with members of your guild
– View the members of your guild who are currently online
For a limited time, players can use the Guild Chat feature without a subscription to World of Warcraft Remote. During this time, we'll be rolling out the Guild Chat feature to select realms, with more realms added soon — check out the list below to see if the feature is currently available on your realm. We also plan to make the feature available on Android devices shortly, so look for an update in the days ahead.
After the free preview period ends, players will need to have a subscription to World of Warcraft Remote in order to continue using the feature. We'll announce the end of the free preview period in the near future — keep an eye on the official World of Warcraft website for further details.
To learn more about World of Warcraft Remote, which also grants you full access to the Remote Auction House, visit the World of Warcraft Remote page, or go here to subscribe.
The World of Warcraft Mobile Armory app is available as a free download from the App Store for iPhone and iPod touch.
The list of realms currently able to use Remote Guild Chat isdisplayed below. If your realm is not on this list, please check again soon. Our goal is to make the service available on all North American realms over the course of the next several days, with European and Korean realms following shortly thereafter.
Eligible realms:
all North America realms
iPhone and iPod touch are registered trademarks of Apple Inc.