Discover the forbidden secrets of Apocrypha and fight to preserve reality in Shadow Over Morrowind, a new Elder Scrolls Online adventure. Source: Bethesda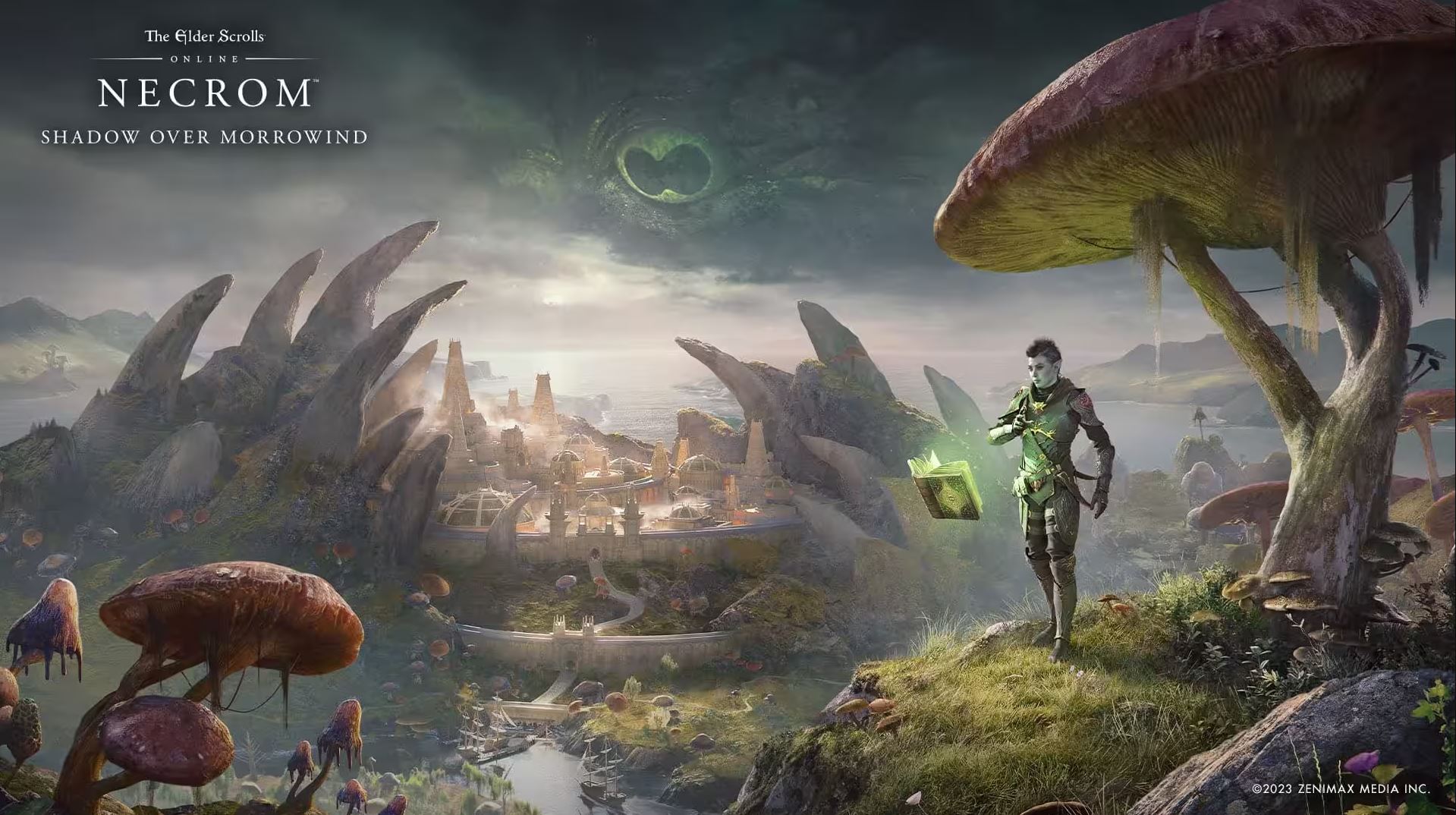 Get ready for a brand-new Elder Scrolls adventure as part of the Shadow Over Morrowind storyline, announced during the 2023 Global Reveal!
The Elder Scrolls Online: Necrom is part of the Shadow Over Morrowind adventure and is now live on PC/Mac and arrives on June 20, 2023, for Xbox and PlayStation consoles.
THE ELDER SCROLLS ONLINE: NECROM & UPDATE 38 NOW LIVE ON ALL PLATFORMS
Uncover the Shadow Over Morrowind with The Elder Scrolls Online: Necrom and the Update 38 base-game patch, now live on all platforms!
In The Elder Scrolls Online: Necrom, you can delve deeper into the Shadow Over Morrowind adventure, explore the Telvanni Peninsula and Apocrypha zones, and master an all-new class, the Arcanist. Necrom continues the story that began with March's Scribes of Fate DLC, but you do not need to have completed the previous DLC to experience everything this Chapter has to offer.
Braving the weird and wonderful worlds of the Necrom Chapter? These community-made guides are sure to help you in your adventures.
Please note that some of these builds and guides were created during Update 38's PTS cycle and there may be some tweaks and changes beyond launch.
COMMUNITY GUIDES SPECIAL—NECROM & UPDATE 38
ESO 2023 Global Reveal
While all of 2023's major releases will tell unique stand-alone tales, each one will also build upon and expand the larger Shadow Over Morrowind storyline, including:
UNLOCK A NEW CLASS
Master the secrets and forbidden knowledge of Apocrypha. The Arcanist is a powerful new class capable of destructive, restorative, or defensive magic by channeling arcane energies, ancient runes, and lost tomes of power.
DISCOVER NEW WORLDS
Explore the Telvanni Peninsula, home to towering mushrooms, jagged spires, and the city of Necrom. Behold the forbidden books of the Endless Library and the mind-bending wonder of Hermaeus Mora's Daedric realm of Apocrypha.
UNCOVER LOST SECRETS
Hermaeus Mora holds knowledge too dangerous for mortals or Daedra to comprehend. Now hidden-yet-turbulent powers threaten the Prince of Fate's realm, and if his secret is uncovered, it could unravel all of reality.
NEW COMPANIONS: AZANDAR AL-CYBIADES AND SHARP-AS-NIGHT
Recruit a Redguard Arcanist and Argonian Warden to battle by your side and keep you company.
Befriend, level up and equip new Companions with special gear and abilities that complement your own. Gain their favor to unlock new quests, and have them accompany you in your adventures across Tamriel.
NEW REWARDS: FORBIDDEN BOONS OF HERMAEUS MORA
Uncover the secrets of the Prince of Knowledge and earn unique new item sets, collectibles, achievements, and an all-new Tales of Tribute deck found only within the Necrom Chapter.
NEW WORLD EVENT: THE BASTION NYMIC
Gear up for a new 12-player Trial, Sanity's Edge. Venture within the tormented mind of a Mages Guild recruit, saving them from a fate worse than death.
Gather your party and work together to overcome challenging boss mechanics, earn Trial-specific rewards, and claim your place atop the leaderboards.
NEW REWARDS: FORBIDDEN BOONS OF HERMAEUS MORA
We are thrilled to announce the arrival of the highly anticipated Necrom expansion for Elder Scrolls Online in 2023. This expansion brings an abundance of exciting content, both in PVP and PVE, along with numerous new features that will enhance your gaming experience. As we enter the Microsoft, Blizzard, Bethesda era, we recognize the importance of cross-platform gaming and the potential for growth and expansion within our community.
Elder Scrolls: Necrom is an important expansion, showcasing the major improvements to content releases in ESO, including new features, a new class and host of quality of life improvements.  RUIN Gaming continues to view ESO as an example of what we can expect and the Elder Scrolls Online community. Highlight the love for the Elder Scrolls universe and the excitement for technological improvements.
We have planned an array of community events to celebrate the Necrom expansion and promote camaraderie among our members. These events include:
Elder Scrolls PVP: Engage in epic PVP battles, showcasing your skills and teamwork. Participate in large-scale sieges, capture the flag challenges, and more. The winners will receive exclusive rewards and recognition within the community.
Dungeon Delve Nights: Join fellow guild members in thrilling PVE adventures. Form groups to conquer challenging dungeons, unravel ancient mysteries, and earn valuable loot. Work together to achieve victory and strengthen our bonds as a community.
Trials: Test your mettle in the most challenging trials available in the game. Coordinate with your team, conquer formidable bosses, and prove your worth as the best of the best. Earn prestigious titles, unique cosmetics, and special rewards for your exceptional performance.
The Necrom expansion introduces a host of exciting features that will enhance your gameplay experience:
Launching at the same time as the new Chapter is Update 38, a free base-game patch for all ESO players that adds quality-of-life improvements, fixes, and new features to the game.
Collectible Favorites
With Update 38, you can now designate favorites among your collectibles, moving them to the top of your Collections UI. You can choose up to 100 various collectibles with no limit on mounts, but some categories do not support this functionality at this time.
Random Mounts
Update 38 also allows you to set your active mount to either "Random Favorite Mount" or "Random Mount." When either one of these options is toggled, activating your mount in the world then summons a mount from either your selected favorites or from your entire collection—mix it up!
Filleting Multiple Stacks of Fish
Tamriel's many fishers can now fillet multiple fish simultaneously with Update 38. This can be done by visiting any Provisioning Station and selecting the new tab. You can still fillet fish one at a time from your inventory, but if you've got a huge catch, you will be casting more lines in no time.
New PvP Keep Messaging
Finally, Update 38 also introduces improved messaging for when a keep and its resources are claimed. If your guild owns a keep, the owner will be notified when its resource guards are killed.
These are just some of the new features and changes coming with the new base-game update. You might notice changes to the reset timers for Cyrodiil and Tales of Tribute campaigns and that the indomitable Stuga is less fanatical when it comes to chasing you down in the streets of Daggerfall, Davon's Watch, and Vulkhel Guard. To review everything coming with this base-game patch, be sure to check out the patch notes on our official forums.
BECOME AN AGENT OF MORA
The Prince of Knowledge is under siege and needs your help defending a long-held secret. Become an Arcanist and master the power of Apocrypha, explore two new zones, recruit new allies, uncover unique rewards, and continue your Shadow Over Morrowind saga in The Elder Scrolls Online: Necrom.
At RUIN Gaming, we value community growth and recognize the achievements of our members. We are dedicated to fostering a supportive environment that rewards merit and leadership. Here's what you can look forward to:
Merit-Based Promotions: As you demonstrate your dedication, skill, and contribution to the community, you will have the opportunity for advancement within our ranks. Stand out from the crowd and earn well-deserved promotions that come with additional privileges and responsibilities.
Leadership Rewards and Incentives: We believe in nurturing leadership within our community. Those who take on leadership roles and excel in guiding their fellow members will receive special rewards and incentives as a token of appreciation.
Community Recognition: We understand the importance of acknowledging the achievements of our members. We will highlight outstanding individuals, exceptional accomplishments, and valuable contributions through our website, social media channels, and community events.
Join us in embracing the Necrom expansion and the limitless possibilities that cross-platform gaming offers. Together, we will explore the depths of Tamriel, conquer our foes, and create lasting memories within the Elder Scrolls Online universe.
For RUIN Gaming and the glory of the Undying!
RUIN is excited for the Elder Scrolls: Necrom expansion,  tours of new content and community events, the new features, and the potential for growth and expansion within RUIN Gaming. Encourage members to join in the adventure and look forward to the future of Elder Scrolls Online.