SEASON 14 FIRST LOOK: THE SEASON OF GREED
Source: Blizzard

Season 14 begins soon! For those among you who enjoy the fresh start a Season brings, we wanted to give you a glimpse of what to expect before you race out the gate—and Season 14 will be kicking off a new experiment we hope you will all enjoy.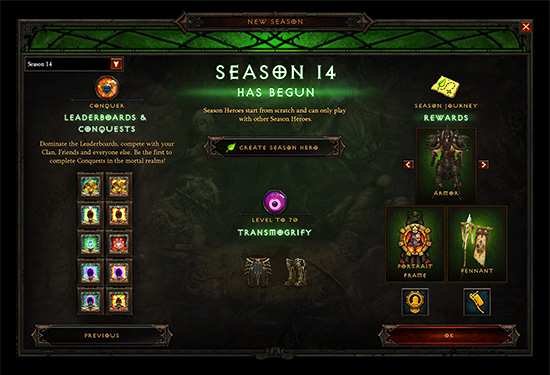 New Season Theme
Starting with Season 14, we're introducing a new seasonal concept—themes. Throughout the next Season, we'll be embracing our inner goblin and celebrating the Season of Greed. For the duration of Season 14, all Treasure Goblin spawns will be doubled. This means that each time you encounter a Treasure Goblin in the wild, they'll be accompanied by an exact duplicate of themselves for two times the loot, chaos, and fun!
There are a few important details to keep in mind with this effect:
This does not affect goblins encountered via Bandit Shrines, Goblin "Rift" packs, or in the Realm of Greed
Duplicate Whimsydale portals created by the Rainbow Goblin will enter the same instance of Whimsydale
Need a refresher on the various types of Treasure Goblins and what they do? Be sure to check out our Game Guide for more information.
In addition to doubling up on everyone's favorite treasure-thieving troublemakers, other celebrations may spring up across the globe as we kick off this exciting new Seasonal concept. Be sure to keep a close eye on Twitter and Facebook for more information as we move into Season 14!
---
New Cosmetic Rewards
As per tradition, Season 14 will introduce new cosmetic rewards, obtainable by progressing through the Season Journey.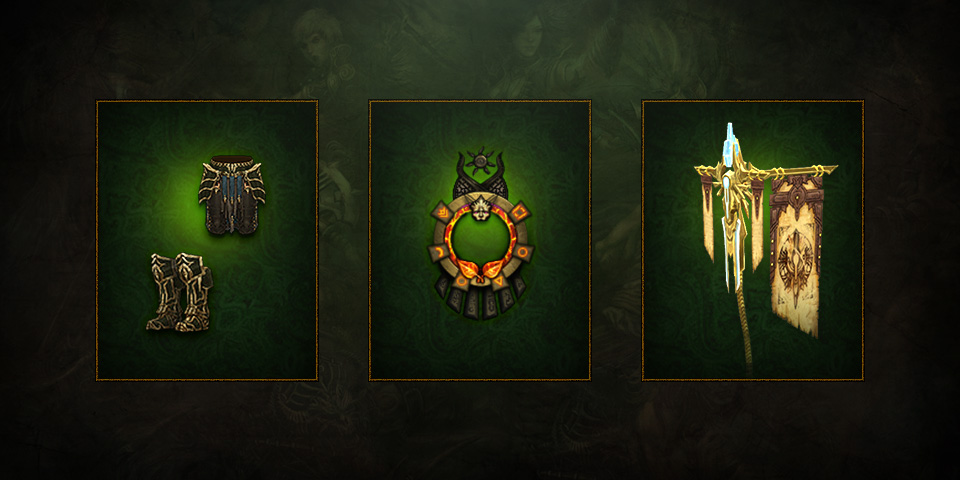 In addition to the Boots and Pants slots of the exclusive Conqueror Set, a brand-new series of portrait frames themed around the enigmatic Tal Rasha will be available. For the nephalem hero who wants to embody the spirit of Justice, a brand-new pennant dedicated to everyone's favorite archangel will also be available. Just remember—you cannot judge Justice itself!
---
Season Journey Rewards
If you've been diligently slaying demons for the past few Seasons and reached Conqueror in the Season Journey each time, you've accrued a few extra stash tabs. Players who have not yet earned a total of four stash tabs via the Season Journey can still unlock an additional one by completing the following tasks at the Conqueror tier:
Complete a level 70 Torment XIII Rift in under 5 minutes
Complete Greater Rift 60 solo
Kill Greed on Torment XIII
Kill the Butcher at level 70 in Torment XIII in under 30 seconds
Reforge a Legendary or Set item
Augment an Ancient item with a Level 50 or greater Legendary Gem
Level three Legendary Gems to 55
Complete two Conquests
---
Seasonal Conquests
Speaking of Conquests, we're rotating those, too! Returning for the Season of Greed is Avarice and Avarita, where every gold piece you find will count! Speed Demon and Need for Speed will ask you to kick it into full gear in your Nephalem Rift runs. On a Good Day and I Can't Stop will congratulate high ranking Legendary Gems.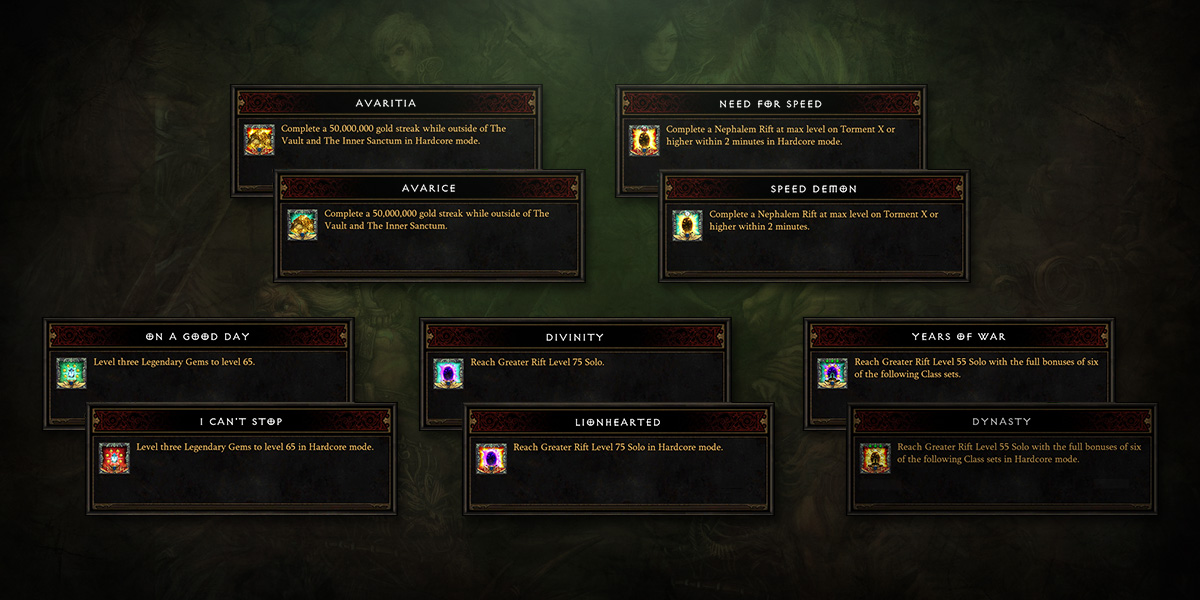 Finally, for the solo crowd, Divinity and Lionhearted will ask you to climb Greater Rift heights by your lonesome, while Years of War and Dynastychallenge your game mastery of at least six classes.
Haedrig's Gift
Finally, the Class Sets available for completing certain chapters in the Season Journey courtesy of Haedrig's Gift have rotated once more. We've listed the available Sets below. For those new to Seasons, here's how it works:
Completing Chapters 2, 3, and 4 of the Season Journey will reward you with three of Haedrig's Gifts. Each Gift contains a few pieces from one of your Class Sets. Players can only unlock one Class Set in this manner per Season across Hardcore and Non-Hardcore, so choose wisely!
The set you will receive depends on the Class of the character you're playing when you open each Haedrig's Gift. To collect a full Class Set, you'll need to open all three on the same character.
Here are the sets granted by Haedrig's Gift in Season 14: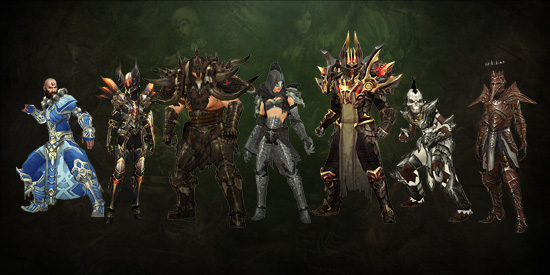 Frequently Asked Questions
Q: When does Season 14 start?
A: Season 14 begins Friday, June 15 at 5:00 p.m. PDT in North America, 5:00 p.m. CEST in Europe, and 5:00 p.m. KST in Asia. For time zone conversion, see this site.
Q: When will Season 14 end?
A: We currently anticipate that Season 14 will be ending on Sunday, September 16at 5:00 p.m. PDT in North America, 5:00 p.m. CEST in Europe, and 5:00 p.m. KST in Asia.
Q: Why is the Season end date an estimate?
A: Traditionally, we have given players two weeks notice prior to the ending of a Season. However, we've heard the community's feedback, so going forward, we'll be providing more comprehensive Season details in the Season First Look blogs. Please bear in mind that this date is an estimate and there is always a chance it may shift. While we will do our best to hit these target dates as closely as possible, we will continue to verify the Season end date at the two-week warning mark.
Q: When are the non-Seasonal Leaderboards being wiped?
A: Non-Seasonal Leaderboards are tied to what we call "Eras," each of which lasts about 6–12 months. The most recent era began November 9. For more information on Eras, please see this post.
Q: What will happen to older Seasonal and Era records?
A: Starting with Season 10, we removed old personal bests from Season 1. When Season 14 arrives, we will remove old personal bests from Season 5, and so on. We will be doing the same for personal bests from the previous Era when the next one goes live.
Seasonal Leaderboard records are not being cleared and will remain archived both in game and on our website.
---
Season 14 is almost here! What are your goals for this Season? What do you think of our first Seasonal theme? Will having more treasure goblins to chase down change how you approach your Season Journey and loot hunting?