Season 12 Now Live
Source: Blizzard 11/9/2017
Diablo III Season 12 is now live in all gameplay regions! To create a Seasonal hero, choose your class, gender, and name as usual, then select the "Seasonal Hero" option.
Alternatively, you can use the Season Rebirth feature to continue your adventures on an existing character by starting over this Season. You can select a character for Rebirth on the Hero Selection screen. Simply choose the "Rebirth" option to begin your next adventure!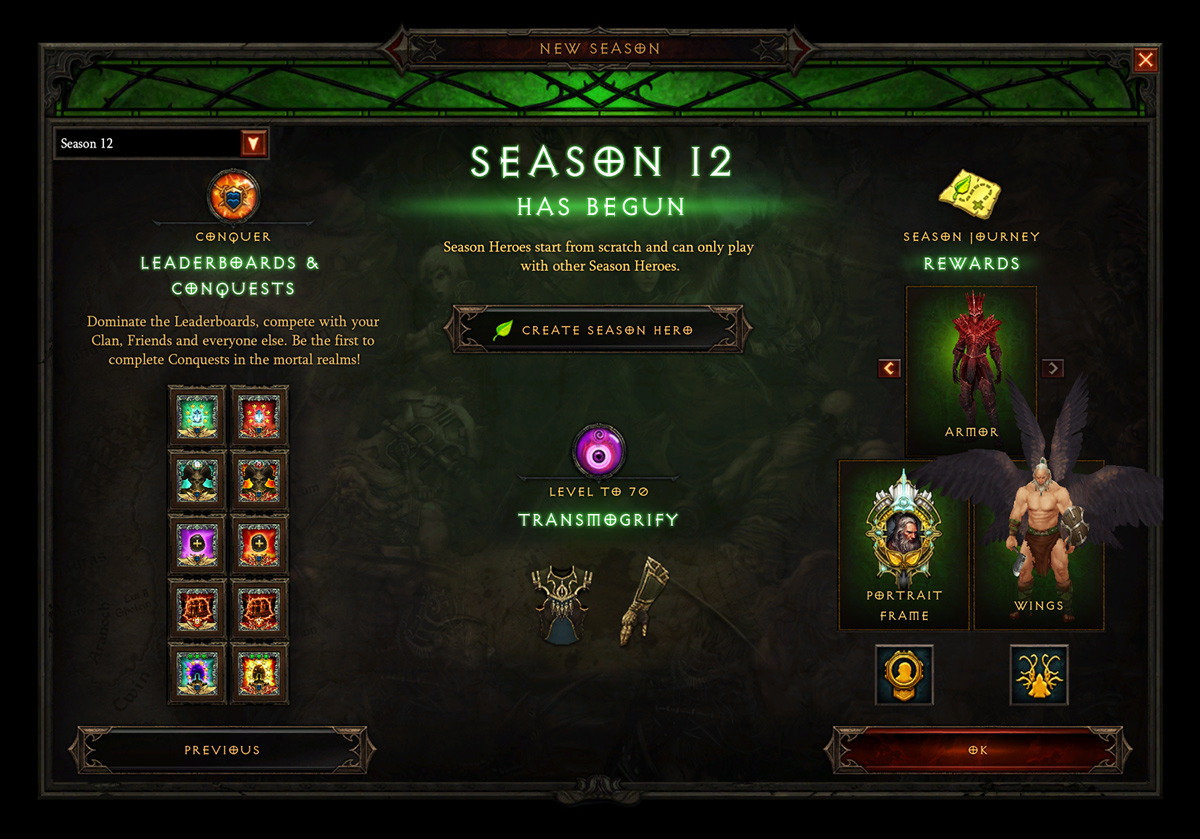 Any of the gear or items equipped on your character or in your inventory will be automatically stripped from the hero and mailed to your non-Seasonal characters, similar to the rollover process that occurs with your stash when a Season ends. In addition, your character will be set to level 1, ready to start the process as though they were freshly created!
For more details on the Season Rebirth feature, be sure to check out our original blog here.
What Are Seasons?
Seasons are an optional, recurring game mode that offers players the opportunity to periodically start fresh, leveling new Normal or Hardcore heroes from level 1 without any currency, resources, items, or previously earned Paragon experience. Similar to the separation between Normal and Hardcore game modes, Seasonal heroes will also have their own shared stash and Artisan progression. Any currency, materials, recipes, items, Paragon experience, and Artisan progression earned during a Season will be rolled over to a player's non-Seasonal profile once the Season concludes.
Season 12 will offer unique rewards and new challenges for players, including new cosmetic items, pieces of an exclusive transmogrification set only available to those who participate in Seasons, and Season-only achievements or challenges called Conquests. Progress within a given Season will also be tracked on the Leaderboard system, and in the Seasons Journey interface.
To learn more about Season 12, check out our Season 12 preview.
Good luck, nephalem! May Kadala be generous and your deeds of valor always be remembered.