Source – Activision – Bungie
Destiny 2 – "Rally the Troops" Worldwide Reveal Trailer
From the makers of the acclaimed hit game Destiny, comes the much-anticipated action shooter sequel, Destiny 2. Experience an all new cinematic story campaign, innovative cooperative gameplay, and intense competitive multiplayer as you journey across unexplored worlds to discover an arsenal of weapons and devastating new combat abilities.
THE JOURNEY OF DESTINY 2
You are one of humanity's last remaining Guardians. Your home and your power has been taken from you by a brutal invader – Ghaul. With humanity on the brink, it's up to you to fight back and reclaim our world.
INCLUDED WITH PURCHASE:
Destiny 2 Base Game
Destiny 2 Expansion Pass: Get access to both Expansion I and Expansion II, offering brand new story missions, cooperative activities, competitive multiplayer, and a wealth of new weapons, armor, and gear.
Premium Digital Content:

Legendary Sword
Legendary Player Emote
Cabal Empire Themed Emblem

Bonus Destiny 2 content first on PS4
Destiny 2 – "Last Call" Teaser
Destiny 2 – Official Gameplay Reveal Trailer
Destiny 2 – Homecoming Story Campaign Gameplay Reveal
Get your first look at gameplay from Destiny 2's new cinematic story campaign. Humanity's home, The Last City, has been attacked. Defend the Tower, battle alongside the Vanguard, and take the fight to our enemies, the Cabal Red Legion, in Destiny 2's opening mission, Homecoming.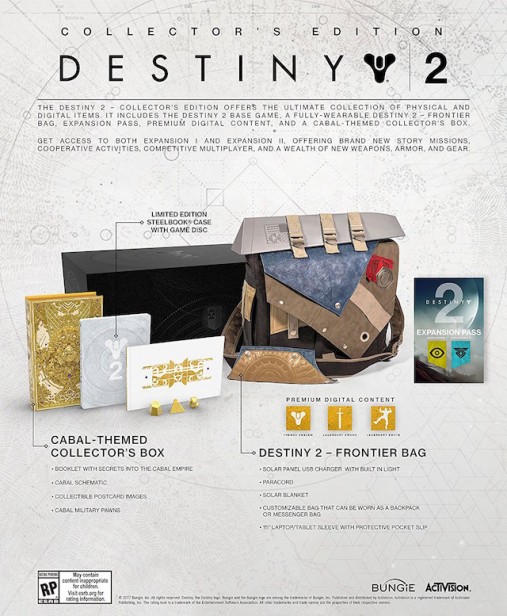 INCLUDED WITH PURCHASE:
Destiny 2 Base Game
Destiny 2 Expansion Pass: Get access to both Expansion I and Expansion II, offering brand new story missions, cooperative activities, competitive multiplayer, and a wealth of new weapons, armor, and gear.
Destiny 2 – Frontier Bag
Customizable bag that can be worn as a backpack or messenger bag
15" Laptop/Tablet Sleeve with protective pocket slip
Frontier Kit, featuring:
Solar panel USB charger with built-in light
Paracord
Solar blanket
Limited Edition SteelBook® Case
Booklet with secrets into the Cabal Empire
Cabal Schematic
Collectible Postcard Images
Cabal Military Pawns
Premium digital content:
Legendary Sword
Legendary Player Emote
Cabal Empire Themed Emblem
Bonus Destiny 2 content first on PS4
Destiny Resources: